French Quarter vs Old Quarter Hanoi – Which One's Best For You?
It's a common question for travellers in Vietnam: French Quarter vs Old Quarter Hanoi, which one is best? The answer is….it depends. There you go. Thanks for coming. I hope you enjoyed my post. Ok, alright, as you're here, let's delve a bit deeper into what the differences are so you can decide which one is best for you.
---
Disclaimer: There are some affiliate links on this post. Meaning I may earn a (very) small commission if you buy something after clicking a link. This is at no extra cost to you. You can read my full disclaimer here.
---
Your Ultimate Travel Guide to Hanoi's Old Quarter
Here's all the info you need to know about the culture shock that is the Old Quarter in Hanoi. Buckle up, it's going to be fun!
What's good about Hanoi's Old Quarter?
I'm going to try to stay impartial here (Hanoi's Old Quarter is one of my favourite places on Earth) so that you can make a clear unbiased decision. The best thing for me about the Old Quarter in Hanoi is the chaos. This might well be a negative for you but I love it.
Motorbikes rule the pavements while pedestrians fight for space on the roads. A train runs right through the middle of a market street. The whole place seems lawless, but not dangerous. It's also home to the unique Ta Hien Street, beer corner to you and me. You can read my post about why I think it's the best pub street in the world if you want to learn more about it.
The whole place is just beautifully traditional. The buildings, the food, the bars, the people, everything is just fascinating. And the energy that it all creates gives you such a buzz. You can't help but get sucked into the sounds and smells that surround you.
Not only is it the liveliest place in the city, but it also has more restaurants and cafes than you could ever need and the world-famous water puppet theatre. A must-do when in Hanoi!
What's good about Hanoi's French Quarter?
It's calm, it's beautiful and it's still within walking distance of the madness of the Old Quarter. So if you prefer stepping onto wide safe pavements when leaving your hotel, the French Quarter definitely wins this round in the French Quarter vs Old Quarter Hanoi battle.
The streets here are much wider and the drivers all seem to obey the highway code when riding through this neighbourhood. Everything is much cleaner than in the Old Quarter too. There are modern bars, cafes and restaurants on most streets and you'll also find Hanoi's grandest buildings here too. The Opera House probably wins the architecture award but there are plenty of others to stop and admire.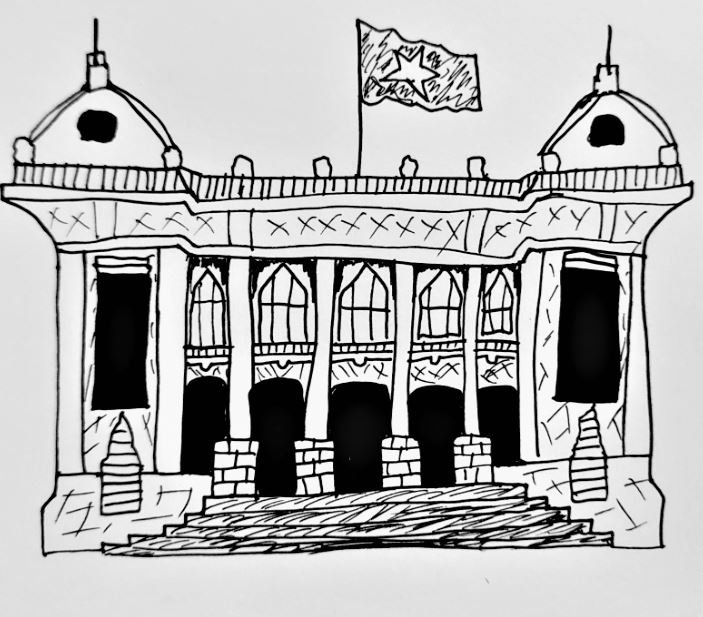 French Quarter vs Old Quarter Hanoi: Which location is best?
To be honest the location doesn't come into it too much. As I've said, they're neighbours. You can walk from the centre of one to the other in ten minutes. So really it just depends if you want to step into the calm or the chaos.
The walk's an enjoyable one too, as the areas are only separated by the beautiful Hoan Kiem Lake. If you can, take the walk on a Sunday as they close the road and it gets filled with street performers and kids driving small battery-powered cars.
French Quarter vs Old Quarter Hanoi: What are the negatives?
If price is a factor then you'll definitely get cheaper options in the Old Quarter. That's not to say you can't get decent prices in the French Quarter, you'll just find more in its old traditional neighbour. As I'm sure you can already imagine, the Old Quarter is mad.
The streets are dangerous if you act like a hesitant Westerner. In fact, even if you're just walking along the street because the pavement is full of parked bikes, you're still in danger. On one visit a bike crashed straight into my back. Luckily, my backpack was so big the bike just bounced off me, leaving the driver on the floor while I just carried on walking. You think you'd stop, but after a few months in these places, you just accept it as a daily occurrence.
Not only is it much more chaotic, but it is also much dirtier too. That's where the traditional charm comes from. People burning fake money on the street. Random so-called soups bubbling away in rusty pots on the side of the road, and rats. Of course, there are rats. Now, there'll be rats in the French Quarter too, but they're classier wealthier rats.
I only actually saw street rats a couple of times in the Old Quarter, but there was a time that we had one living in the ground-floor area of our first-floor apartment. Having to walk through its lair a couple of times every day wasn't helpful for getting a good night's sleep, especially as there seemed to be a purpose-built rat ladder to help it get upstairs. Unsurprisingly we didn't stay in that apartment for very long.
So there you go, I hope that's given you a better idea of which area you want to stay in and explore the most. The great thing is that it doesn't matter which one you choose as they're so close to each other. Happy Hanoiing.
---
Looking for more ideas of things to do in Hanoi?
If you're looking for more inspiration on what to do in Hanoi you should check out Get Your Guide's full list of trips, tours and tickets. They offer tickets to everything that's going on in and around Hanoi. You can check the trips out, pay securely online and even cancel for a refund if you change your mind. And that includes the hottest tickets in town – skip-the-line tickets to the water puppet show.
If you're hungry for more travel tips and stories, head on over to my blog where I've got more tips and info, including these ones in Vietnam…
---
---
French Quarter vs Old Quarter Hanoi- Which One's Best For You?
---
Beer Street Hanoi Old Quarter (Ta Hien)
---
---
Vietnam Visa Extension In Hoi An
---
Nha Trang Night Market – Is It Worth It?
---
Wonderpark Nha Trang – Does It Exist In 2023?
---
Motorbike Cat Ba – How To Rent A Bike In 2023
---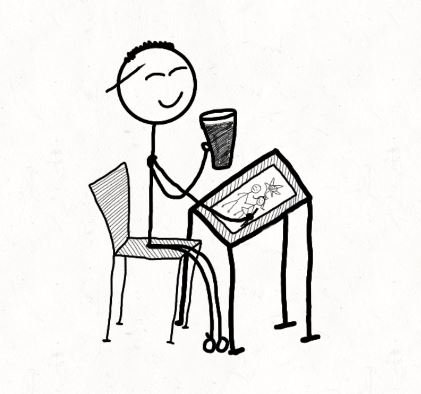 I'm not really a stickman, but it seems that I like portraying myself as one.
I'm an English guy who's been travelling since 2017. I was never good at taking photos, sketching just seems to work better for me, and in my opinion, why do you want to see other people's 4K videos and pictures of the world? Surely it's better to see it for yourself. You get in touch through the contact page or Instagram.
I look forward to hearing from you.
Happy travelling.
The Sketchy Traveller