Motorbike Cat Ba – How To Rent A Bike In 2023
Motorbike Cat Ba is the latest instalment of my two-wheeled tips for those wanting to bike around Asia. I'll give you all the info you need if you're thinking about renting a scooter when you get to Cat Ba Island. Because it's not only a launching pad to Ha Long Bay, there's lots to enjoy when renting a scooter in Cat Ba.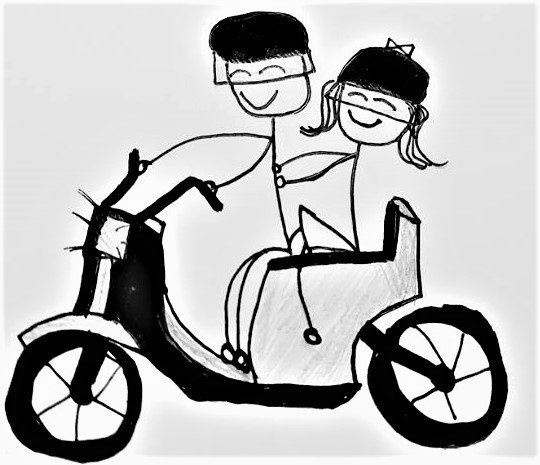 ---
Disclaimer: There are some affiliate links on this post. Meaning I may earn a (very) small commission if you buy something after clicking a link. This is at no extra cost to you. You can read my full disclaimer here.
---
Your 2023 guide to motorbike rental in Cat Ba
If time is pressing allow me to condense all the key info into a nice little package for you.
The best place to rent a scooter in Cat Ba is from your hotel.
It roughly costs 100,000 VND to rent a bike in Cat Ba for a day. That's about $5.
If you want more detailed info about renting a scooter in Cat Ba, please do read on…
Is it worth hiring a scooter?
This is the first question you need to consider. Is it actually worth getting a scooter in Cat Ba? Most visitors use Cat Ba as a launching pad to explore Halong Bay, and that's what we did too. But chances are you're still going to have a day or two free and unless you're planning to stay around the bay area you should definitely be thinking about renting a bike.
As is the case with most small islands in this part of the world, the roads are the perfect place to wind away a few hours and feel like you're exploring on your own terms. So yes, it's definitely worth renting a bike in Cat Ba if you've got a spare day or two.
How much is it to rent a scooter in Cat Ba?
The cost is another reason why it's a no-brainer. You're likely to pay around $4-5 per day (100,000 VND) when renting a scooter in Cat Ba. Fuel will be another dollar or two on top of that. I know lots of travellers are penny-pinching but when you think about what two-wheeled fun you can gain from a few dollars you'd be mad not to.
The fact that Cat Ba is a hilly island makes the bikes even more worthwhile. Apart from the bay, the main place you need to visit is Cannon Fort. And just like any good fort should be, this one is high up on the cliffside, looking out for pirates! A bike really comes in handy to get up the weaving roads on what will be a hot, muggy day. Just ask the sweaty, breathless walkers you meet at the top.
Which size scooter is the best one to hire?
Apart from how much renting a bike costs, you have to consider which bike to get. I don't mean Honda, Yamaha or Ducati, I'm talking about the engine size. I wouldn't recommend renting a 50cc bike purely because of the hills. Even for one rider, a 50cc can struggle up the hills. So if it's just for you 100-125cc will be plenty. If there'll be two of you, or you plan or give some of the local goats a day out you should be looking more at the 125-150cc bracket. It all depends on your total weight. A pair of string beans are going to need a lot less power than a couple of jacket potatoes. So I'll leave that to your own discretion.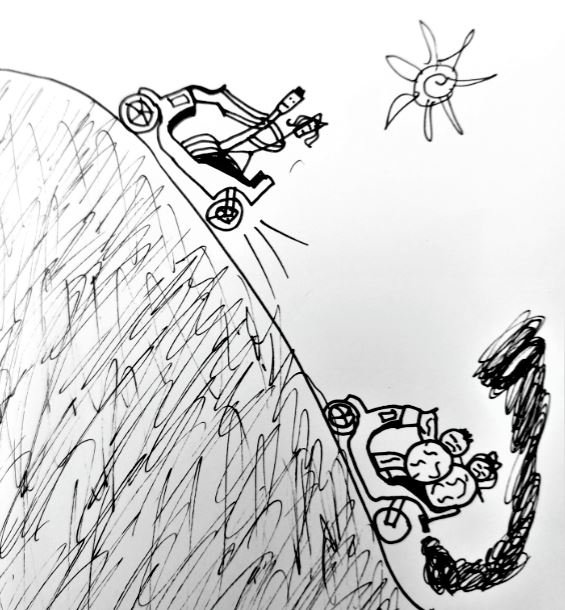 If you're unsure just talk to the person renting it to you, as they'll know the condition and actual performance of their bikes and are unlikely to want to give you something that's not up to the job.
What do I need to rent a scooter in Cat Ba?
If you want to be fully prepared you should get yourself an International Driving Permit as this coupled with your national licence is all you officially need. If, though, you're happy to stretch the rules a little, you're likely to find that the renters are too. They're unlikely to ask you for more than a deposit and a copy of your passport. In many cases, they don't even ask for those.
Where can I rent a scooter in Cat Ba?
Which leads us to the final question of this Motorbike Cat Ba post – where can you get one?
This is the easiest part, as you'll be able to find bikes at every hotel, hostel, restaurant, cafe and shop you walk past. When I can't pre-book online, I usually like to book them directly with my hostel as I feel that I'm already their customer and maybe they want to give me as good a service as they can. Plus it's obviously easier to get and return the bike.
If you want to get something sorted before you arrive just message your hotel and ask them what bikes they can offer and what price. Without a doubt, they will come back to you with some options.
Where are you staying?
If it's a hotel you're after, I can't speak highly enough about Cat Ba Violet Hotel. I'll let the reviews do the talking…but it really is excellent!!
If though, you're more of a hostel lover, you should absolutely check out Hostelworld. It's the best site for hostels all over the world!
Need a bike for the rest of your travels?
Usually, I'd recommend Bikes Booking to anyone planning to rent a bike. That's because you can get it all sorted up-front, pay by card, get your insurance included and have that feeling that someone's got your back if something goes wrong. Unfortunately, Bikes Booking don't have a presence in Cat Ba, but they do in most other places you're likely to find yourself around the world, so it's worth considering them next time you need a bike.
---
If you're looking for more inspiration on what to do in Cat Ba you should check out Get Your Guide's full list of trips, tours and tickets. They offer tickets to everything that's going on in and around Cat Ba and Halong Bay. Plus, you can check the trips out, pay securely online and even get a refund if you change your mind.
I doubt you need any assistance with this, but if you're finding it hard to decide where to stay in my experience there's nothing better than Booking.com for hotels. And if it's a hotel you're after, I can't speak highly enough about Cat Ba Violet Hotel.
I'll let the reviews do the talking…but it really is excellent!! If though, you're more of a hostel lover, you should absolutely check out Hostelworld. I know the romance of just rocking up and finding a place sounds great. But for me, booking it and paying for it securely and also knowing you can cancel it for a full refund is the way to do it.
---
If you're hungry for more travel tips and stories head back over to my blog. You can also check me out on Instagram.
---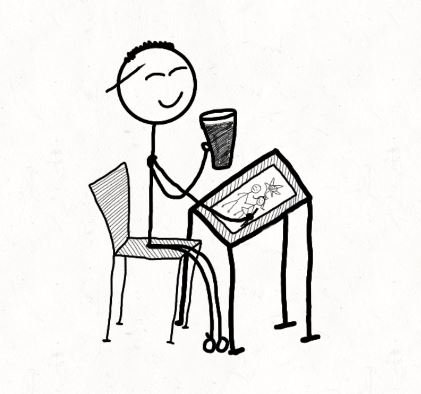 I'm not really a stickman, but it seems that I like portraying myself as one.
I'm an English guy who's been travelling since 2017. I was never good at taking photos, sketching just seems to work better for me, and in my opinion, why do you want to see other people's 4K videos and pictures of the world? Surely it's better to see it for yourself. You get in touch through the contact page or Instagram.
I look forward to hearing from you.
Happy travelling.
The Sketchy Traveller