Beer Street Hanoi Old Quarter -Ta Hien
Here's your quick and easy guide to Beer Street in Hanoi. It's known locally as Ta Hien Street and is located in the heart of Hanoi's Old Quarter. Read on to discover why it's a 'must-visit' in Vietnam's capital.
What makes Beer Street Hanoi so special?
Ta Hien Beer Street, Hanoi, can be found in the heart of the Old Quarter. If someone is talking about a beer street or a pub street in the Vietnamese capital, they are more than likely talking about the lively Ta Hien Street, also known as Beer Street or Beer Corner Hanoi. Here's why you should head there now…
Southeast Asia isn't lacking when it comes to pub streets. And most of them are much bigger and more glamorous than Ta Hien Street. In fact, Hanoi's beer street doesn't really provide any glamour at all. You're unlikely to find any places to sit inside. Everything is out on the street. And it's out there in the most basic possible way. Little plastic stools and tables, more at home in a kid's playhouse are your only option if you want to take a pew. And even then you'll be lucky to get a table to rest your beer on.
There are of course all the normal bottled beers available at low, low prices, but no one's drinking bottles. Yes, they're cheap, but they're about five times more expensive than what is wetting everyone's lips. That honour goes to Bia Hoi. A glass of Bia Hoi costs around 5000 VND, that's about 20 cents!! Yes, 20 cents for a glass of fresh beer. Fresh beer is a rare thing in Vietnam too, usually, bottled beer rules the market there.
Random kegs at Ta Hien Beer Street Hanoi Old Quarter
Random-sized kegs are propped up on tables and marshalled by locals who know how to dish it out fast. And you will be drinking fast because when $5 can get you twenty-five glasses of beer you don't need to worry about when your round is approaching.
Not only does Ta Hien Beer Street in Hanoi give you cheap beer and a buzzing atmosphere, it also gives you the easiest opportunity to chat with strangers that I've ever found on my travels. This is mainly because you're crammed together to such an extent that it'd be rude not to start chatting. We met so many people in just one night that it was hard to remember them all, but I tried.
Run! Police!
One other memorable part of the whole experience was witnessing the long arm of Vietnamese law in action. It seems that setting up a drinking business on the street isn't quite legal. I think this because every now and then the police pass by on patrol, and when they do it's time to get up. The stools are almost pulled from under you and the staff quickly start to stack them up inside.
You're probably thinking it's time to move on or call it a night. But no. Just wait a minute, because as soon as the police turn the corner, it's time to unpack the stools and get the kegs pouring again. It seems there's some kind of agreement in place. The police look powerful and the keg owners look law-abiding. Even if just for a few minutes.
If you're spending time in Southeast Asia, you'll know that these are the mad moments we enjoy the most.
Where is Beer Street in Hanoi?
Ta Hien Street runs right through the middle of Hanoi's Old Quarter. Here's a link to Google Maps showing you exactly where it is.
Although there are bars all along Ta Hien Street, you'll find that a lot of the middle section is filled with restaurants. That's not to say you can get a drink there too, this is Beer Street after all. But if you want a recommendation of the best spot to grab a Beer Hoi and soak up the atmosphere head to the northern tip of the street as that's where I always found the best street bars.
What time does Ta Hien Street close?
Most of the outside drinking along Beer Street will stop around midnight. But if you want to keep the party going there are plenty of bars on and around Ta Hien Street that will stay open long into the early hours. So fear not, you can always find a beer in Hanoi's Old Quarter
The best bars on Ta Hien Street
Have a great time exploring all of the things that Hanoi and Ta Hien Street, in particular, have to offer.
If you're hungry for more travel tips and stories, head on over to my blog where I've got more tips and info, including these ones in Vietnam…
---
---
French Quarter vs Old Quarter Hanoi- Which One's Best For You?
---
Beer Street Hanoi Old Quarter (Ta Hien)
---
---
Vietnam Visa Extension In Hoi An
---
Nha Trang Night Market – Is It Worth It?
---
Wonderpark Nha Trang – Does It Exist In 2023?
---
Motorbike Cat Ba – How To Rent A Bike In 2023
---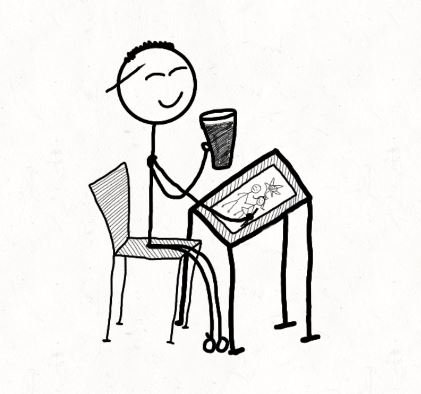 I'm not really a stickman, but it seems that I like portraying myself as one.
I'm an English guy who's been travelling since 2017. I was never good at taking photos, sketching just seems to work better for me, and in my opinion, why do you want to see other people's 4K videos and pictures of the world? Surely it's better to see it for yourself. You get in touch through the contact page or Instagram.
I look forward to hearing from you.
Happy travelling.
The Sketchy Traveller