Thermal Baths Krakow – Your 2023 Guide?
If you were hoping that your 'Thermal Baths Krakow' search was going to find a Budapest-style hot spring in Krakow City Centre, then I'm sorry for your impending disappointment. In reality, there are no such things as Krakow thermal baths. Yes, you will find lots of links, like mine, that might tempt you with the promise of thermal baths in Krakow, but the reality is you'll find nothing better than Jacques Fountain just off Market Square. And that would just be silly, so don't do it.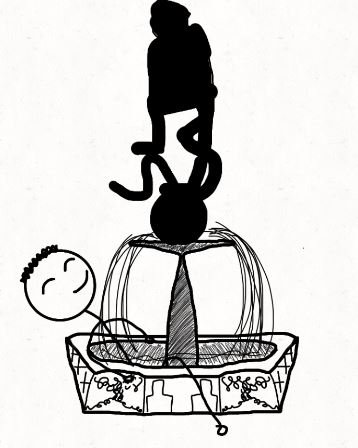 ---
Disclaimer: There are some affiliate links on this post. Meaning I may earn a (very) small commission if you buy something after clicking a link. This is at no extra cost to you. You can read my full disclaimer here.
---
Your Ultimate Guide to Thermal Baths in Krakow
Here's all the info you need to know when it comes to hot springs in Krakow. You might be able to bathe in the city, but you don't have to go fat to enjoy Poland's thermal pools.
You can still visit thermal baths from Krakow
The good news though, if you are willing to spend a bit of time travelling, is that you can visit one of the best thermal baths in Europe straight from your hotel in Krakow. That's because a trip to the magnificent Chocholowskie Thermal Baths from the city is a very simple trip to organise. There's also Aqua Park Zakopane, the best thermal bath for families in the same area of southern Poland. But before you think about booking anything, let's look at whether these or any of the other thermal baths in Krakow are what you're after.
In their own words, the whole place is designed with 'recreation and relaxation in mind'. It's the largest hot spring in Poland, with nearly 3000m2 of water spread over 30 pools. There are swimming pools, jacuzzis, saunas and restaurants to keep you busy all day if you so wish.
The temperature of the water in the thermal pools at Chocholowski Thermal Baths ranges between 32 – 38'C.
The management is so confident of their offering that they 'guarantee a surge of vitality and full regeneration of the body'. Quite a promise, I'm sure you'll agree! But, having sampled all of the delights available, I can agree that you do leave feeling like you've done some good to your skin. But sadly for me, I didn't get the surge of vitality. Maybe I didn't sit in the right place.
For more info and the best prices for a trip to the best Polish thermal baths, check out this link from Viator. They have proper writers who've been paid to tell you all about it. So you'll get more than just the opinion of a travelling stickman!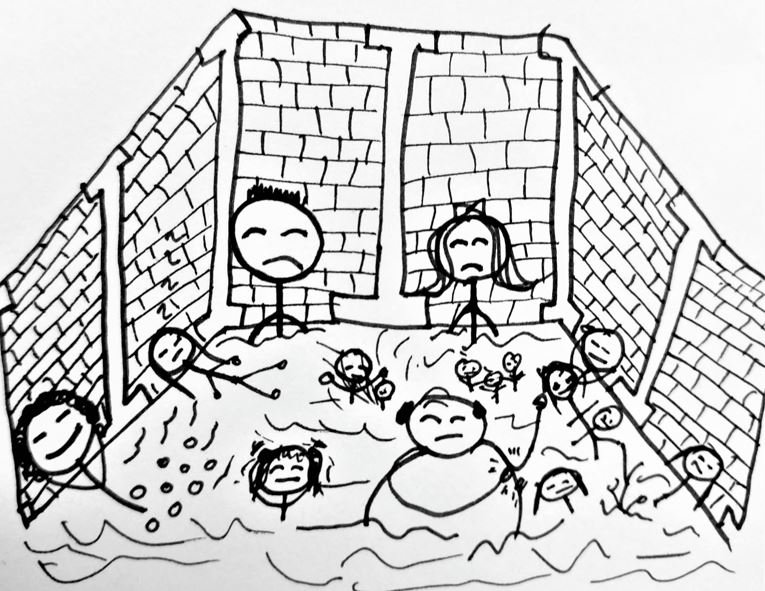 The best thermal baths for families – Aqua Park Zakopane
If you plan on taking children with you on your trip to a thermal pool from Krakow, then Aqua Park Zakopane might be best for you. Known locally as Termy Zakopiańskie, it offers lots of kid and family activities alongside the standard thermal pools and saunas for grown-ups.
There's a kid's pool with many colourful waterslides, and the fun doesn't stop when you're out of the water. There's a bowling alley and a playroom with a climbing wall too, so your children definitely won't be bored during your trip to these thermal baths.
The water temperatures at Zakopane Thermal Baths are about 32'C for the internal pools, which includes the kid's pool. The outdoor pools are usually between 36 – 38'C. You need that extra heat to cope with the fresh mountain breeze!
Where are the thermal baths in Krakow?
As already mentioned, you won't find any traditional thermal baths in Krakow. They are all about a 2-hour drive south to the Tatra Mountains area on the border with Slovakia. You can check out this link to Google Maps to give you an idea of where you can find these thermal pools in Poland.
How much does it cost to visit the hot springs in Krakow?
If you want to arrange your own transport from Krakow to the thermal baths in southern Poland you will, of course, pay less for your ticket. Prices start at €15, which will get you access to the thermal pools for three hours. If you don't want to be limited on time, you can have access for a full day for €23. If you want the full package, including the use of the swimming pool and sauna, add another €40 to those prices. Get Your Guide offers some good packages to visit thermal pools around Krakow. You can check out their deals here.
You can see the whole price list for Chocholowskie Thermal Baths on their own website.
Are there more thermal pools in Poland?
Yes, your choice doesn't end with the thermal baths in Krakow. There are many other hot springs in Poland. Here's a link to all of the best thermal baths in Poland according to our friends at Viator.
Are the thermal baths near Krakow better than Budapest?
Well, that depends on what you're after. The baths in Budapest are set in palatial buildings in and around the city. The thermal baths in Krakow are, as discussed, are not in Krakow. But they offer incredible natural scenery. You can check out my post about the baths in Budapest here.
---
Looking for more things to do in Krakow?
If you're wondering what else you should be doing in and around Krakow, may I push you in the direction of Get Your Guide. These guys are the best place for all of the available tours and trips on offer. You can book safely and securely online, and if you change your mind you can even get a full refund if you give them enough notice. So if you're planning on getting out and about you really should look at Get Your Guide. This is a link directly to the tours that they offer in and around Krakow.
Want some accommodation tips?
If you're on the lookout for some tips about where to stay in Krakow allow me to give you my three budget-based recommendations.
1 – Five Star Fancy Pants
If you're feeling lavish then check out Hotel Pod Roza. Rooms are usually over £130 per night, which I know is high, but hear me out. If you're after something extra special and can afford it, you won't regret treating yourself to this hotel in Krakow.
2 – Above Average Joe
If you prefer to place yourself in the high to middle range you should head to Hotel Polski Under the White Eagle. This place is usually about £75 per night but if you want some 4 star luxury in the heart of the Old Town, it's a winner..
3 – That'll do nicely
If you're planning on spending most of your time in the city and just want a clean room with private facilities, Hotel Jan could be for you. Rooms are often available from around £50 per night and you couldn't ask for a better location in Krakow.
If you're hungry for more travel tips and stories head on over to my blog where I've got more tips and info, including these ones about Krakow…
Shooting Range In Krakow – Best Ones For A Stag Party
---
What Is The Krakow Hot Air Balloon?
---
Sports Bars in Krakow – The Best Places to Watch Football in 2023
---
Thermal Baths Krakow – Are there any in the city?
---
Rooftop Bars In Krakow – Which One Is Best For You?
---
Electric Scooter Hire Krakow – Your 2023 Guide
---
Rynek Underground Museum Krakow- How To Get Free Tickets
---
The Krakow Big Wheel – Your Ultimate Guide
---
Best Cheap Bars in Krakow – The Only 3 You Need to Know
---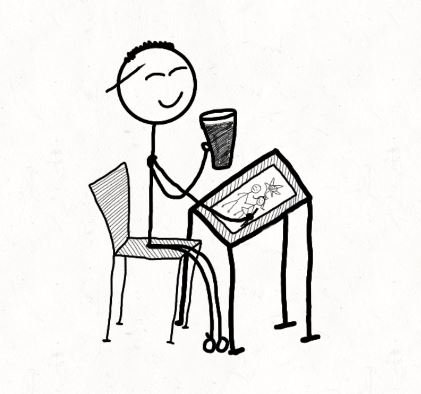 I'm not really a stickman, but it seems that I like portraying myself as one.
I'm an English guy who's been travelling since 2017. I was never good at taking photos, sketching just seems to work better for me, and in my opinion, why do you want to see other people's 4K videos and pictures of the world? Surely it's better to see it for yourself. You get in touch through the contact page or Instagram.
I look forward to hearing from you.
Happy travelling.
The Sketchy Traveller