Are Thermal Baths in Budapest Clean?
When you think about it, visiting one of the baths in Budapest and sharing a hot bath with loads of strangers is a bit odd. So you might be thinking – are thermal baths in Budapest clean?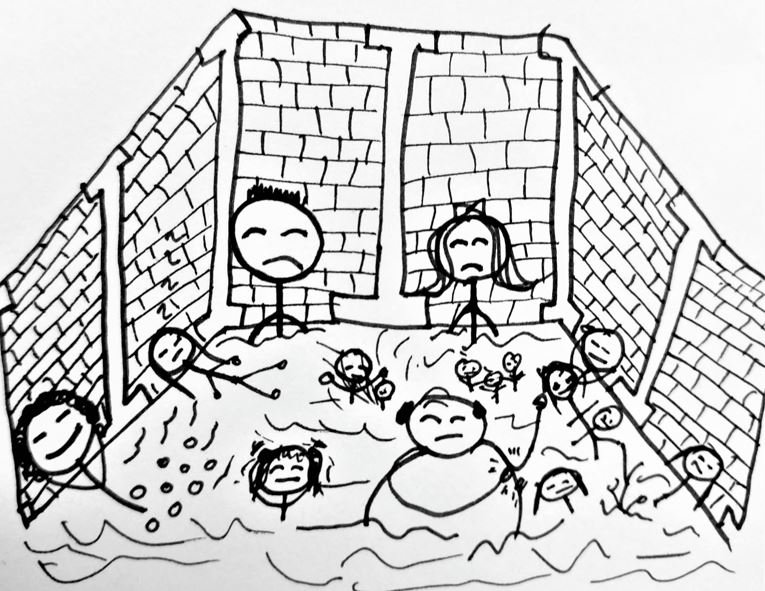 ---
Disclaimer: There are some affiliate links on this post. Meaning I may earn a (very) small commission if you buy something after clicking a link. This is at no extra cost to you. You can read my full disclaimer here.
---
How clean are the thermal baths in Budapest?
I mean that is the essence of what you're doing in the thermal baths in Budapest. Sharing a bath with hundreds of people, all sweating, scratching and squeezing past each other. Even in a pre-Covid world, it seemed a bit much. The pools offer a selection of different temperatures, with the hotter ones usually getting the most attention (scratching action).
You'll find saunas dotted around some of the pools too.
Sounds good right?
But that means people who are already sweating just from the warm water, are pushing their perspiration to the limit before washing it all off in the pool, next to you. Nice! There are signs asking people to shower on the way back from the saunas, but they're ignored nine times out of nine.
How do they clean the thermal baths?
Both of the main thermal baths in Budapest operate in the same way when it comes to cleaning.
They use some fancy water filtering technology to attempt to keep the water clean during the day. This is combined with a total draining and refilling of the pools every night.
They do this not only to keep it clean but to also maintain the high levels of natural minerals in the water. They don't add any chemicals except for tiny amounts of chlorine and some abrasive salt.
I'm sure this all helps to keep things quite clean, but it doesn't fill me with confidence when I'm squeezed in, shoulder to shoulder, with some sweaty strangers.
Which thermal baths are the most popular in Budapest?
The two most popular thermal baths in Budapest seem to be Széchenyi and Gellért. It's probably because they're the biggest. But don't expect that to mean there'll be plenty of room for you to wade through the different rooms freely. Budapest's thermal baths are a tourist hotspot.
I say all this but I absolutely still recommend going if you're in Budapest. I'm making myself sound like some kind of a germaphobe. But ask my girlfriend and she'd laugh at that suggestion. I'm not usually bothered by close encounters with people and would be more than happy to visit the baths again when I go back to Budapest.
Are there any more thermal baths in Budapest?
Along with the two main thermal baths, there are a few more options dotted around the city which seem pretty similar to the main ones. Maybe just a little smaller. They are all beautiful old palatial buildings with a maze of rooms and pools to keep you entertained for a few hours……just don't swallow any of the water!
How to get tickets for the thermal baths in Budapest
If you're wondering how to get tickets for the thermal baths in Budapest it's simple. You just do it online, directly on your chosen bath's website. Tickets for the main thermal pools usually cost around 15 – 20 euros.
Looking for more activities in Budapest?
If you're after even more ideas of things to do in Budapest you should take a look at what the guys at Get Your Guide are offering. If you read my posts you'll see that I'm not really into pushing other products and services but I do always recommend Get Your Guide. That's because they have the best selection of trips and tours, all with the ability to pay securely online and get a refund if you need to cancel. I've used them plenty of times and it's always gone perfectly.
---
Best Hotel in Budapest
Finally, I doubt you need any assistance with this, but if you're finding it hard to decide which hotel to stay in, my personal recommendation is the Radisson in the centre. There are loads of options out there but my stay there made exploring the city easy. You can check out their Booking.com listing here. You won't be disappointed!
Best Hostel in Budapest
If you're more of a budget-friendly hostel kinda traveller, I have the place for you too. Hostel One Budapest has the best reputation in the city. We didn't stay there but met some travellers who loved it.
If you're hungry for more travel tips and stories, head on over to my blog where I've got more tips and info, including these ones in Budapest…
Which Sports Bar in Budapest is Best For You?
Shooting Range In Budapest – Which is Best For You?
Budapest Go-Karting. The 4 Best Options Available in 2023
Beer Bike Budapest 2023: What's Possible After The Ban?
Budapest Baths Party 2023 – All You Need To Know!
Are Thermal Baths in Budapest clean?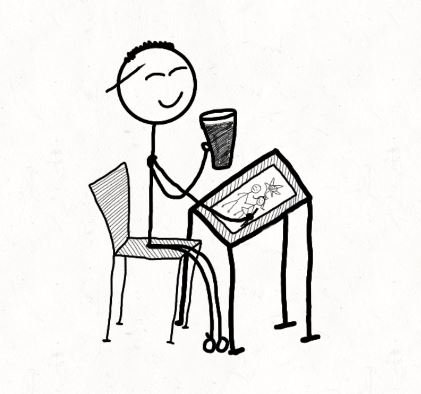 I'm not really a stickman, but it seems that I like portraying myself as one.
I'm an English guy who's been travelling since 2017. I was never good at taking photos, sketching just seems to work better for me, and in my opinion, why do you want to see other people's 4K videos and pictures of the world? Surely it's better to see it for yourself. You get in touch through the contact page or Instagram.
I look forward to hearing from you.
Happy travelling.
The Sketchy Traveller