Best Cheap Bars in Krakow – The Only 3 You Need to Know
Forget the castle, the history and the stunning Old Town, we all know that Krakow is all about beer and vodka, am I right? There's cheap beer all over the city, but I'm here to talk about the really cheap beer that you've been dreaming of since booking your flights. Here are the three best cheap bars in Krakow, enjoy.
---
Disclaimer: There are some affiliate links on this post. Meaning I may earn a (very) small commission if you buy something after clicking a link. This is at no extra cost to you. You can read my full disclaimer here.
---
Your ultimate travel guide to cheap bars in Krakow
Yes, the rumors are true, you can drink strong tasty beer for low, low prices in Krakow. Here where to go and get drunk for cheap!
Pijalnia Wódki i Piwa – The best cheap bars in Krakow for beer and vodka shots
When in Rome, do as the Romans do. When in Krakow, drink cheap beer and vodka shots. It's what you're here to do, and Pijalnia Wódki i Piwa are here to help.
You can get a large glass of Warka, a local beer, for 7zl, which is about €1.50. If you fancy a premium beer like Heineken that will still only cost you 10zl. It's as cheap as beer gets in Krakow's city centre.
They also have a huge range of flavoured vodka shots for 7zl each. My personal favourite is the Chupa Chups, which comes with a sprinkling of black pepper. Give it a try.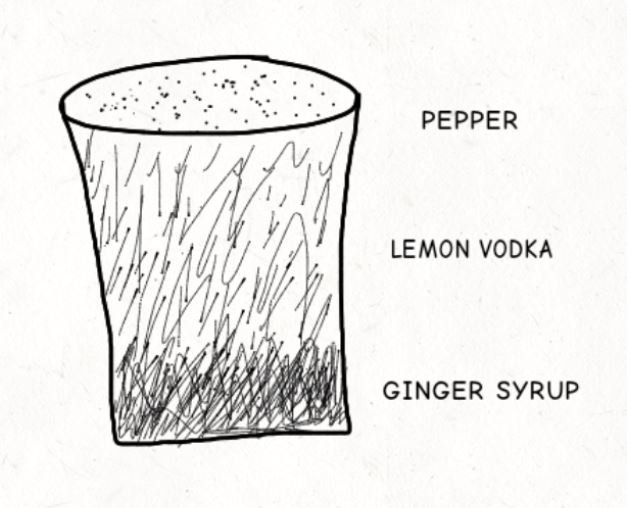 There are three different Pijalnia Wódki i Piwas dotted around the city. Making it very easy to find a cheap bar in Krakow. Two are around the Old Town and one is in the cool Jewish Quarter, known locally as Kazimierz.
Here's a link to the three locations on Google Maps so you can see which one is closest to you.
Opening times vary depending on location, but you can drink from 09:00 to 04:00 in a Pijalnia Wódki i Piwas if you so wish!
Bania Luka – The cheapest sports bars in Krakow
If you want to watch a game on a big screen while sipping on a beer and throwing back some shots, Bani Luka is definitely the best cheap bar in Krakow for you.
Prices are pretty much identical to the ones at Pijalnia Wódki i Piwas. The only real difference when it comes to beer and vodka is that their local beer is a fresh version of Tyskie.
Bania Luka does have a more extensive food menu though, so not only can you enjoy some affordable drinks, you can try out local delicacies like pierogi for pennies too.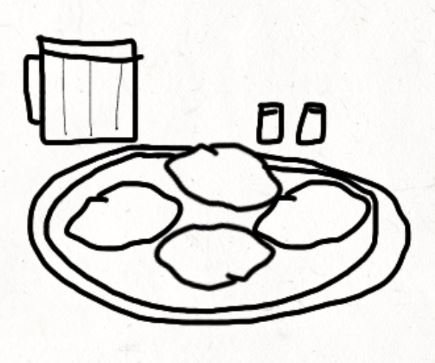 They also have three different locations, all of which are around the Old Town. Here's a link to my favourite Bania Luka on Google Maps.
Bania Luka is open from 10:00 to 6:00 seven days a week. Yes, that's right, it only closes for four hours!
Komisariat – The cheap dive bar in Kazimierz with an attitude
The final recommendation on my list of the best cheap bars in Krakow goes to a little hidden gem. Komisarat isn't tucked away down a back street, it's located right on the popular Plac Nowy in the Jewish Quarter.
Unlike the other two on this list, Komisarat is an old, grungy, communist-era bar, a dive bar, of which there are many in Kazimierz. Propaganda is probably the best example of a dive bar in Krakow, but it's a little bit pricier than Komisarat so it doesn't make my list of cheap bars in Krakow.
Again, you can get a beer for less than €1.50, and this is the only place that gives you a free snack with every beer. Sounds impressive, but my free snack was a one-inch square of pretty cheeseless pizza. Not quite the same as some free tapas in Spain, but a snack is a snack I suppose.
Komisariat is open from 16:00 to 05:00 every day of the week. As I said before, it's located on the bust Plac Nowy, here's a link to the location on Google Maps
So, there you have them, the three best cheap bars in Krakow. Enjoy.
What is a dive bar in Krakow?
Dive bars get their name from exactly where you're thinking because they are a dive. Cool in Krakow seems to mean battered interiors, wobbling splintery chairs and minimal lighting. Everything is tatty. But that's the essence of a dive bar in Krakow. That and cheap beer.
They've gained popularity in recent years as an 'f-you' to the swanky modern places that have opened up around the city. So it's no surprise that you'll find a few interesting characters when you pop in for a pint of two.
Komisarat and Propaganda are the best dive bars in Kazimierz. If you want to experience the best dive bars in Krakow you need to head to Kazimierz, the Jewish Quarter, to find them.
---
Looking for more things to do in Krakow?
If you're wondering what else you should be doing in and around Krakow, may I push you in the direction of Get Your Guide. These guys are the best place for all of the available tours and trips on offer. You can book safely and securely online, and if you change your mind you can even get a full refund if you give them enough notice. So if you're planning on getting out and about you really should look at Get Your Guide. This is a link directly to the tours that they offer in and around Krakow.
Want some accommodation tips?
If you're on the lookout for some tips about where to stay in Krakow allow me to give you my three budget-based recommendations.
1 – Five Star Fancy Pants
If you're feeling lavish then check out Hotel Pod Roza. Rooms are usually over £130 per night, which I know is high, but hear me out. If you're after something extra special and can afford it, you won't regret treating yourself to this hotel in Krakow.
2 – Above Average Joe
If you prefer to place yourself in the high to middle range you should head to Hotel Polski Under the White Eagle. This place is usually about £75 per night but if you want some 4 star luxury in the heart of the Old Town, it's a winner..
3 – That'll do nicely
If you're planning on spending most of your time in the city and just want a clean room with private facilities, Hotel Jan could be for you. Rooms are often available from around £50 per night and you couldn't ask for a better location in Krakow.
If you're hungry for more travel tips and stories head on over to my blog where I've got more tips and info, including these ones about Krakow…
Shooting Range In Krakow – Best Ones For A Stag Party
---
What Is The Krakow Hot Air Balloon?
---
Sports Bars in Krakow – The Best Places to Watch Football in 2023
---
Thermal Baths Krakow – Are there any in the city?
---
Rooftop Bars In Krakow – Which One Is Best For You?
---
Electric Scooter Hire Krakow – Your 2023 Guide
---
Rynek Underground Museum Krakow- How To Get Free Tickets
---
The Krakow Big Wheel – Your Ultimate Guide
---
Best Cheap Bars in Krakow – The Only 3 You Need to Know
---
---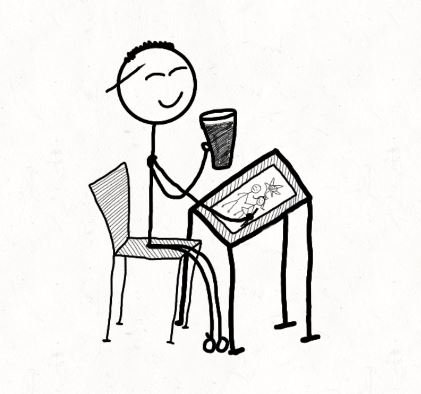 I'm not really a stickman, but it seems that I like portraying myself as one.
I'm an English guy who's been travelling since 2017. I was never good at taking photos, sketching just seems to work better for me, and in my opinion, why do you want to see other people's 4K videos and pictures of the world? Surely it's better to see it for yourself. You get in touch through the contact page or Instagram.
I look forward to hearing from you.
Happy travelling.
The Sketchy Traveller