The Krakow Big Wheel – Your Quick Guide To The Cracow Eye
The Krakow Big Wheel, known locally as the Crakow Eye (Krakow Eye to us tourists) is a popular tourist attraction in Krakow, Poland. The question is though, is the 50-metre-high, slow-moving big wheel worth the money, let's find out.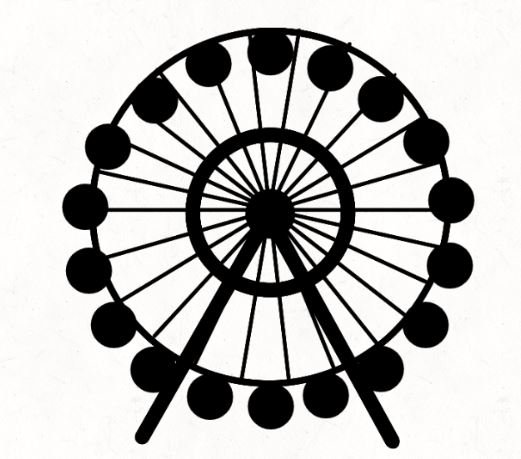 ---
Disclaimer: There are some affiliate links on this post. Meaning I may earn a (very) small commission if you buy something after clicking a link. This is at no extra cost to you. You can read my full disclaimer here.
---
Your quick guide to the Cracow Eye
If you can't be bothered to learn all about the big wheel in Krakow and just want the key info, this is just for you:
It costs 35 PLN for an adult ticket and 25 PLN for kids to ride the Crakow Eye.
You buy tickets from a kiosk next to the big wheel.
The Crakow Eye is open from 12:00 to 21:00 on weekdays and 11:00 to 22:00 on weekends.
You're on the wheel for about 15 minutes.
If you want to know more about the Cracow Eye I've got all the info you need below.
Krakow Big Wheel Ticket Price
Here are all the individual ticket prices for the Krakow Eye…
35 PLN for a regular ticket
There is also a Crakow Eye VIP Experience, which costs 200 PLN for 30 minutes or 250PLN for 60 minutes. Krakow Big Wheel VIP tickets are priced per gondola, not per person. And you can get up to four people in one gondola.
As well as getting more time on the big wheel your VIP gondola also has a 'partially glass floor' which, according to the operators, 'guarantees an additional thrill'.
I'm not sure how watertight that guarantee is, but it wasn't enough to get me to pay the extra to find out. I just bought a good old regular ticket and that was more than enough to experience all that the Krakow Big Wheel has to offer.
How to buy tickets to the Krakow Eye
This one's easy, you can buy your tickets from a little kiosk next to the big wheel.
How long are you on the Krakow Big Wheel for?
A regular ticket gets you 15 minutes of big-wheel action. The pricy VIP tickets can get you 30 or 60 minutes of circling fun.
15 minutes was plenty for me. The wheel moves so slowly that you're not likely to miss anything on your way up or down, so unless you fancy having a picnic and a little nap while riding the Crakow Eye, I'd say just go with the regular one.
Krakow Fun Fair – The occasional addition to the big wheel
It's not always just the Krakow Eye that's there to entertain you thrillseekers. Its permanent neighbour is the Krakow Balloon, which you can read all about here. There's also the travelling fun fair.
I've been here for a month now, and the fun fair has been there the whole time, but locals have told me that it's usually seasonal. So if you're coming during the warmer months you can expect to have classic fairground rides like a carousel for the kids and a genuinely terrifying 70-metre-high spinning thing alongside the Krakow Big Wheel. Which does to be fair make it a fun place to spend a few hours with family or friends.
Krakow Big Wheel Opening Times & Location
The Cracow Eye is open from 12 noon to 9 pm on weekdays and 11 am to 10 pm on weekends.
The big wheel is located on Wołyński Boulevard, which is right next to the derelict Forum Hotel. The old hotel is also worth seeing, especially for any zombie invasion lovers as it looks like something out of The Walking Dead / The Last of Us / Resident Evil / etc etc.
Facts about the Krakow Eye
It has 36 gondolas, including the two fancy pants VIP ones.
The maximum capacity is 216 people at any one time
It took 14 trucks to transport all the pieces and 7 days to construct it.
Overall, is the Krakow Big Wheel worth it?
There are no surprises, you know what you're getting, a slow-moving big wheel that gives you great views across the city of Krakow. You can see Wawel Castle, Kazimierz and the towers of St Mary's Basilica. It's not the most fun you'll ever have but at only 35 PLN for a ticket, yes, it's worth it.
I would recommend going during the day, though, as Krakow isn't exactly a city of lights. So if you take a late ride one night you won't be seeing much. Enjoy.
---
Looking for more things to do in Krakow?
If you're wondering what else you should be doing in and around Krakow, may I push you in the direction of Get Your Guide. These guys are the best place for all of the available tours and trips on offer. You can book safely and securely online, and if you change your mind you can even get a full refund if you give them enough notice. So if you're planning on getting out and about you really should look at Get Your Guide. This is a link directly to the tours that they offer in and around Krakow.
Want some accommodation tips?
If you're on the lookout for some tips about where to stay in Krakow allow me to give you my three budget-based recommendations.
1 – Five Star Fancy Pants
If you're feeling lavish then check out Hotel Pod Roza. Rooms are usually over £130 per night, which I know is high, but hear me out. If you're after something extra special and can afford it, you won't regret treating yourself to this hotel in Krakow.
2 – Above Average Joe
If you prefer to place yourself in the high to middle range you should head to Hotel Polski Under the White Eagle. This place is usually about £75 per night but if you want some 4 star luxury in the heart of the Old Town, it's a winner..
3 – That'll do nicely
If you're planning on spending most of your time in the city and just want a clean room with private facilities, Hotel Jan could be for you. Rooms are often available from around £50 per night and you couldn't ask for a better location in Krakow.
If you're hungry for more travel tips and stories head on over to my blog where I've got more tips and info, including these ones about Krakow…
Shooting Range In Krakow – Best Ones For A Stag Party
---
What Is The Krakow Hot Air Balloon?
---
Sports Bars in Krakow – The Best Places to Watch Football in 2023
---
Thermal Baths Krakow – Are there any in the city?
---
Rooftop Bars In Krakow – Which One Is Best For You?
---
Electric Scooter Hire Krakow – Your 2023 Guide
---
Rynek Underground Museum Krakow- How To Get Free Tickets
---
The Krakow Big Wheel – Your Ultimate Guide
---
Best Cheap Bars in Krakow – The Only 3 You Need to Know
---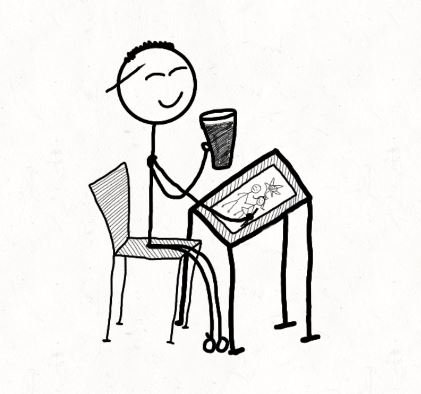 I'm not really a stickman, but it seems that I like portraying myself as one.
I'm an English guy who's been travelling since 2017. I was never good at taking photos, sketching just seems to work better for me, and in my opinion, why do you want to see other people's 4K videos and pictures of the world? Surely it's better to see it for yourself. You get in touch through the contact page or Instagram.
I look forward to hearing from you.
Happy travelling.
The Sketchy Traveller