Rynek Underground Museum – How To Get Free Tickets
Feeling like you can't just spend your whole trip in Krakow sinking beer and vodka around the square? A trip to the Rynek Underground Museum is the little bit of culture you're looking for. Especially if you can get free tickets. Here's all the info you need to visit the underground museum in Krakow.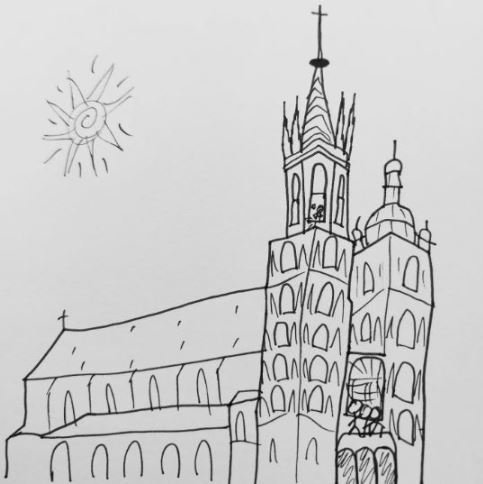 ---
Disclaimer: There are some affiliate links on this post. Meaning I may earn a (very) small commission if you buy something after clicking a link. This is at no extra cost to you. You can read my full disclaimer here.
---
Your ultimate travel guide to the Rynek Underground Museum in Krakow
Here's the key info for those of you who can't be bothered to read a whole post about a museum:
The Rynek Underground Museum is located directly under the Main Square in Krakow.
Tickets cost 32 PLN for adults and 28 PLN for kids.
You can get free tickets on Tuesdays
Getting your hands on free tickets to Krakow's Underground Museum isn't as easy as just turning up. Read on to find out how to get your hands on them.
What's in the Rynek Underground Museum?
The Rynek Underground Museum tells you all about the archaeological history of Krakow. It starts way back in the 11th century and covers local life all the way up to the present day.
Expect to see rock and lots of it. If you're a lover of all things stone then you're in for a treat. There are loads of exhibits of the original stone streets and buildings, or the foundations of buildings at least.
There are many other exhibits of old coins, jewellery such items. Some exhibits are modern and there are lots of interactive screens to touch if that's your kind of thing.
How much are the tickets?
Tickets for the Rynek Underground Museum in Krakow cost 32 PLN for an adult and 28 PLN for a child.
How to get free tickets to the Rynek Underground Museum
The good news is that you can go to the museum for free. The only condition is that you go on a Tuesday. It's always free on Tuesdays, so if you fancy checking it out but don't want to shell out any hard-earned zlotys you can. As long as you're in Krakow on a Tuesday.
You just have to go to the ticket office/reception and they'll sort you out. They used to let you book online, but that all changed in May 2023.
The ticket office is located on the west side of the Cloth Hall. It's between the halfway point and the northern entrance. Here's a pin to the location of the museum ticket office. I know the link goes to a gallery, but this is where to go to get tickets. It'll be clear when you get to that location. I promise.
Where is the entrance to the Underground Museum in Krakow
The hardest part is actually finding the entrance. This is an underground museum after all. But here's the info you need.
The entrance to the Rynek Underground Museum is also in the Cloth Hall, but it's on the northeastern corner. Here's a pin to that location. But don't go there before heading to the ticket office.
Is it worth it?
In my honest opinion, I would have been annoyed to have paid to visit the Rynek Underground Museum. I'm not saying it's bad, because it's a well-put-together museum with modern interactive exhibits. It just wasn't somewhere that interested me. It is mainly all about the archaeology of the layers of stone. Seeing the skeletons and reading about the vampires had a chilling edge to it, but to be honest, the rest of it bored me.  
It's not all about the rocks, cobbles and wooden kerbs, there is a lot of history about the city itself. But I'd rather sit in a bar and read all about that online. The fact that you can get free tickets to the museum definitely got me through the door and it's a way of ticking that culture box meaning you can get back to whatever else you want to do in Krakow.
I'm not knocking the effort, though, it is a well-funded museum and is very popular with tourists, so don't take my opinion as fact, just use my factual info to help you decide if you want to visit or not.
How long does it take to get around?
It's recommended to give about 1.5 – 2 hours to get around all of the exhibits in the museum. I can see how that's true as there's so much to read, especially on the interactive screens. I, however, got around everything in 35 minutes. As I said earlier, the place didn't really do it for me.
Rynek Underground Museum opening times
Wednesday to Thursday 10:00 – 19:00
Friday to Sunday 10:00 – 20:00
Other Museums in Krakow
If you're not sold on the Rynek Underground Museum but need some educational action, fear not, as there are many museums in Krakow. The best place to check them all out is at Muzeum Krakowa. They operate all of the major museums in Krakow so you can find the best one for you.
---
Looking for more things to do in Krakow?
If you're wondering what else you should be doing in and around Krakow, may I push you in the direction of Get Your Guide. These guys are the best place for all of the available tours and trips on offer. You can book safely and securely online, and if you change your mind you can even get a full refund if you give them enough notice. So if you're planning on getting out and about you really should look at Get Your Guide. This is a link directly to the tours that they offer in and around Krakow.
Want some accommodation tips?
If you're on the lookout for some tips about where to stay in Krakow allow me to give you my three budget-based recommendations.
1 – Five Star Fancy Pants
If you're feeling lavish then check out Hotel Pod Roza. Rooms are usually over £130 per night, which I know is high, but hear me out. If you're after something extra special and can afford it, you won't regret treating yourself to this hotel in Krakow.
2 – Above Average Joe
If you prefer to place yourself in the high to middle range you should head to Hotel Polski Under the White Eagle. This place is usually about £75 per night but if you want some 4 star luxury in the heart of the Old Town, it's a winner..
3 – That'll do nicely
If you're planning on spending most of your time in the city and just want a clean room with private facilities, Hotel Jan could be for you. Rooms are often available from around £50 per night and you couldn't ask for a better location in Krakow.
If you're hungry for more travel tips and stories head on over to my blog where I've got more tips and info, including these ones about Krakow…
Shooting Range In Krakow – Best Ones For A Stag Party
---
What Is The Krakow Hot Air Balloon?
---
Sports Bars in Krakow – The Best Places to Watch Football in 2023
---
Thermal Baths Krakow – Are there any in the city?
---
Rooftop Bars In Krakow – Which One Is Best For You?
---
Electric Scooter Hire Krakow – Your 2023 Guide
---
Rynek Underground Museum Krakow- How To Get Free Tickets
---
The Krakow Big Wheel – Your Ultimate Guide
---
Best Cheap Bars in Krakow – The Only 3 You Need to Know
---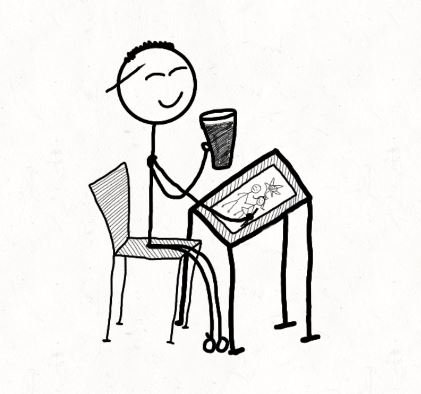 I'm not really a stickman, but it seems that I like portraying myself as one.
I'm an English guy who's been travelling since 2017. I was never good at taking photos, sketching just seems to work better for me, and in my opinion, why do you want to see other people's 4K videos and pictures of the world? Surely it's better to see it for yourself. You get in touch through the contact page or Instagram.
I look forward to hearing from you.
Happy travelling.
The Sketchy Traveller