Rooftop Bar in Krakow 2023, Which Suits You Best?
If you're looking for the best rooftop bar in Krakow you're in the right place. There aren't many sky bars in this wonderful city, but there are a few hidden gems out there. Only five places have made my list, but these are the best rooftop bars in Krakow!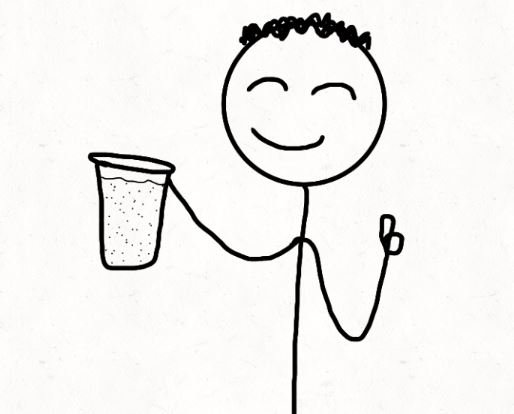 ---
Disclaimer: There are some affiliate links on this post. Meaning I may earn a (very) small commission if you buy something after clicking a link. This is at no extra cost to you. You can read my full disclaimer here.
---
Your quick and easy guide to the best rooftop bars in Krakow
Whether you want to overlook the Vistula River, Wawel Castle, the historic Old Town with the towers of St Mary's Basilica or just catch some rays in the cool Kazimierz neighbourhood, the five rooftop bars on my list have all of them covered.
I know that reading a whole post can be pretty tiresome nowadays, so if you just want instant information I'm here for you. These are the two best rooftop bars in Krakow:
Szklanki – The best rooftop bar in Kazimierz
Hotel Pod Wawelem – The best riverside rooftop bar in Krakow
If that's all you want, you're welcome, thanks for stopping by. If, though, you want to know why they are the two best places to enjoy the sun in Krakow and also know about three other great rooftop bars, I suggest you read on for a little bit longer.
Hotel Pod Wawelem – The best riverside rooftop bar in Krakow
Located on top of Hotel Pod Wawelem you will find the best riverside rooftop bar in Krakow. There are about ten tables out on the sunny terrace and unlike many sunny spots in Krakow, they are not all covered by parasols.
There are plenty of spots to top up your tan while sipping on something from their extensive drinks menu. Which, considering it's a hotel is well priced. A beer is yours for 16 PLN, a coffee for 11 PLN.
To access the rooftop bar you need to take the lift to the side of the hotel reception. You see the lift if you enter the hotel via the sidestreet, but you'll need to walk around the restaurant if you go in through the main street door. Either way, the staff are really friendly and will point you in the right direction.
The real selling point is the panoramic view of Krakow Castle on Wawel Hill. No other rooftop bar in Krakow offers such amazing views over the castle and the river. It's probably also the best sun terrace in the city. It's south-facing, so you can soak up the rays all day long. 
Here is a link to the location of this rooftop terrace in Krakow.
Vidok – The 2nd best riverside rooftop bar in Krakow
Located on top of the Jubilat building you'll find Vidok Restaurant. The main building, which was built in the 1960s and is a show of socialist modernism architecture (square and concrete to you and me), is a local shopping centre that happens to have a fancy pants restaurant on the top.
This rooftop bar is much more a restaurant than a bar. You are, though, more than welcome to have a liquid lunch on its terrace.
The prices aren't too bad considering the views and the fact that it's mainly a posh restaurant. A place that serves things like egg white pearls isn't usually where I head for a beer, but somehow it works for both types of clientele.
A large beer costs 14 PLN, whereas cocktail prices start from 28 PLN. Here's a link to the full menu for the food and drinks on offer.
Don't expect a lively bar atmosphere, it's far from that, but for a relaxing couple of hours overlooking the river and castle, Vidok rooftop bar is a great option in Krakow.
It's open from 2 pm – 11 pm seven days a week.
Address: Aleja Zygmunta Krasińskiego 1, 31-111 Kraków, Poland.
I headed here after reading that it was a great sky bar in Krakow, and, to be honest, I was very disappointed. So, I'm including it here to give you my honest opinion as you'll see this place come up on a lot of searches that you'll do for the best rooftop bar in Krakow.
Yes, Stary Hotel Sky Bar does give views of St. Mary's Basilica and the Market Square, but it's soulless. It reminded me of a breakout area at a boring conference. Maybe if you filled the whole area with your nearest and dearest you could bring a party vibe, but apart from that don't expect any atmosphere at all. The view is good and it is a good suntrap, but that should be a given for any rooftop bar.
The prices aren't great either. You're looking at 45-89 PLN for cocktails, no draught beer, and bottle prices starting at 19 PLN. To be fair to them, this is a 5-star hotel in the middle of the Old Town so the prices aren't going to be reasonable.
Meaty ice cream for lunch?
If you're feeling peckish, they do finger food for between 25 – 35 PLN. The menu includes beef tartare in a cone with potato mousse. I have no idea what this would look like, the only clue is that it comes in five pieces. I'm picturing some kind of beefy ice cream cones with a dollop of mashed potato on top.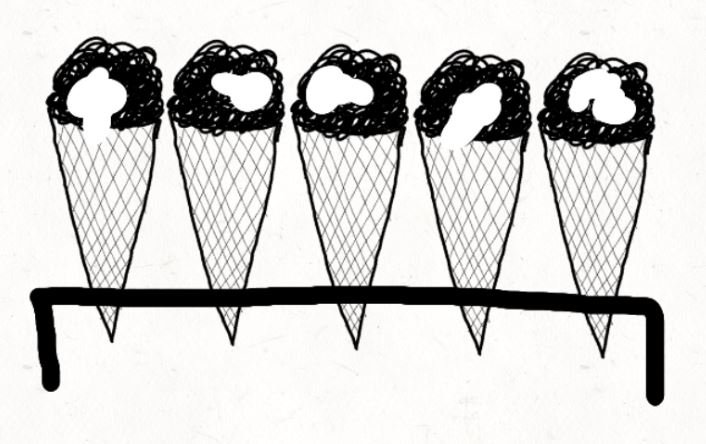 Another downside to Stary Hotel Sky Bar is that they are closed during winter and bad weather. Meaning it's pot luck during spring and autumn. I know Polish winters aren't really a time for outdoor activities, but surely they can afford a few heaters.
It's officially open from 12 pm – 11 pm every day during the summer months. Who knows for the rest of the year?
Address: Szczepańska 5, 31-011 Kraków, Poland.
Metrum Restobistro – The best roof terrace in Krakow for coffee and cakes
WARNING – No alcohol!
Okay, maybe that warning was a bit drastic, but let's be honest, if you're on the lookout for a rooftop bar in Krakow you're more than likely after something alcoholic to go with it. Metrum is a booze-free zone, so don't go there expecting to enjoy a tipsy afternoon.
Located on the edge of the Old Town, Metrum offers a large terrace overlooking St Mary's Basilica, and you can see Wawel Castle in the background too. It's a great rooftop bar to take photos in Krakow.
The terrace is located on the top of the Krakow Music Academy, which is why there's no beer, it's basically a cafe for the academy's students. But, they are more than happy to welcome the public too. It's a great spot to enjoy a coffee and cake, but they also offer a selection of breakfast and lunch dishes, all at good prices so as to not scare away the students.
The main challenge is finding the place. Once you get to the Music Academy, take the stairs on the left and then ride the elevator to the top. Once there, grab a seat on the roof terrace and take in one of the best views in Krakow.
Metrum is open from 9 am – 8 pm on weekdays and 9 am – 6 pm on weekends.
Address: Świętego Tomasza 43, 31-027 Kraków.
Szklanki – The best rooftop bar in Kazimierz
Finally, it took a while, but we finally found a place that is a real bar! And it's in the Jewish Quarter, which is, without doubt, the coolest neighbourhood in Krakow.
Most of the tables at Szklanki are in a conservatory, which feels like a giant greenhouse, as you're surrounded by so many plants. There is, though, a small section on the roof, meaning I can officially add it to this list of rooftop bars in Krakow.
I really wanted to add a sky bar in Kazimierz, Krakow's Jewish Quarter, and this is the best one I found on my travels. There is another one at the Sheraton Hotel too, but that's another fancy pants pricey one that only opens for the summer season, so I'm not going to waste much time on it.
Szklanki and its rooftop terrace definitely deserve more recognition though.
They offer a huge rotating selection of draught beers, with most costing between 14 – 20 PLN for a large glass. You can choose from craft beers, fruity beers, stouts or just good old lagers! There are loads of different wines to choose from too.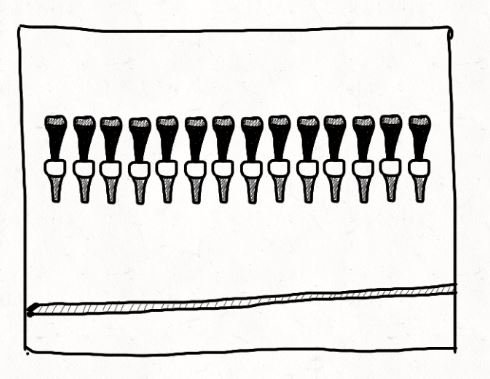 Thanks to all the booze on offer, and the fact that it's a bar by trade, Szklanki is different to most of the other rooftop bars in Krakow because this place has a buzzing atmosphere every night of the week. Szklanki is open 4 pm – 12 am Tuesday to Saturday and 3 pm – 11 pm Sunday & Monday.
It's in the heart of Kazimierz, the full address is Jakuba 1931-057 Kraków Polska. Here's the link to it on Google Maps
There is one disadvantage to this place though, you don't get the views that the other ones offer because the roof terrace here is only on the first floor. But you can't have it all. I couldn't find a rooftop bar in Krakow that had the busy bar vibe of Szklanki and the amazing views offered by some of the fancier places.
This is why my list contains the places it does, to give you the best options for whatever it is you want from a rooftop terrace in Krakow. I hope you enjoy whichever one you choose, and if you do stumble across one that I didn't find that's worthy of a mention, please drop me a message!
---
Looking for more things to do in Krakow?
If you're wondering what else you should be doing in and around Krakow, may I push you in the direction of Get Your Guide. These guys are the best place for all of the available tours and trips on offer. You can book safely and securely online, and if you change your mind you can even get a full refund if you give them enough notice. So if you're planning on getting out and about you really should look at Get Your Guide. This is a link directly to the tours that they offer in and around Krakow.
Want some accommodation tips?
If you're on the lookout for some tips about where to stay in Krakow allow me to give you my three budget-based recommendations.
1 – Five Star Fancy Pants
If you're feeling lavish then check out Hotel Pod Roza. Rooms are usually over £130 per night, which I know is high, but hear me out. If you're after something extra special and can afford it, you won't regret treating yourself to this hotel in Krakow.
2 – Above Average Joe
If you prefer to place yourself in the high to middle range you should head to Hotel Polski Under the White Eagle. This place is usually about £75 per night but if you want some 4 star luxury in the heart of the Old Town, it's a winner..
3 – That'll do nicely
If you're planning on spending most of your time in the city and just want a clean room with private facilities, Hotel Jan could be for you. Rooms are often available from around £50 per night and you couldn't ask for a better location in Krakow.
If you're hungry for more travel tips and stories head on over to my blog where I've got more tips and info, including these ones about Krakow…
Shooting Range In Krakow – Best Ones For A Stag Party
---
What Is The Krakow Hot Air Balloon?
---
Sports Bars in Krakow – The Best Places to Watch Football in 2023
---
Thermal Baths Krakow – Are there any in the city?
---
Rooftop Bars In Krakow – Which One Is Best For You?
---
Electric Scooter Hire Krakow – Your 2023 Guide
---
Rynek Underground Museum Krakow- How To Get Free Tickets
---
The Krakow Big Wheel – Your Ultimate Guide
---
Best Cheap Bars in Krakow – The Only 3 You Need to Know
---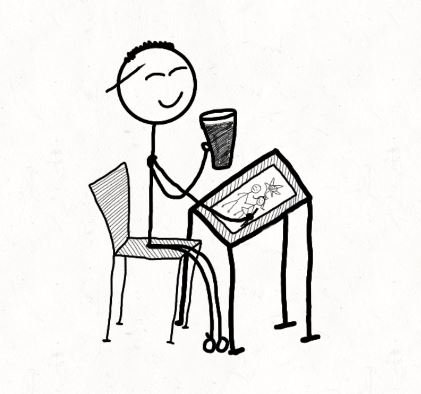 I'm not really a stickman, but it seems that I like portraying myself as one.
I'm an English guy who's been travelling since 2017. I was never good at taking photos, sketching just seems to work better for me, and in my opinion, why do you want to see other people's 4K videos and pictures of the world? Surely it's better to see it for yourself. You get in touch through the contact page or Instagram.
I look forward to hearing from you.
Happy travelling.
The Sketchy Traveller