The Best Falafel Wrap in Krakow, If Not The World
I'm not one for food blogging but this one dish has caused me to write a post all about it. There are no affiliate links, no paid ads or any kind of sponsorship here. This is just my love letter to the best falafel wrap in Krakow, if not the entire world.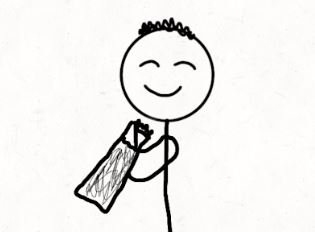 ---
Disclaimer: There are some affiliate links on this post. Meaning I may earn a (very) small commission if you buy something after clicking a link. This is at no extra cost to you. You can read my full disclaimer here.
---
Where can you get your hands on this falafel wrap in Krakow?
Like most of the greatest food in the world, it comes from a humble place. There are no slate plates with drizzles of condensed stuff splattered around. No waiting staff who hide in the shadows and suddenly appear at the sight of a single crumb on the ironed and pleated table cloth.
None of that stuff.
The best falafel wrap in Krakow is available from a food stall in the buzzing Plac Nowy in Kazimierz. A food stall named Sham Falafel. Don't be fooled by the pics on that link. There is no indoor space to eat. There are two little wooden tables out the front and that's it. But most people are eating on the go.
What's in it?
Now to the good stuff. What's in this magical falafel wrap? You get three freshly fried falafels, pickles, salad, hummus and tahini. The one ingredient that takes it to the next level, though, is pomegranate seeds. All sounds simple, but the way the guy puts it together creates one amazing meal.
My personal preference is to have it medium spicy. It still has a hell of a bite to it, so I was always too scared to go spicier.
How much does the falafel wrap cost?
Another big plus point is the price. This falafel wrap is yours for just 16 PLN. Combine this food with a trip to one of Krakow's many cheap bars and you're well-fed and having a great night out for less than €15.
There are plenty of other great food spots around the city. None of them compete with Sham though.
---
Looking for more things to do in Krakow?
If you're wondering what else you should be doing in and around Krakow, may I push you in the direction of Get Your Guide. These guys are the best place for all of the available tours and trips on offer. You can book safely and securely online, and if you change your mind you can even get a full refund if you give them enough notice. So if you're planning on getting out and about you really should look at Get Your Guide. This is a link directly to the tours that they offer in and around Krakow.
Want some accommodation tips?
If you're on the lookout for some tips about where to stay in Krakow allow me to give you my three budget-based recommendations.
1 – Five Star Fancy Pants
If you're feeling lavish then check out Hotel Pod Roza. Rooms are usually over £130 per night, which I know is high, but hear me out. If you're after something extra special and can afford it, you won't regret treating yourself to this hotel in Krakow.
2 – Above Average Joe
If you prefer to place yourself in the high to middle range you should head to Hotel Polski Under the White Eagle. This place is usually about £75 per night but if you want some 4 star luxury in the heart of the Old Town, it's a winner..
3 – That'll do nicely
If you're planning on spending most of your time in the city and just want a clean room with private facilities, Hotel Jan could be for you. Rooms are often available from around £50 per night and you couldn't ask for a better location in Krakow.
If you're hungry for more travel tips and stories head on over to my blog where I've got more tips and info, including these ones about Krakow…
Shooting Range In Krakow – Best Ones For A Stag Party
---
What Is The Krakow Hot Air Balloon?
---
Sports Bars in Krakow – The Best Places to Watch Football in 2023
---
Thermal Baths Krakow – Are there any in the city?
---
Rooftop Bars In Krakow – Which One Is Best For You?
---
Electric Scooter Hire Krakow – Your 2023 Guide
---
Rynek Underground Museum Krakow- How To Get Free Tickets
---
The Krakow Big Wheel – Your Ultimate Guide
---
Best Cheap Bars in Krakow – The Only 3 You Need to Know
---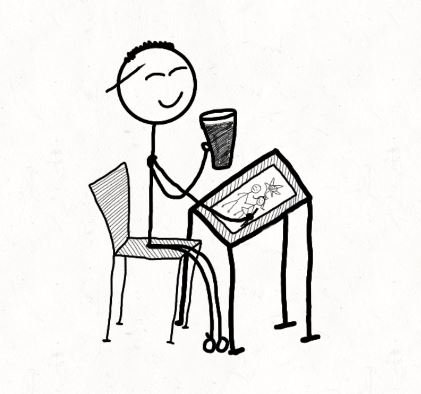 I'm not really a stickman, but it seems that I like portraying myself as one.
I'm an English guy who's been travelling since 2017. I was never good at taking photos, sketching just seems to work better for me, and in my opinion, why do you want to see other people's 4K videos and pictures of the world? Surely it's better to see it for yourself. You get in touch through the contact page or Instagram.
I look forward to hearing from you.
Happy travelling.
The Sketchy Traveller