Windmills At Kinderdijk – Are They Worth It?
If windmills are the main reason you're going to the Netherlands then yes, the windmills at Kinderdijk are definitely worth the effort. I say effort because getting there for most tourists isn't a simple trip. So if you're not a windmill enthusiast you're probably right to ask yourself whether a trip to the Kinderdijk Windmills is worth it. Let's find out.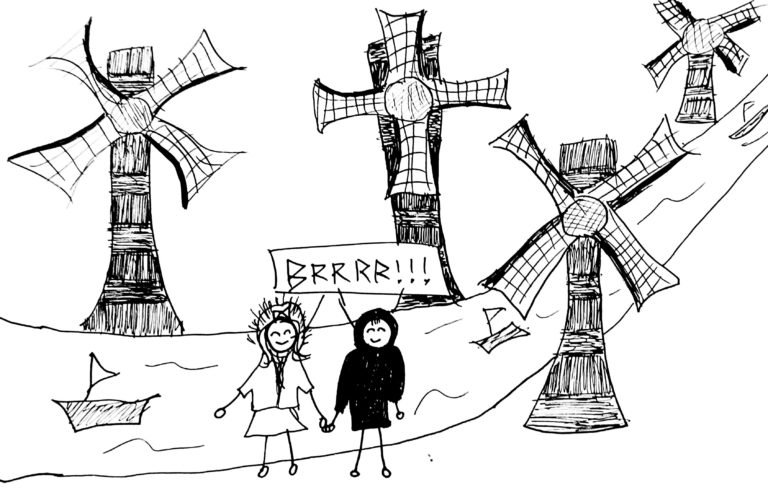 Your 2023 Guide to the Windmills At Kinderdijk
Here's all you need to know to decide if it's worth visiting the Kinderdijk Windmills. And if you do plan to go, I've got all the info you need to make the most of your trip.
Where are the Kinderdijk Windmills?
Firstly let's think about the where question. Where are the windmills at Kinderdijk? Kinderdijk is a village 15km south of Rotterdam. Which is a city 80km south of Amsterdam. So if like most people you'll be flying to Amsterdam you need to put aside about two hours each way to visit the windmills. But, it is simple enough. There are options by bus and train and cost as little as €20 euros. If you'll be based in Rotterdam there are a few buses to get you there and back much faster.
Can the cities compare to Kinderdijk?
If you stay in big cities like Amsterdam or Rotterdam, windmill sightings will be at a premium. There seem to be more in Rotterdam but still not many. Head to neighbouring Schiedam and you'll find giant ones on most corners. So maybe that's enough. Schiedam gives you plenty of traditional windmills but in a city environment. Something you don't get at Kinderdijk. But maybe that's what you want.
A history lesson
The Kinderdijk windmills became a Unesco site in 1997. The name has a great legend behind it. The story goes that in 1421 after a terrible storm, the area was flooded. Once the water receded a cradle was found with a dry, sleeping baby inside.
A more detailed story adds that a cat was seen tactically balancing on the cradle to keep the water out. I do love fables. Either way, the name was born. Kinder is the Dutch for children and a dijk is, well, a dike.
On the face of it, a dike is a canal. Sorry to any dike or canal purists out there if I've offended you.
How much is a ticket to see the windmills at Kinderdijk?
So, back to the question at hand – are the Kinderdijk Windmills worth it? As well as the journey you'll need to buy a ticket. The easiest way to do that is to do it online before you arrive. In my opinion, the best place to get your ticket is with Get Your Guide.
If you book it before you can avoid the queues when you arrive. Yes, this is an affiliate link, but I only promote Get Your Guide because in my opinion, they're the best at what they do.
Need more convincing?
If you're still unsure if it's worth a trip to the windmills at Kinderdijk. maybe Theo the volunteer tour guide can help you decide if it's a must-see landmark for you. He says "As a guide, we show you the world of water management".
Personally, I think he's underselling it.
Of course, it's not quite as rich with history as the Rijksmuseum, but, there is just a quintessentially Dutch feeling about the Kinderdijk windmills. So personally I'd be telling you to make the effort and have a unique day out because after all, that's the main point of travelling isn't it?
The one thing I will complain about is the coffee. It was the kind you used to get at English football stadiums in the 90s. Somehow heated to 200'C and then served in the thinnest of thin plastic cups. Giving you the job of trying to find a way to hold it for more than ten seconds.
But apart from the coffee, I do recommend visiting the Kinderdijk windmills if you're around and have the time.
Looking for some things to do in Rotterdam?
If you're hungry for more travel tips and stories head on over to my blog where I've got more tips and info, including these ones about Rotterdam…
Yellow Cube Houses in Rotterdam: A Must-See Attraction in 2023
---
E-scooter Hire in Rotterdam – Can you get one in 2023?
---
Smartshop Rotterdam – What Can You Buy?
---
The Best Things To Do In Rotterdam In 2023
---
---
Windmills At Kinderdijk – Are They Worth It?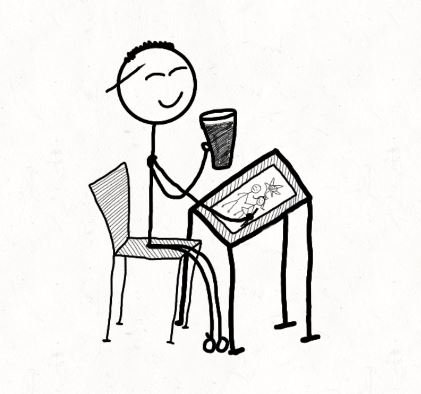 I'm not really a stickman, but it seems that I like portraying myself as one.
I'm an English guy who's been travelling since 2017. I was never good at taking photos, sketching just seems to work better for me, and in my opinion, why do you want to see other people's 4K videos and pictures of the world? Surely it's better to see it for yourself. You get in touch through the contact page or Instagram.
I look forward to hearing from you.
Happy travelling.
The Sketchy Traveller