Sports bars in Rotterdam – The Best Places to watch Football
In a football-mad city, you'd expect to be spoiled for choice when it comes to sports bars in Rotterdam. Surprisingly, there really aren't many places to watch live football in the city. Most internet searches just give you lists of unsporty bars and restaurants. Luckily, though, there are two bars that do show sport, and they offer everything you could need to get your footy fix. So, here are the best two football pubs in Rotterdam…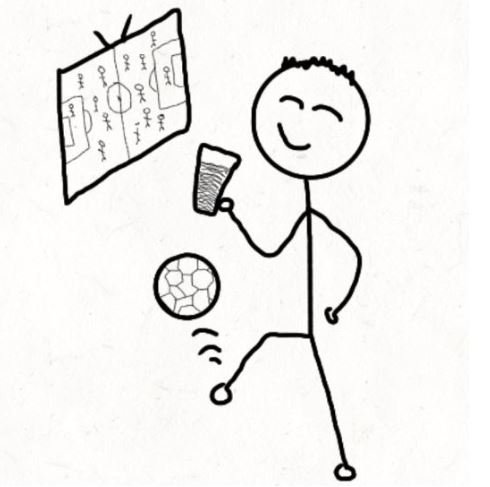 ---
Disclaimer: There are some affiliate links on this post. Meaning I may earn a (very) small commission if you buy something after clicking a link. This is at no extra cost to you. You can read my full disclaimer here.
---
Your ultimate guide to the best sports bars in Rotterdam
I know calling it an ultimate guide to sports bars in Rotterdam might be pushing it when I'm only telling you about two bars, but they are the only decent places I found that show live football and other sports on TV. So a short list it may be, but it's all you need to know.
The two best sports bars in Rotterdam in 2023
As I said, there are only two sports pubs worth mentioning in The Netherlands' second city, and these are them:
Paddy Murphy's Irish Pub – The best sports bar in Rotterdam for tourists
Paddy Murphy's is the best place to watch live football on TV in Rotterdam, especially if you want to watch an English Premier League game with English commentary.
The pub has three sections, and although only one, the one to the left, shows live sport, it's big enough with enough TVs to give you the room and atmosphere you want while watching a match.
As you'd expect with any decent Irish bar, the bar is stacked with loads of draught beer options, which aren't the cheapest in the city but that's mainly because you'll be drinking pints, not the halves that are prominent in most local bars. The Guinness here is probably the best in the city.
Guinness and all-day breakfasts
If you're planning a full Super Sunday, Paddy Murphy's Irish Pub has a great food menu with all the traditional delights you could want and need. All-day breakfasts and fried things in baskets are all a footy fan needs to accompany the football and beer.
When the football is over there will likely be a live music gig about to start too. All this entertainment plus the lack of windows make it very, very easy to spend a few too many hours in this sports bar in Rotterdam.
You can check out their live football schedule on their homepage, just scroll down a bit and you find it.
Paddy Murphy's is open every day of the week. Here's a link to the exact location on Google Maps.
Panenka – The Dutch Sports Bar in Rotterdam
If the thought of spending hours of your well-earned holiday inside a dark Irish bar just doesn't sit right with you, fear not, I have a solution. You need to get yourself to Panenka, the best local sports bar in Rotterdam.
Panenka, a word that to all avid football fans means 'a cheeky chipped penalty', gives you a mix of local culture and the ability to watch EFL football at the same time.
They take their food seriously here too. It's not just a sports bar in Rotterdam, Panenka is a high-quality resto-bar that serves up fancy dishes on slate plates and wooden chopping boards. You know the kind of place I'm talking about.
It's the polar opposite of Paddy Murphy's. There are no all-day breakfasts with extra beans, and there's not a cheap social club pint glass in sight. Panenka is a bright and airy delight that offers cocktails and a pricy wine list. Perfect for you if you want to indulge in the finer things on your trip to Rotterdam, but not sacrifice on watching live sport.
A classy sports bar in Rotterdam
That's the one thing Panenka has in common with Paddy Murphy's, they're both sports bars in Rotterdam. Even with all the fancy things, live football on TV is still at the core of what they offer at Panenka. Take a look at their live football schedule on their website and you'll see that they have every game you could wish to see.
Pananka is open from noon to midnight on weekends and from 5 p.m. to midnight during the week. Here's where you can find this sports bar in Rotterdam.
---
So, there you have it, although there are only two decent sports bars in Rotterdam, between them they offer you pretty much everything you need to get a bit of live football while in the Netherlands.
Rotterdam is one of my favourite cities in the whole world. I've also written a guide about the best bars and also the best things to do in the city. You need to take a trip to neighbouring Schiedam if you have time. It's like a Dutch fairytale.
---
Looking for more ideas of things to do in Rotterdam?
If you're wondering what else you should be doing in and around Rotterdam, may I push you in the direction of Get Your Guide. These guys are the best place for all of the available tours and trips on offer. You can book safely and securely online via Get Your Guide, and if you change your mind you can even get a full refund if you give them enough notice. So if you're planning on getting out and about you really should check them out.
Want some accommodation tips?
If you're looking for some tips about where to stay in Rotterdam allow me to give you a few budget-based recommendations.
1 – Five Star Fancy Pants
If you're feeling lavish then check out Rotterdam Marriott Hotel. Rooms are usually around £300 per night, which I know is high, but hear me out. If you're after something extra special and can afford it, you won't regret treating yourself to this hotel in Rotterdam.
2 – Above Average Joe
If you prefer to place yourself in the high to middle range you should head to Bilderberg Hotel Rotterdam. This place is usually about £140 per night but if you want some 4-star luxury in the heart of the city, it's a winner.
3 – Cheap & Cheerful Hostel
If you're more of a hostel kinda person I'd recommend King Kong Hostel Rotterdam. It's a lively hostel in the middle of the city. If hostels are your bag, check them out.
---
If you're hungry for more travel tips and stories head on over to my blog where I've got more tips and info, including these ones about Rotterdam…
Yellow Cube Houses in Rotterdam: A Must-See Attraction in 2023
---
E-scooter Hire in Rotterdam – Can you get one in 2023?
---
Smartshop Rotterdam – What Can You Buy?
---
The Best Things To Do In Rotterdam In 2023
---
---
Windmills At Kinderdijk – Are They Worth It?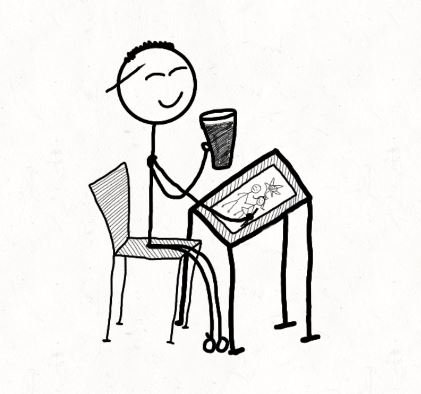 I'm not really a stickman, but it seems that I like portraying myself as one.
I'm an English guy who's been travelling since 2017. I was never good at taking photos, sketching just seems to work better for me, and in my opinion, why do you want to see other people's 4K videos and pictures of the world? Surely it's better to see it for yourself. You get in touch through the contact page or Instagram.
I look forward to hearing from you.
Happy travelling.
The Sketchy Traveller