Shooting Range In Budapest – Which is Best For You?
If you're drawing up your list of things to do, finding a shooting range in Budapest should definitely be on there. But which one is best for you? Fancy firing some 19th-century revolvers? Or maybe a rocket-propelled grenade is more up your street. It's all possible here!! These are the best three shooting ranges in Budapest. Safeties off, let's get firing…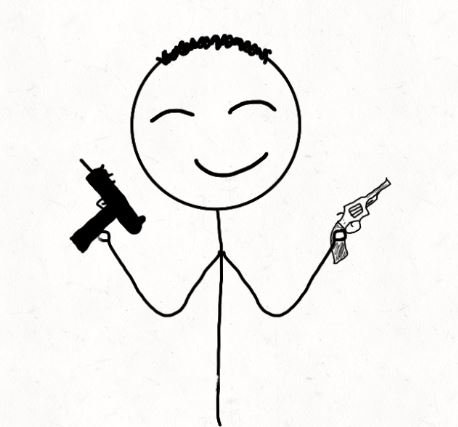 ---
Disclaimer: There are some affiliate links on this post. Meaning I may earn a (very) small commission if you buy something after clicking a link. This is at no extra cost to you. You can read my full disclaimer here.
---
Your Ultimate Guide to the Best Gun Range in Budapest
The great thing is that you have options when it comes to choosing a gun range in Budapest. Here are the best three shooting ranges in the city.
The 3 Best Shooting Ranges in Budapest
---
Budapest Shooting – The top shooting range in Budapest
Budapest Shooting positions itself as the number one shooting range in Budapest. I guess having over 150 different guns sounds pretty impressive and they do have the most in-depth and easy-to-use website of all the gun ranges in Budapest. Not an exciting thing but a great tool to get customers.
As with all three of the Budapest shooting ranges on this list, they sell packages. Lots of them. You'll see that they are all displayed with Call of Duty-style pictures for each theme. Something that at first has you doubting whether this is all a video game experience rather than the real thing.
These shooting range packages cost from €55 – €80 for approx 2 hours. The difference? The cheaper the price the more pistols you'll use. The more expensive packages get you more rifles.
Fancy shooting some sniper rifles and AK47s?
You can also get extras. I mean, what shooting range in Budapest experience is complete without extras? Things like sniper rifles and AK47s can be added for an extra €30 – €40.
Budapest Shooting is open from 10 a.m. – 8 p.m. every day and is located right in the heart of the city. You can see its exact location on Google Maps here.
Celeritas Shooting School – The most heavily armed shooting range in Budapest
I'll get straight to the selling point. Celeritas Shooting School is the only gun range in Budapest that has an RPG. For €13 you can launch three grenades. You might be thinking that there must be a hole from Budapest through to Shanghai if people are repeatedly firing a grenade day in and day out. But, this RPG fires a non-explosive warhead.
This allows you to test out your anti-tank skills without the real devastation. If that's a disappointment, may I suggest heading to Cambodia for your next trip? They let you fire what you want at what you want.
Not only do they have an RPG, but they also boast of having the widest selection of guns at any shooting range in Budapest. Their website shows just under 300 different types of guns. Surely this is the place to go when the zombie invasion strikes!
Prices are again all based on which package you want. This time they range from €50 to €180. The top package is deceivingly called Shoot 'em All, but you can't shoot all 294 guns. You can fire 23 different guns that cover the whole spectrum of what's on offer at this shooting range in Budapest.
Celeritas Shooting School is open 12 – 4 p.m. five days a week. It's closed on Wednesdays and Sundays.
Not only are the opening times much shorter than other shooting ranges in Budapest, but the location ain't great either. It's 15km out of the city, meaning it will take about 25 minutes and cost €20 to get there by taxi. Is it a price worth paying for an RPG experience?
Here's the exact location on Google Maps for you to check out.
Churchill Shooting Range – The 'Can you beat Mel Gibson?' shooting range in Budapest
Before getting to the special offer that gets Churchill on my list of the best Budapest shooting ranges, the core offering is the same as the other two. Prices start at around €50 for the basic package.
When you've fired your last round from your package, next comes what they call Budapest's most famous test: The Churchill Challenge!
In a test of your speed and accuracy, you have 30 rounds of 9×19 ammunition, a timer and the duelling tree. Basically, a post with ping-pong bats down one side that you need to hit and flip to the other side. You choose which weapon to use from their armoury and see if you make the scoreboard.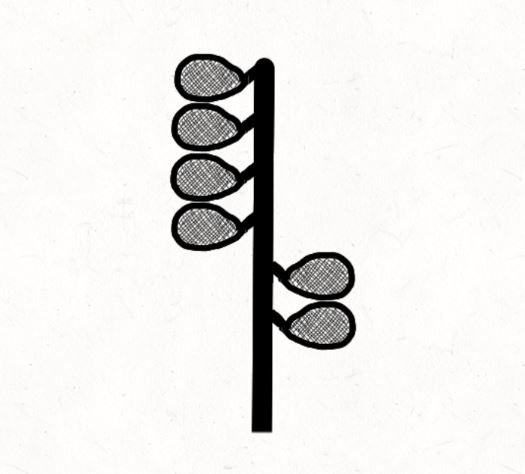 The name at the top of the leaderboard boasts an insane 9.58 seconds done in 13 shots.
If you fancy taking on a celebrity, how about challenging Mel Gibson's 17.42 seconds and 19 shots? I guess the Lethal Weapon movies were a long time ago, he must be rusty in his older age!
Churchill is open 10 am-5 pm on weekdays and 9 am-6 pm on weekends.
The location is nice and central, here's a link to the exact location of this shooting range in Budapest on Google Maps.
---
So there you are, the best four options for a Budapest go-karting experience. I've also written a guide about the famous thermal baths, also what to expect from the Budapest beer bikes since their ban from the city centre. For more adrenaline-packed adventures check out the best go-karting options in the city.
---
Looking for more activities in Budapest?
If you're after even more ideas of things to do in Budapest you should take a look at what the guys at Get Your Guide are offering. If you read my posts you'll see that I'm not really into pushing other products and services but I do always recommend Get Your Guide. That's because they have the best selection of trips and tours, all with the ability to pay securely online and get a refund if you need to cancel. I've used them plenty of times and it's always gone perfectly.
---
Best Hotel in Budapest
Finally, I doubt you need any assistance with this, but if you're finding it hard to decide which hotel to stay in, my personal recommendation is the Radisson in the centre. There are loads of options out there but my stay there made exploring the city easy. You can check out their Booking.com listing here. You won't be disappointed!
Best Hostel in Budapest
If you're more of a budget-friendly hostel kinda traveller, I have the place for you too. Hostel One Budapest has the best reputation in the city. We didn't stay there but met some travellers who loved it.
If you're hungry for more travel tips and stories, head on over to my blog where I've got more tips and info, including these ones in Budapest…
Which Sports Bar in Budapest is Best For You?
Shooting Range In Budapest – Which is Best For You?
Budapest Go-Karting. The 4 Best Options Available in 2023
Beer Bike Budapest 2023: What's Possible After The Ban?
Budapest Baths Party 2023 – All You Need To Know!
Are Thermal Baths in Budapest clean?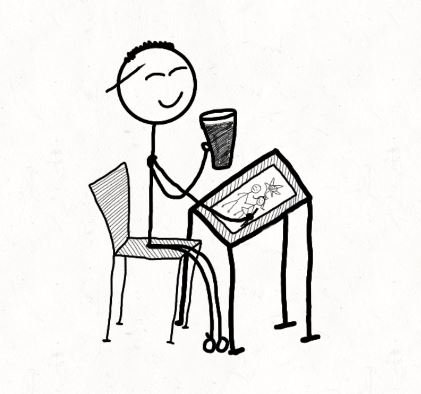 I'm not really a stickman, but it seems that I like portraying myself as one.
I'm an English guy who's been travelling since 2017. I was never good at taking photos, sketching just seems to work better for me, and in my opinion, why do you want to see other people's 4K videos and pictures of the world? Surely it's better to see it for yourself. You get in touch through the contact page or Instagram.
I look forward to hearing from you.
Happy travelling.
The Sketchy Traveller