Beer Bike Budapest 2023: What's Possible After The Ban?
If you're heading to Hungary and are planning to add the famous Beer Bike Budapest to your list of things to do you might need to rethink your plans. That's because major changes in how the beer bikes in Budapest can operate have just come into force. I'm going to tell you exactly what's changed along with all the basic info about what you get, how it works and what it costs. So let's go.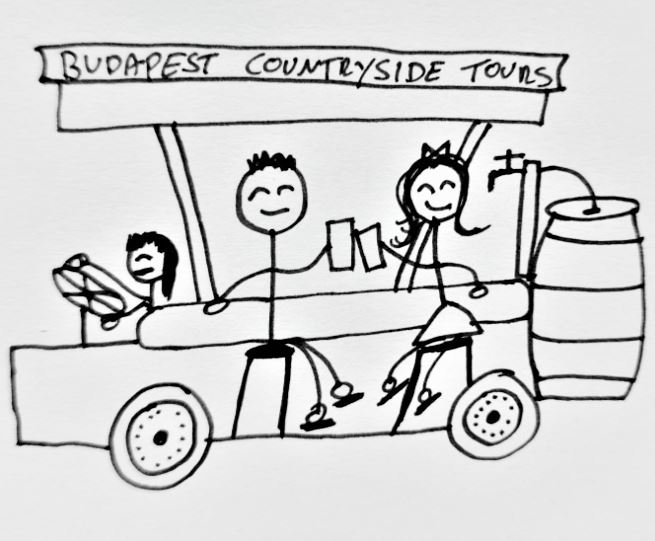 ---
Disclaimer: There are some affiliate links on this post. Meaning I may earn a (very) small commission if you buy something after clicking a link. This is at no extra cost to you. You can read my full disclaimer here.
---
Is the Beer Bike in Budapest banned in 2023?
You may have heard the rumours that the bikes have been banned by the Hungarian government. This is kind of true. They have been banned from the centre of Budapest. It seems that swarms of slow-moving bikes full of pissed-up tourists moving through the city's busiest streets are partly to blame for the current intolerable traffic. Not really a surprise is it?
You'll find that some of the companies who offer a Beer Bike Budapest experience are skirting around the issue on their websites. They are saying that beer bikes are not banned in Budapest and that you can continue to book the experience with confidence.
So is the Budapest Beer Bike banned or not?
They are right, the beer bikes are not completely banned, but one big part of what they can offer is gone. That's because they can now only operate in the areas surrounding the city. The guys behind the Beer Bike Budapest website, who in my opinion offer the slickest website and most up-to-date info about the situation, are stating this:
Due to recent government regulations which have banned ALL beer bikes from the inner districts of Budapest we – along with other tour providers – have decided to relocate all tours to a more suitable location .
The Budapest Beer Bike Route Map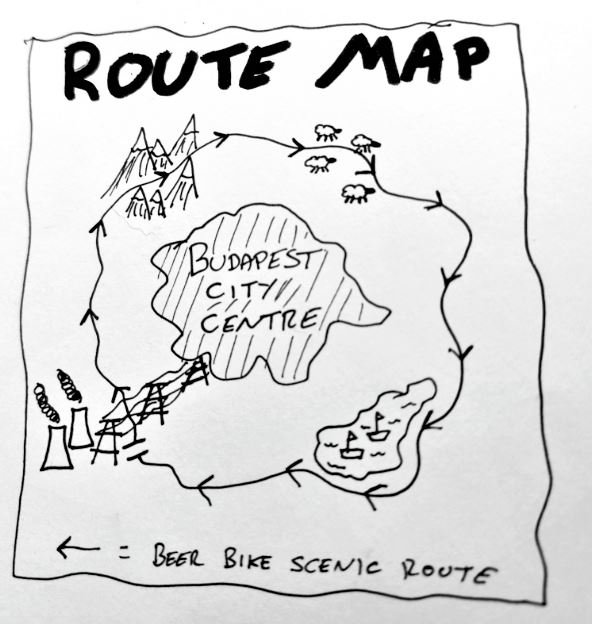 If you want more information about where the new route is you can email them and ask for it. Here's a link to their contact info.
Of course, the experience of riding the bikes and drinking beer is the main reason Beer Bike Budapest has become such a popular thing to do. But, removing the sights and scenery of the city will remove a lot of the charm.
I can only imagine moving a tour from Central London to the streets of Tottenham and Walthamstow. It really would be quite different. You'd just be living like some of the locals, riding a bike and drinking beer in the streets all afternoon. It's still an experience I suppose, but not one worth hundreds of euros!
How does the bike work?
If the location change doesn't bother you, let's cover some of the basics. Beer Bike Budapest offers you a bar on wheels. You need a minimum of four people to book a tour. The maximum number is 17, but only 10 can pedal.
Along with the bar you get an English-speaking driver/guide, a sound system that you can plug your own playlist into, party lights and plenty of booze. If beer is not your thing, there are other options available, with prosecco seemingly the other main choice. I guess the name 'Prosecco Bike Budapest' doesn't have the same ring to it though.
What does it cost to ride the Beer Bike in Budapest?
The standard price for a Beer Bike Budapest experience is €250. That's the total price and it doesn't matter whether there are 4 or 17 of you. Depending on who you book with, that gets you between 1-2 hours. I'll give you the links at the end so you can see the different price structures.
You see, some offer it as a simple all-in kind of thing. Whereas some say you need to buy the beer as an extra but only charge you €100 for the bike. There are loads of added extras too, with one of the most popular being the 'pretty hostess' option. I guess if you're planning on using a Beer Bike Budapest as part of a stag party, a pretty hostess is a tempting thing to get the testosterone flowing.
Beer Bus vs Beer Bike
Now, here's something that might be worth considering. Now that the bikes can't go through the city, the beer buses are standing out from the crowd. Of course, you are losing the novelty factor of pedalling away while sinking pints so you need to factor that one in.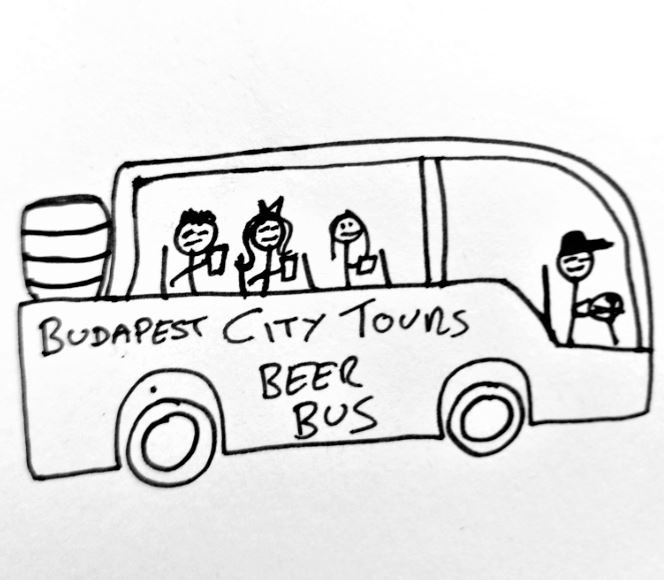 And I don't think there's a 'pretty ticket inspector' option on this one so you'll have to use your imagination if you need that extra buzz. You can compare the two on the beer bus website, which has a convenient comparison chart of the options.
Where to book a Beer Bike in Budapest?
As promised here are the links to the main players who offer the Beer Bike Budapest experience.
---
---
As you can see, there are only a few and like I said they each price things slightly differently so check them out and see which one works best for you.
Looking for more activities in Budapest?
If you're after even more ideas of things to do in Budapest you should take a look at what the guys at Get Your Guide are offering. If you read my posts you'll see that I'm not really into pushing other products and services but I do always recommend Get Your Guide. That's because they have the best selection of trips and tours, all with the ability to pay securely online and get a refund if you need to cancel. I've used them plenty of times and it's always gone perfectly.
---
Best Hotel in Budapest
Finally, I doubt you need any assistance with this, but if you're finding it hard to decide which hotel to stay in, my personal recommendation is the Radisson in the centre. There are loads of options out there but my stay there made exploring the city easy. You can check out their Booking.com listing here. You won't be disappointed!
Best Hostel in Budapest
If you're more of a budget-friendly hostel kinda traveller, I have the place for you too. Hostel One Budapest has the best reputation in the city. We didn't stay there but met some travellers who loved it.
If you're hungry for more travel tips and stories, head on over to my blog where I've got more tips and info, including these ones in Budapest…
Which Sports Bar in Budapest is Best For You?
Shooting Range In Budapest – Which is Best For You?
Budapest Go-Karting. The 4 Best Options Available in 2023
Beer Bike Budapest 2023: What's Possible After The Ban?
Budapest Baths Party 2023 – All You Need To Know!
Are Thermal Baths in Budapest clean?
---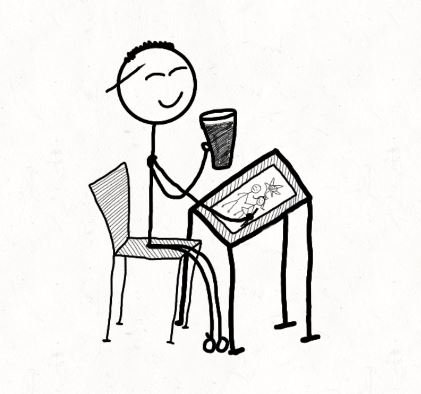 I'm not really a stickman, but it seems that I like portraying myself as one.
I'm an English guy who's been travelling since 2017. I was never good at taking photos, sketching just seems to work better for me, and in my opinion, why do you want to see other people's 4K videos and pictures of the world? Surely it's better to see it for yourself. You get in touch through the contact page or Instagram.
I look forward to hearing from you.
Happy travelling.
The Sketchy Traveller