Budapest Baths Party 2023 – All you need to know!!
A year ago if someone had asked me to go to a Budapest baths party I would probably have thought they were coming on to me. "Hey wanna go to a bath party with me?" Luckily no one ever asked me, so I didn't need to get out of that awkward situation. I figured it all out for myself and went to one in July 2022. So let me explain to you exactly what a Budapest baths party is.
---
Disclaimer: There are some affiliate links on this post. Meaning I may earn a (very) small commission if you buy something after clicking a link. This is at no extra cost to you. You can read my full disclaimer here.
---
Your Ultimate to the Budapest Baths Parties
Here's everything you need to know about the famous parties at the thermal baths in Budapest.
What are the Budapest baths?
Let's start with what these baths actually are. The thermal baths in Budapest are famous throughout Europe. Palatial buildings with a huge selection of thermal pools for people to relax in. And up until recently relaxing was all I thought people did in these places. Then I read an article titled Budapest Thermal Bath Party, and after that, I had to go and check it out.
What is a Budapest baths party?
Every Saturday night at Szechenyi Baths Budapest the vibe changes. The organisers tell you to: 'Book yourself a night of wonders' and that: 'We believe it's the best thing to do in Budapest.'
Personally, I love goulash so it's hard to knock that from my favourite thing to do in Budapest. But, as the sun sets something special does take over from the peace and tranquillity in this majestic setting. DJs, laser shows and electronic dance music are what's on offer. That and the pools of course. I guess you can compare it to an Ibiza pool party but in the grandest of settings.
Where can you get a ticket for the Budapest baths party?
Tickets are only available in two ways. You can book your tickets online until 7 p.m. on the night of the party. If you miss that deadline, don't worry, you can buy them at the door.
What time does the Budapest bath party start and finish?
The party starts at 9:30 pm and finishes at 2 am. The last entry is 1 a.m. From my experience, just get there as soon as you can. It's not like other clubs that don't get busy until after 11. Make the most of this unique experience by getting there early.
Is there a bath party at Gellert Spa?
At the time of writing the only place you can attend a thermal baths party is at Szechenyi Baths. Gellert, Rudas and Kiraly are also currently sticking to traditions and letting people relax and relax only!
And if relaxing is actually what you'd prefer to do, you need to check out Get Your Guide as they are the best place to book any kind of tour or excursion in Budapest. They always have a great deal for Szechenyi Baths, and you can cancel up to 24 hours before for a full refund. But that's only for the normal relaxing day, not for one of the Szechienyi bath parties. You need to book that directly.
What's the ticket price for a thermal bath party in Budapest?
Booking online or paying at the door is the same price. A ticket will cost you €59 and that comes with a locker. There are premium tickets that come with drinks and slippers. I wonder if Las Vegas pool parties sell slippers. I'll have to book a flight to find out.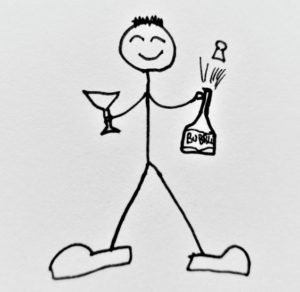 And that's about that really. You've probably already seen pictures of what it's like but as you'll see if you look at more of my content, I don't like to show you exactly how things will be when you get there. Use your own eyes for that as that's part of the fun. A new experience is tarnished a little if you immerse yourself in pictures and videos first.
All you need to think about if you are in Budapest is if you want a unique night out and if you can stand EDM for hours on end. For me, just like at a half-moon party in Ko Pha Ngan, I went for the experience and left early because of the music. It's really not for me that boom-boom-repeat stuff. However, the experience of a Budapest bath party, just like that of a Thai half-moon party, is something that stays with you. So do it!
---
Looking for more activities in Budapest?
If you're after even more ideas of things to do in Budapest you should take a look at what the guys at Get Your Guide are offering. If you read my posts you'll see that I'm not really into pushing other products and services but I do always recommend Get Your Guide. That's because they have the best selection of trips and tours, all with the ability to pay securely online and get a refund if you need to cancel. I've used them plenty of times and it's always gone perfectly.
---
Best Hotel in Budapest
Finally, I doubt you need any assistance with this, but if you're finding it hard to decide which hotel to stay in, my personal recommendation is the Radisson in the centre. There are loads of options out there but my stay there made exploring the city easy. You can check out their Booking.com listing here. You won't be disappointed!
Best Hostel in Budapest
If you're more of a budget-friendly hostel kinda traveller, I have the place for you too. Hostel One Budapest has the best reputation in the city. We didn't stay there but met some travellers who loved it.
If you're hungry for more travel tips and stories, head on over to my blog where I've got more tips and info, including these ones in Budapest…
Which Sports Bar in Budapest is Best For You?
Shooting Range In Budapest – Which is Best For You?
Budapest Go-Karting. The 4 Best Options Available in 2023
Beer Bike Budapest 2023: What's Possible After The Ban?
Budapest Baths Party 2023 – All You Need To Know!
Are Thermal Baths in Budapest clean?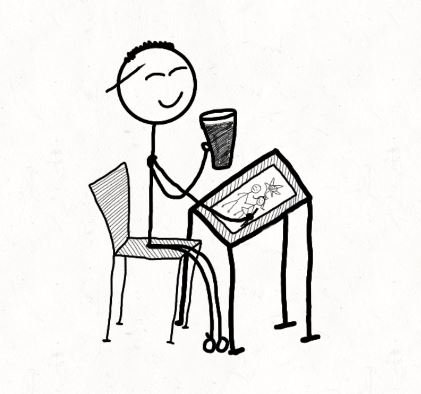 I'm not really a stickman, but it seems that I like portraying myself as one.
I'm an English guy who's been travelling since 2017. I was never good at taking photos, sketching just seems to work better for me, and in my opinion, why do you want to see other people's 4K videos and pictures of the world? Surely it's better to see it for yourself. You get in touch through the contact page or Instagram.
I look forward to hearing from you.
Happy travelling.
The Sketchy Traveller