Markthal in Rotterdam: Where Food Meets Art
Markthal is one of the most famous landmarks in Rotterdam, which is some feat considering the vast array of crazy-looking buildings in the city. But, Markthal isn't just nice to look at, it's a place to eat, shop and for some, to live in.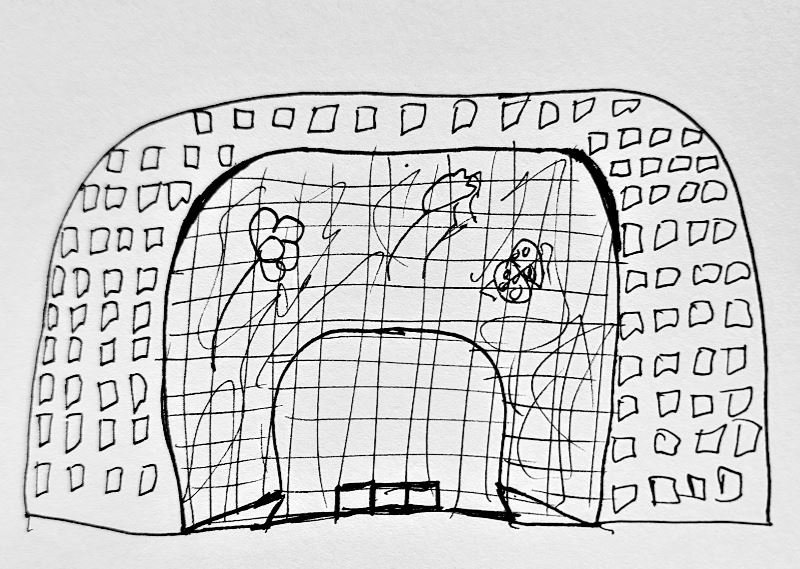 ---
Disclaimer: There are some affiliate links on this post. Meaning I may earn a (very) small commission if you buy something after clicking a link. This is at no extra cost to you. You can read my full disclaimer here.
---
Your quick travel guide to Markthal in Rotterdam
The history of Markthal in Rotterdam
The Markthal is located in the Laurenskwartier neighbourhood in Rotterdam, which has a rich history dating all the way back to the Middle Ages. There has been a market in the very same location for centuries. The neighbourhood is named after the Laurenskerk, a medieval church that still stands today.
Rotterdam's modern Markthal was designed by the Dutch architecture firm MVRDV and opened its doors to the public in 2014. Queen Máxima herself cut the ribbon.
Measuring 40 metres high, 120 long and 10 wide, the building, as you can see from my very accurate sketch, is shaped like a spotty caterpillar.
As impressive as the exterior is, it's the ceiling inside that people want to get their cameras out for. A ceiling that is covered with a bright vibrant mural dedicated to colourful fruits and vegetables. Walking through the glass doors and looking up gives a real Alice in Wonderland feel.
Impressed visitors often resemble a group of penguins watching a helicopter flying directly over their heads. Transfixed on what's above them, almost to the point of falling over backwards in a colourful trance.
The mural was created by Arno Coenen and Iris Roskam, a pair of local artists, and is titled Hoorn des Overvloeds (Horn of Plenty). It's a simple idea, but one that really draws the crowds in.
Food and Culture are abundant in Rotterdam's Markthal
The Markthal is home to over 100 food stalls, offering a wide range of culinary delights from every corner of the world. You can find everything from traditional Dutch herring and stroopwafels to exotic spices and delicacies from Asia, Africa, and South America. And chips and mayo, of course, there's chips and mayo!
If sitting at a little food stall, or grabbing a box of delicious grub and sitting on a bench outside isn't your thing, the Markthal also has several fancy restaurants too. You'll find them dotted along the outside walls along with a few specialist supermarkets. Some of the most popular restaurants in Markthal include Jamie Oliver's Italian, De Burgerij, and The Tea Lab.
Marthal also hosts many cultural events throughout the year. Music festivals, art exhibitions, and food fairs are common sights. These events attract visitors from all over the city and beyond. Markthal in Rotterdam really is more than just a fruit and veg market, it's a vibrant hub of culture and community in Rotterdam.
So, despite their quirky design, the Yellow Cube Houses are a place to live. The 54.7-degree angled walls of each cube provide plenty of natural light, while the sloping roofs somehow create more living space and allow for rainwater collection. For your plants, not for drinking!
Cool Facts about Markthal in Rotterdam
Markthal also boasts 228 apartments, which are situated on the upper floors and offer stunning views of the city.
Unsurprisingly Markthal in Rotterdam is an award winner. It has won several awards for its innovative design, including the BREEAM Award for the world's best commercial building in 2015.
Not only is Rotterdam's Markthal a visually stunning display of architecture, it is also one of the most sustainable buildings in the Netherlands. With features such as solar panels, a rainwater collection system, and a heat recovery system.
It cost a cool €178,000,000 to build Markthal in Rotterdam, earning it the nickname of the Dutch version of the Sistine Chapel.
So, is Markthal in Rotterdam worth visiting?
The Markthal is a unique and vibrant place that showcases the best of Rotterdam's food, culture, and architecture. Whether you're a foodie, an art lover, or simply looking for a fun day out, the Markthal has something for everyone. If you're in Rotterdam, Markthal is a must-see tourist attraction.
Markthal is open from 10 am every day of the week. Staying open until 9 pm except on Sundays, when it closes its doors at 6 pm.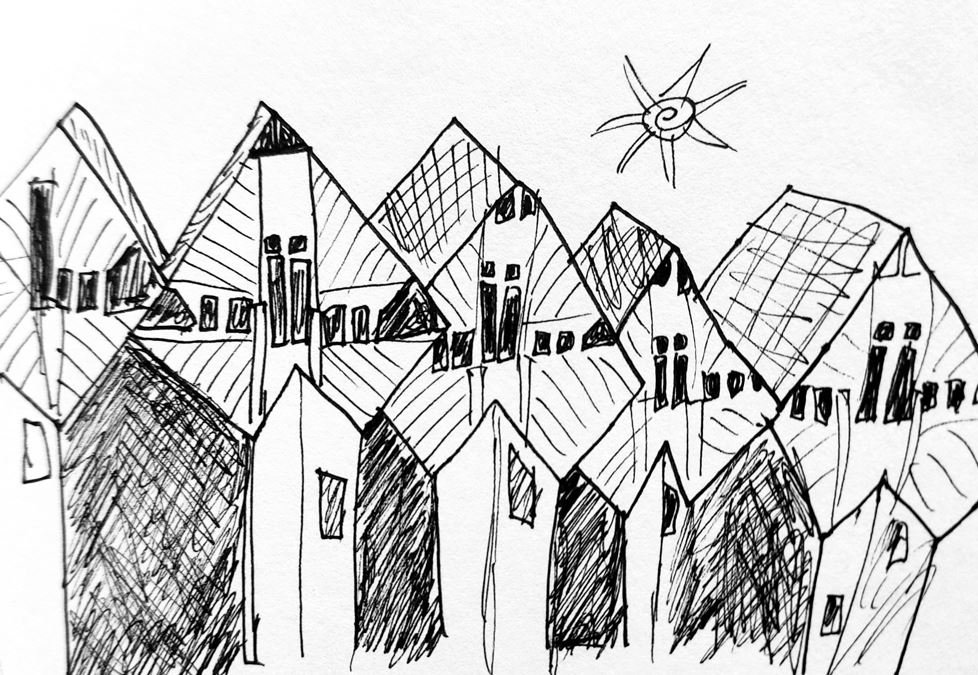 Rotterdam is one of my favourite cities in the whole world. I've also written a guide about the best bars and also the best things to do in the city. You need to take a trip to neighbouring Schiedam if you have time. It's like a Dutch fairytale.
Looking for more ideas of things to do in Rotterdam?
If you're wondering what else you should be doing in and around Rotterdam, may I push you in the direction of Get Your Guide. These guys are the best place for all of the available tours and trips on offer. You can book safely and securely online via Get Your Guide, and if you change your mind you can even get a full refund if you give them enough notice. So if you're planning on getting out and about you really should check them out.
Want some accommodation tips?
If you're on the lookout for some tips about where to stay in Rotterdam allow me to give you a few budget-based recommendations.
1 – Five Star Fancy Pants
If you're feeling lavish then check out Rotterdam Marriott Hotel. Rooms are usually around £300 per night, which I know is high, but hear me out. If you're after something extra special and can afford it, you won't regret treating yourself to this hotel in Rotterdam.
2 – Above Average Joe
If you prefer to place yourself in the high to middle range you should head to Bilderberg Hotel Rotterdam. This place is usually about £140 per night but if you want some 4-star luxury in the heart of the city, it's a winner.
3 – Cheap & Cheerful Hostel
If you're more of a hostel kinda person I'd recommend King Kong Hostel Rotterdam. It's a lively hostel in the middle of the city. If hostels are your bag, check them out.
If you're hungry for more travel tips and stories head on over to my blog where I've got more tips and info, including these ones about Rotterdam…
Yellow Cube Houses in Rotterdam: A Must-See Attraction in 2023
---
E-scooter Hire in Rotterdam – Can you get one in 2023?
---
Smartshop Rotterdam – What Can You Buy?
---
The Best Things To Do In Rotterdam In 2023
---
---
Windmills At Kinderdijk – Are They Worth It?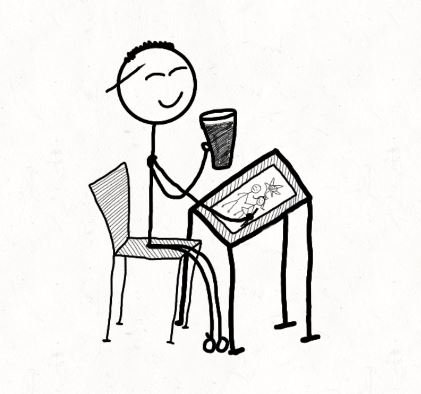 I'm not really a stickman, but it seems that I like portraying myself as one.
I'm an English guy who's been travelling since 2017. I was never good at taking photos, sketching just seems to work better for me, and in my opinion, why do you want to see other people's 4K videos and pictures of the world? Surely it's better to see it for yourself. You get in touch through the contact page or Instagram.
I look forward to hearing from you.
Happy travelling.
The Sketchy Traveller