Ubud Scooter Rental – Everything You Need To Know In 2023
Here's all the info you need if you're thinking about scooter rental in Ubud, Bali. I'll tell you where to go, what you'll pay and what you need to ride legally, or less legally if you must.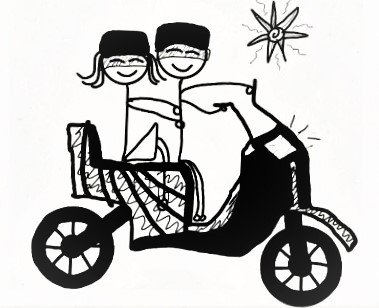 ---
Disclaimer: There are some affiliate links on this post. Meaning I may earn a (very) small commission if you buy something after clicking a link. This is at no extra cost to you. You can read my full disclaimer here.
---
Your Quick & Easy Guide to Scooter Rental in Ubud
If time is precious and you just want to know the best place to rent a scooter in Ubud, allow me to point you in the right direction…
Bikago – Online scooter rental in Ubud and the whole of Bali. It's easy to choose and pay online for a scooter. They deliver and collect it from you and also offer things like insurance and roadside assistance.
Aloha Ubud Scooter Rental – The best bike rental shop in Ubud. Great prices, amazing service and a big choice of quality bikes.
Also, you'll need an International Driving Permit to legally ride a scooter in Bali. You can find out more and get one emailed to you from the International Drivers Association.
If you have time, please do read on, there's loads more important info that you should know before renting a scooter in Ubud.
Is it worth renting a scooter in Ubud?
Let's clear this one up first. Is Ubud scooter rental worth the hassle and the danger? The fact that you're here reading this tells me that you're planning on it and if you're an experienced rider then yes, you absolutely should rent a scooter in Ubud. If, though, you're planning on riding a scooter in Bali for the first time, I beg you to reconsider.
Bali is, in many ways, a laid-back paradise. Most things are easy here. But riding a motorbike in Ubud doesn't fit that theme. The streets all over the island can be mad places at times. You'll watch the locals mounting pavements and weaving past pedestrians to avoid the traffic. If you're not confident, this is not how you want to start. Trust me.
Get yourself to Thailand and practice on the quiet streets of Pai or Ko Pha-ngan. You really shouldn't rent a scooter in Bali unless you're already confident on two wheels.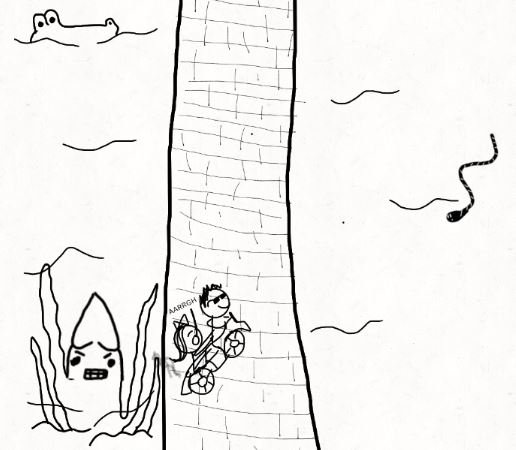 How much is Ubud scooter rental?
If you're after cheap scooter rental in Ubud and are happy to rent a bike from any shack that's offering one, you'll likely be offered a daily rate of 35,000 – 40,000 IDR, which is about €2.50. As is often the case, the cheapest option isn't the best option. And for just another euro or two you can rent a scooter from a far more reputable place.
70,000 IDR is the standard daily rate for a 110cc or 125cc bike in Ubud.
A reputable scooter rental company in Ubud will give you insurance, a rental agreement and a sanitised helmet. They will also give you a bike that's in good condition.
Unlike in Thailand, you're unlikely to need to leave your passport or a cash deposit as part of your agreement. They'll make a copy of your passport and get you to sign a document or two. If you're asked to leave your passport or a cash deposit just move on to the next company. There are plenty who won't ask for either.
If you want long-term bike rental in Bali you'll get a better price. Most Ubud scooter rental companies offer discounts for weekly or monthly rentals, as you'll see on the links in a sec.
What do I need to rent a scooter in Bali?
Next, to the legality of it all. Is Ubud scooter rental possible without a licence? Yes, you must have a driving licence from your home country. This is the minimum requirement to ride a motorbike in Bali.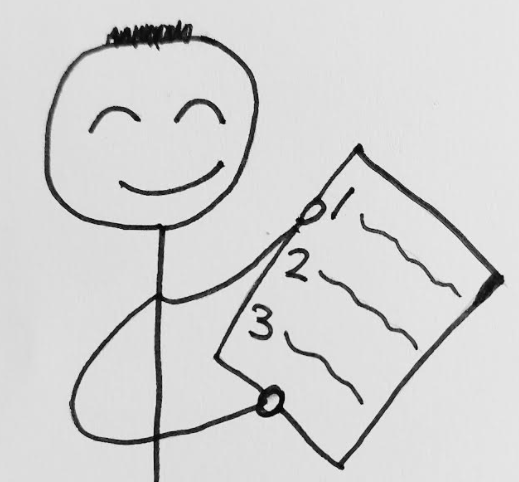 If you want to ride 100% legally you need an International Driving Permit. This together with your driving licence is what you need to ride without the risk of a fine.
If, though, you're a law-bending rebel, you'll be happy to know that the scooter rental companies in Ubud don't care if you have an IDP or not. You see, if you're stopped by the police it's your problem, not theirs. And if you are stopped and don't have an IDP expect to be fined in the region of 1,000,000 IDR. That's about €60. A pricy punishment for not having something that costs less than €10. You do need to get it before you set off though, as trying to get an IDP in Bali would be nigh on impossible.
Where's the best place for scooter rental in Ubud?
Right, let's get into the best places for bike rental in Ubud. I'm going to recommend one rental shop in Ubud that we used, along with another shop that was recommended to me. The other option on my list is an online option, where you can get it all booked up and have the scooter delivered to your accommodation. Something that I've taken advantage of every time I've hired a scooter in Bali since discovering them.
You can of course just speak to your hotel or hostel, or just walk around if you want to rent a scooter in Ubud. But if you'd like some first-hand recommendations, check these guys out…
Bikago – The best place for online scooter rental in Ubud
The guys at Bikago offer a scooter rental service like no other in Bali. It's one of the only places providing online scooter rental in Ubud.
Not only can you arrange your motorbike hire while swinging in a jungle hammock, which is such a sweet way to arrange anything, but on top of that, Bikago also offers these benefits…
Scooter delivery and collection from your accommodation
Fully comprehensive insurance
A huge selection of bikes
Safe & secure online booking. No need for local cash
Bikago really is the modern way to rent a scooter in Ubud and anywhere in Bali. And if you're planning an island adventure you can get your bike delivered to one part of the island and have it collected from a different place. Meaning no need for a round trip, you can adventure around Bali exactly how you want to.
You will find that the prices are likely to bit slightly higher than the local bike shops, but we're talking a couple of dollars a day difference, and when you think about the extras that they offer, it's easy to understand why.
So, if you're serious about scooter rental in Ubud you need to check out Bikago, put in your travel dates and see what they can offer you.
If you'd prefer to hire a scooter in Ubud in the more traditional way here are two great options for you…
Aloha Ubud Scooter Rental
This is the shop where we rented a scooter from in Ubud, and I have nothing but positives to say about them. Aloha Ubud Scooter Rental gave us some of the best service we've ever received when renting a scooter from a shop in Southeast Asia. They're not just a bike rental store, they also offer many other services including trips and tours around the island. This makes them quite a reputable company, and this showed in the level of service we received.
The prices are reasonable for Ubud scooter rental, and you're left feeling confident that all the paperwork is legit.
Address – Jl. Sri Wedari No.15, Ubud, Kecamatan Ubud, Bali 80571
Opening Hours – 9 am to 5 pm every day
Phone / Whatsapp +62 821-4642-9898
---
Ubud Electric Scooter Rental – SKUTE
If you are looking for an alternative scooter rental that is environmentally friendly, Skute can be a good option. Skute is the first 100% electric scooter on the island and is committed to a greener future. By choosing Skute, you contribute to a cleaner and quieter environment on the island and support the transition to more sustainable mobility. Skute Ubud offers free scooter delivery and pick-up services. Visit their website for more information.
Address: Jl. Danau Tamblingan No.178, Sanur, Denpasar Selatan, Kota Denpasar, Bali 80228
Rating: ⭐4,7 26 Google-reviews
Phone: 0877-3176-9794
Website: skutebali.com
---
Ubud Scooter Rental
Ubud Scooter Rental is the place that was recommended to us for quality bikes at decent prices. We didn't use them because Aloha Ubud Scooter Rental gave us all we needed. But Ubud Scooter Rental do come highly recommended. Here's a link to the prices page on their website for you to compare.
Address – Jl. Raya Pengosekan, Ubud, Kecamatan Ubud, Bali 80571
Opening Hours – 9 am to 5 pm every day
Phone / Whatsapp +62 877-9699-7999
Prefer a four-wheel adventure in Ubud?
Riding from Kuta to Ubud on my little Honda scooter is one of the best things I've ever done while travelling. Another thing high up on the list is the Ubud Quad Biking Tour.
If you're planning on doing a few day trips and excursions while travelling through Ubud you should definitely check out the quad bike tour. Then you've got it all covered. Rent a scooter for the streets and get on a quad bike to explore the jungle.
Tips for renting a bike in Bali
Have travel insurance that really covers you for riding scooters. Check the exact cover. Most will be for anything up to 125cc, so bear that in mind. If the worse happens and you need medical care, you'll need insurance!
Always wear a helmet. Sounds obvious I know, but you'll see some loose cannons riding around without one and might get tempted to join them. Don't. Keep your helmet on at all times, please!
Don't ride drunk. Another obvious one. The roads are uneven and windy all over Bali, so adding a boozy haze to your driving ability isn't wise.
As I said before, don't use Bali to learn how to ride a scooter. If you're not experienced it's not worth the risk. Download GoJek (scroll all the way to the bottom of the page to get the app) or Grab and let them take you where you need to go. It's a cheap and easy alternative to renting a scooter in Bali.
Need a scooter elsewhere in Bali?
If you're travelling around Bali and the surrounding islands, here are my guides to scooter rental in the most popular spots.
Scooter Rental Seminyak – Your guide to get riding
---
Kuta Scooter Rental – All you need to know
---
Scooter Rental Lombok – 2023 Guide
---
Scooter Rental Canggu – Your Guide to Get Riding
---
Looking for more than just bars in Ubud?
If you're wondering what else you should be doing in and around Ubud, may I push you in the direction of Viator. These guys are the best place for all of the available tours and trips on offer. You can book safely and securely online, and if you change your mind you can even get a full refund if you give them enough notice. So if you're planning on getting out and about you really should look at Viator. This is a link directly to the tours that they offer in and around Ubud.
Where are you staying?
Finally, I doubt you need any assistance with this, but if like me you prefer to live the hostel life you need to be looking at the specialist site for hostels in Ubud and around the world, and that is Hostelworld. Here's the list of the top hostels in Ubud right now.
If you're hungry for more travel tips and stories, head on over to my blog where I've got loads more posts, including these ones in Bali…
Bars in Ubud – The Best 5 for Backpackers in 2023
Ubud Scooter Rental – Everything You Need to Know
---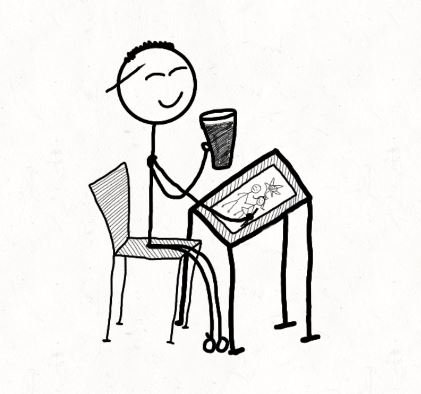 I'm not really a stickman, but it seems that I like portraying myself as one.
I'm an English guy who's been travelling since 2017. I was never good at taking photos, sketching just seems to work better for me, and in my opinion, why do you want to see other people's 4K videos and pictures of the world? Surely it's better to see it for yourself. You get in touch through the contact page or Instagram.
I look forward to hearing from you.
Happy travelling.
The Sketchy Traveller