Surf Hire Tenerife – Your guide to get surfing in 2023
If you're interested in riding some waves on your holiday, you'll be pleased to know that surf hire in Tenerife is easy and pretty cheap too. I'll tell you the best places to go to rent the equipment, and also where to catch the best waves on the island.
---
Disclaimer: There are some affiliate links on this post. Meaning I may earn a (very) small commission if you buy something after clicking a link. This is at no extra cost to you. You can read my full disclaimer here.
---
Your quick & easy guide to surfing in Tenerife
Here's everything you need to know to go surfing in Tenerife. I'll tell you the best sport to catch the waves along with the best shops to rent your gear from. Enjoy.
Is Tenerife good for surfing?
Although Lanzarote is the choice of the purist you absolutely can surf in Tenerife! The best beach for surfing in Tenerife is La Izquierda. Not only does it offer the best waves around the island, but it's also located in the heart of Playa de las Americas.
So it's not surprising that you'll find most of the best places for surfboard hire in Tenerife next to La Izquierda. The name of the beach means 'The Left' in English. This is because it offers left-handed waves. Meaning that the waves break from left to right.
If you're a novice and therefore the thought of the biggest and fastest waves fills you with dread, fear not, La Fitenia in Los Cristianos offers much gentler waves. You won't find as many surf hire shops in this part of Tenerife but that means that it's much quieter too. Perfect if you're trying to find your feet before heading to La Izquierda to take on the monster waves!
Best places for surf hire in Tenerife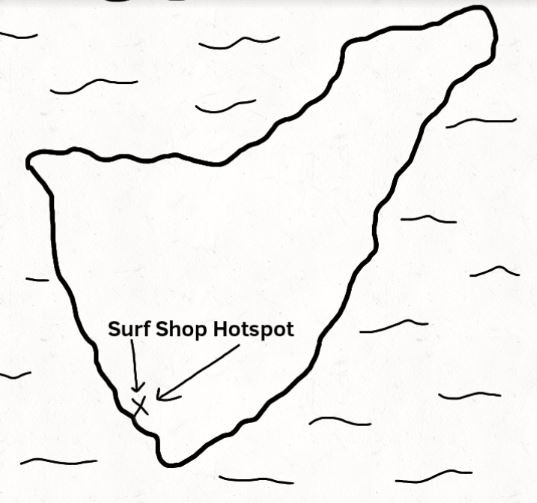 Franz Surf School
Franz Surf School, located in Playa de las Americas, doesn't only offer surfboard hire. They are also a surf school. Offering daily lessons that last for two hours and are available in many different languages.
Prices to rent a surfboard range from €10 for two hours, €15 for a full day, all the way up to €180 if you want to hire a board for a month. These prices are for a softboard and do include a wetsuit too. Franz Surf School also offers longboards and bodyboards for a similar price.
The store is open from 8:30 am – 7:30 pm every day of the week.
Here's a link to the exact location of Franz Surf School on Google Maps.
Friends of the Ocean Surf Center Tenerife
Located just a few metres from the beach in Playa de las Americas, you'll find Friends of the Ocean Surf Centre. As well as offering all you'd expect from a surf hire store in Tenerife, you can also book private lessons with the owner, Amedeo Blandi. The price for surfboard rental starts at €15 for half a day. If you're interested in private surf lessons they start at €40 for a two-hour lesson.
On top of the standard rental and lessons, Friends of the Ocean also offers a 'Surf Camp'. This is a total package which includes accommodation, lessons and all the surf equipment you need to enjoy a surfing holiday in Tenerife. You can find all the information about the different packages available on their website.
The store is open from 9:30 a.m. to 7:00 p.m. every day. Here's a link to the exact location of this option for surf hire in Tenerife on Google Maps.
Palm Beach Surf Shop
Unlike the previous two options which offer much more than just surf hire in Tenerife, Palm Beach Surf Shop keeps it nice and simple by offering boards and equipment for hire. There are no lessons, schools or camps available here, just a huge selection of different boards and wetsuits at competitive prices starting at €15 for two hours or €20 for the day.
They even rent out skateboards for those who want to keep the feeling going when on land.
It's open from 10 am to 8 pm, Monday to Saturday, and 11 am to 6 pm on Sundays.
They are, of course, located in Playa de las Americas, here's a link to the exact location on Google Maps.
K16 Surf Rental Tenerife
Operating in a similar way to Palm Beach, K16 Surf Rental is a great place to go for simple surf hire in Tenerife.
The best thing about K16 is the range of products available to hire. Not only do they offer every type of surfboard you could possibly want, they also have inflatable paddleboards and kayaks. Perfect for those of us wanting an easier option to ride the waves.
The paddleboards are €25 per day and the kayaks cost €35 per day.
K16 is open from 9 a.m. to 8 p.m. seven days a week. Here's where you can find the rental shop.
What type of board should you hire in Tenerife?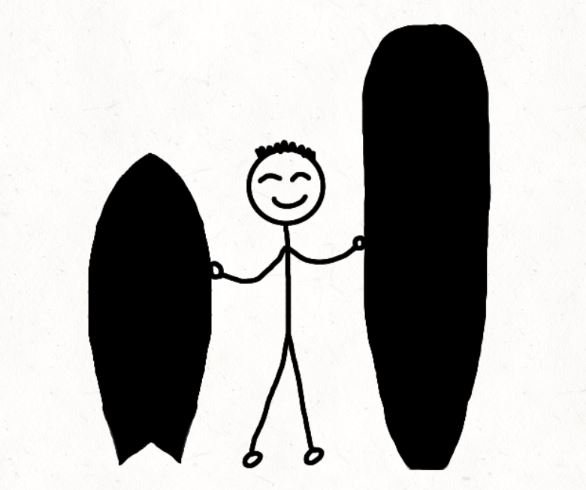 The two main types of surfboards are simply called longboards and shortboards. You can guess what the main difference is: longboards are about 9ft long, whereas shortboards are between 5-7ft. Longboards are usually better for beginners because the larger size gives the surfer more stability when trying to stand and then balance. They are more difficult to carry though.
Shortboards are easier to transport but are better suited to a more experienced surfer. That's because they're not as stable but they can ride the waves much faster than a longboard.
The best thing to do is speak to the guys at your chosen surf hire store and they'll give you the best thing for you.
When is surf season in Tenerife?
Surfing in Tenerife is possible all year round, but if you want to catch the best waves you should head there between October to February.
---
Looking for more ideas of things to do in Tenerife?
If you're wondering what else you should be doing in and around Tenerife, may I push you in the direction of Get Your Guide. These guys are the best place for all of the available tours and trips on offer. You can book safely and securely online, and if you change your mind you can even get a full refund if you give them enough notice. So if you're planning on getting out and about you really should look at Get Your Guide. This is a link directly to the tours that they offer in and around Tenerife.
---
Want some accommodation tips?
If you're on the lookout for some tips about where to stay in Tenerife, allow me to give you my three budget-based recommendations.
1 – Five Star Fancy Pants
If you're feeling lavish then check out Hotel Cleopatra Palace. Rooms are usually over £200 per night, which I know is high, but hear me out. If you're after something extra special and can afford it, you won't regret treating yourself.
2 – Above Average Joe
If you prefer to place yourself in the high to middle range you should head to Hotel Parque La Paz. This place comes over £100 per night but it offers a high level of luxury compared to most places in Tenerife.
3 – That'll do nicely
If you're like most of the travellers in Tenerife, you want something clean, with a pool and located near the beach. For that, I give you Sol Arona Tenerife. Rooms are often available from around £70 per night. I think they're the best of a big bunch around this price.
---
If you're hungry for more travel tips and stories head on over to my blog where I've got more tips and info, including these ones about Tenerife…
Boat Party Tenerife – Which One's Best in 2023
Surf Hire Tenerife – Your guide to get surfing in 2023
Camel Park Tenerife 2023 – Are The Camels Happy?
Skydiving Tenerife – What's possible in 2023
Electric Scooter Hire Tenerife – Your guide to get riding in 2023
---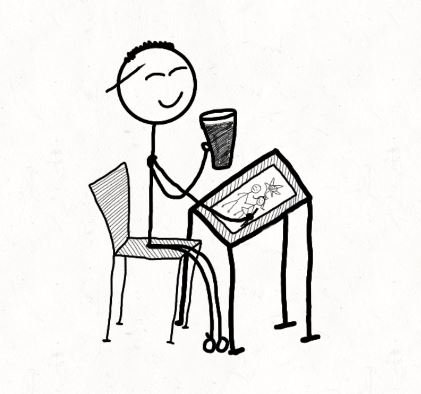 I'm not really a stickman, but it seems that I like portraying myself as one.
I'm an English guy who's been travelling since 2017. I was never good at taking photos, sketching just seems to work better for me, and in my opinion, why do you want to see other people's 4K videos and pictures of the world? Surely it's better to see it for yourself. You get in touch through the contact page or Instagram.
I look forward to hearing from you.
Happy travelling.
The Sketchy Traveller