Skydiving Tenerife,
What's possible in 2023
With so many trips and tours available you'd expect it would be easy to find a company offering skydiving in Tenerife. But unfortunately, you can't freefall over this Canary Island. If you're desperate to get up in the sky there are still some options out there. Here's what I discovered while trying to skydive in Tenerife.
---
Disclaimer: There are some affiliate links on this post. Meaning I may earn a (very) small commission if you buy something after clicking a link. This is at no extra cost to you. You can read my full disclaimer here.
---
Can you Skydive in Tenerife in 2023?
The harsh truth is that skydiving in Tenerife is not possible. Nobody can do it. The reason, I was told by someone in the know, is that there are no drop zones on the island.
Now, I'm no skydiving expert, I've only done three jumps so far, all of which were in the UK, but it seems strange that they can't find a patch of land in Tenerife, the largest Canary Island, that works as a safe skydiving landing spot. But I suppose safety is somewhat important when it comes to jumping out of a plane, so although I was disappointed to learn that I wouldn't be able to do a parachute jump in Tenerife, I accept that the professionals know what they're doing.
Tenerife is a no-go, but what about skydiving on one of the other islands?
So, we now know that Skydiving in Tenerife isn't possible and that's the same for most of the other Islands. But not all of them. One does give thrillseekers the chance to do a tandem parachute jump with a trained professional. Gran Canaria, the third largest island, is the centre for skydiving in the Canaries. It will cost you €260 per person to skydive there. If you want to learn more about what's on offer, here's a link to iJump Gran Canaria.
The best alternative to skydiving in Tenerife
If you're still adamant that you want to fly in the sky above Tenerife, there is an alternative to skydiving, and that is paragliding. Of course, you won't get the same thrill as you would skydiving but it has similarities. It will cost you around €130 to paraglide. Here's a link to the most popular option on Get Your Guide to give you an idea of what's included.
There seem to be a million and one different trips and tours available in and around the Canary Islands, but unfortunately skydiving in Tenerife isn't one of them. At least not until they transform a flat area of land into a designated drop zone.
---
Looking for more ideas of things to do in Tenerife?
If you're wondering what else you should be doing in and around Tenerife, may I push you in the direction of Get Your Guide. These guys are the best place for all of the available tours and trips on offer. You can book safely and securely online, and if you change your mind you can even get a full refund if you give them enough notice. So if you're planning on getting out and about you really should look at Get Your Guide. This is a link directly to the tours that they offer in and around Tenerife.
---
Want some accommodation tips?
If you're on the lookout for some tips about where to stay in Tenerife, allow me to give you my three budget-based recommendations.
1 – Five Star Fancy Pants
If you're feeling lavish then check out Hotel Cleopatra Palace. Rooms are usually over £200 per night, which I know is high, but hear me out. If you're after something extra special and can afford it, you won't regret treating yourself.
2 – Above Average Joe
If you prefer to place yourself in the high to middle range you should head to Hotel Parque La Paz. This place comes over £100 per night but it offers a high level of luxury compared to most places in Tenerife.
3 – That'll do nicely
If you're like most of the travellers in Tenerife, you want something clean, with a pool and located near the beach. For that, I give you Sol Arona Tenerife. Rooms are often available from around £70 per night. I think they're the best of a big bunch around this price.
---
If you're hungry for more travel tips and stories head on over to my blog where I've got more tips and info, including these ones about Tenerife…
Boat Party Tenerife – Which One's Best in 2023
Surf Hire Tenerife – Your guide to get surfing in 2023
Camel Park Tenerife 2023 – Are The Camels Happy?
Skydiving Tenerife – What's possible in 2023
Electric Scooter Hire Tenerife – Your guide to get riding in 2023
---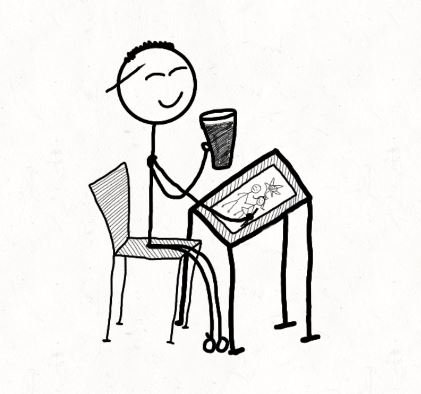 I'm not really a stickman, but it seems that I like portraying myself as one.
I'm an English guy who's been travelling since 2017. I was never good at taking photos, sketching just seems to work better for me, and in my opinion, why do you want to see other people's 4K videos and pictures of the world? Surely it's better to see it for yourself. You get in touch through the contact page or Instagram.
I look forward to hearing from you.
Happy travelling.
The Sketchy Traveller