Pai Canyon Thailand – Your Quick & Funny Travel Guide
Visiting Pai Canyon is without doubt one of the most popular things to do in Pai Thailand. It's a perfect mix of beauty and danger. It also offers the best place to see the sunset in Pai, if not in all of northern Thailand. And it's free! Here's all the info you need to plan a visit in 2023.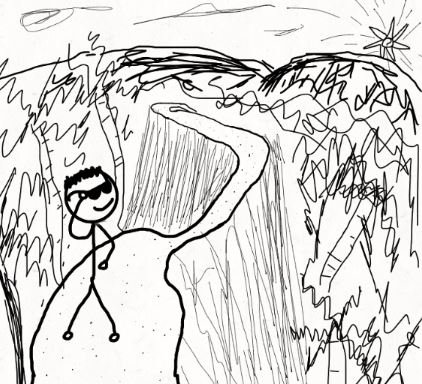 ---
Disclaimer: There are some affiliate links on this post. Meaning I may earn a (very) small commission if you buy something after clicking a link. This is at no extra cost to you. You can read my full disclaimer here.
---
Your Ultimate Guide to Pai Canyon
Here's everything you need to know to plan your trip to Pai Canyon. Enjoy.
What is Pai Canyon Thailand?
Let's start with what you should expect to find at Pai Canyon. The canyon, sometimes generously referred to as Thailand's answer to the Grand Canyon, is, unsurprisingly, a canyon in Pai, a town in northern Thailand. It's known locally as Kong Lan and offers incredible sunset viewpoints and a hiking trail for those of you who want to burn some calories!
---
Want to know more about Pai? Check out my Ulitmate Guide. It tells you everything you need to know.
---
How long is the Pai Canyon trail?
If you want to experience all that Pai Canyon offers, you can take on a 6 km hike along its circular route. Most people will take between 1.5 – 2 hours to complete the hike.
If the thought of hiking in the Thai sun, along a dusty trail fills you with dread, don't worry, most visitors don't walk for more than five minutes. That's because, after just a few minutes of walking up some stable stairs, you're already up as high as the canyon goes, giving you the spectacular view you were hoping for.
Most folk will stay up there for a few minutes, take some pictures and head back down. The adventurers among us will set off along the trail!
Looking for more fun things to do in Pai? Check out my guides about tubing down the river with a beer, and a bouncy bamboo bridge:
Tipsy Tubing In Pai 2023: All You Need To Know To Get Floating
Bamboo Bridge Pai – All You Need To Know In 2023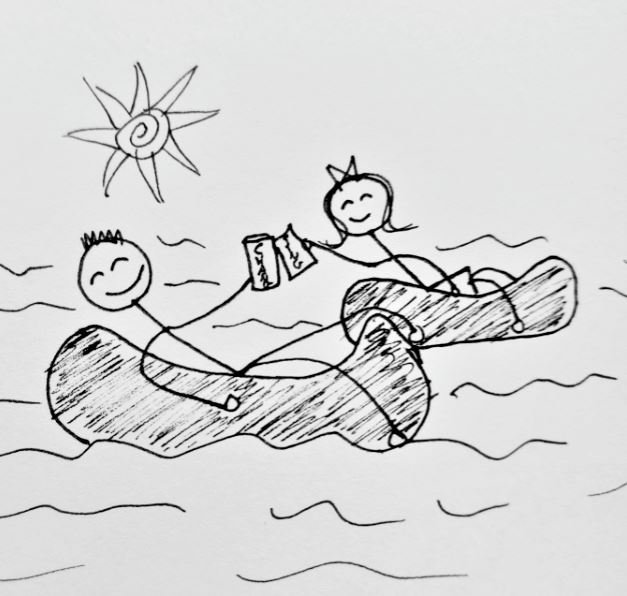 Is Pai Canyon dangerous?
A word of warning, if you do choose to take on the full hike, it's not without risks. It's fair to say that hiking around Pai Canyon is dangerous. That's because at times the path is less than a metre wide, with a dusty surface and 30-40 metre drops on either side. And of course, as this is Thailand, health and safety aren't exactly a priority.
A few sticks pointing out of the ground were the only attempts to reduce the risk of death that we saw along the path.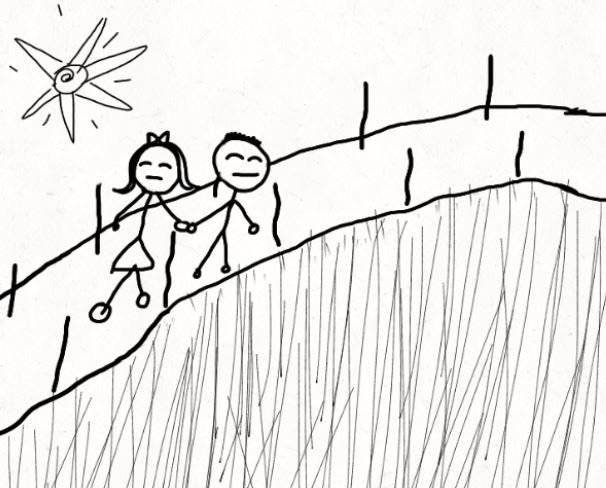 It's therefore important to wear some sensible footwear if you plan to complete the Pai Canyon trail. Hiking boots would be ideal but a good pair of trainers will help. As this is Pai you are going to see a number of barefoot visitors.
I'm sure they'll tell you that being in direct contact with the earth gives them extra powers, but I'm sticking with the science of a good rubber grip to increase my chances of survival.
It's also important to defend yourself against those UV rays. It's a bit of a suntrap up there as there is very little shade. So do what your mother would tell you, wear a hat, take sunscreen and plenty of water.
How to get to Pai Canyon
The canyon is located a 10 to 15-minute ride south of Pai town. The car park is directly off the main highway, making it very easy to find. Here's the exact location on Google Maps.
I'm assuming that you'll have access to a motorbike because everyone seems to ride in Pai, but if not, you'll need to look out for a songthaew in town. Getting one back shouldn't be too difficult as there are normally a few waiting in the car park. Just remember to agree to a price before you jump on. You should be able to get back to the centre of Pai for 10 to 20 baht.
If you're looking to add Pai Canyon to a day of adventure in and around Pai, why not check out Santichon Village too? It's a Chinese Village in the countryside and is another perfect attraction to visit in Pai to add to your travelling experience.
The best time to visit
Most people want to experience the sunset at Pai Canyon, meaning that it's busiest between 5-6 p.m. I've been a few times at sunset and although it is busy, I've never had a problem finding a spot to sit and soak up nature's spectacular show.
If you'd prefer to avoid the crowds I'd recommend getting there early. Sunrise is usually around 7 a.m., but the mornings are usually pretty foggy so you won't get the same show as at sunset. Sunrise over Pai Canyon is still a very special thing to witness though, and it's much more peaceful than the evening.
After 10 am it starts to heat up, so unless you're a fan of pushing your body and mind to their limits, it's best to avoid the middle of the day.
Obviously, if you're visiting during the rainy season, from May to September, catching a sunset will be more challenging due to the clouds. If you visit in March, your trip will coincide with the burning season, a time that farmers channel their inner arsonists and burn the crap out of the land.
The advantage to you is that the smoke mixing with the sunset creates an incredible view over Pai Canyon and the surrounding countryside. The disadvantage is that you might need some new lungs.
Is it free to visit?
A trip to Pai Canyon is free. There is no entrance fee and you don't even need to pay to park your bike. There are a few little shops in the car park, so you can buy some drinks, snacks and souvenirs from there if you want.
---
Heading to Pai and want some accommodation tips?
---
If you're on the lookout for some tips about where to stay in Pai, allow me to give you my four budget-based recommendations.
1 – Fancy Pants
If you're feeling lavish then check out Reverie Siam Resort. Rooms are usually over £150 per night, which I know is crazy high for Pai, but hear me out. If you're after something extra special and can afford it, you won't regret treating yourself.
2 – Above Average Joe
If you prefer to place yourself in the middle you should head to Pai Vimaan Resort. This place comes in at around £40 per night and still gives a level of luxury compared to most places in Pai. It's also located right in the middle of the town and is great to book trips from.
3 – Cheap But Private
If you're like most of the travellers in Pai, you're looking for cheap and cheerful. For that, I give you Villa De Pai. Rooms are often available for less than £10 per night and that's for a private room with its own bathroom, fancy that!!
4 – Party Party
Finally, if you're more of a social butterfly who travels from party hostel to party hostel, I know the place for you. That place is Bodega Pai Party Hostel. This place is for sociable travellers who like to party. Plus, as you'd expect with any good hostel, you can plan all the trips and travel you need from their reception.
---
Looking for more things to do in Pai?
If you're hungry for more Pai travel tips you should check out my Ultimate Guide to Pai, Thailand.
---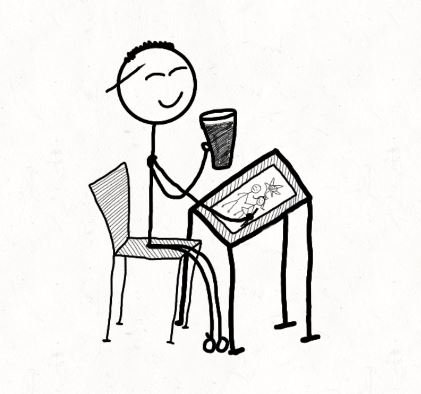 I'm not really a stickman, but it seems that I like portraying myself as one.
I'm an English guy who's been travelling since 2017. I was never good at taking photos, sketching just seems to work better for me, and in my opinion, why do you want to see other people's 4K videos and pictures of the world? Surely it's better to see it for yourself. You get in touch through the contact page or Instagram.
I look forward to hearing from you.
Happy travelling.
The Sketchy Traveller