Ultimate Guide to Pai, Thailand
Welcome to The Sketchy Traveller's Ultimate Guide to Pai. Are you looking for a laid-back, bohemian destination where you can relax and soak up some sun? Look no further than Pai, Thailand! This chilled-out little town in the heart of Northern Thailand is the perfect place to unwind and enjoy some downtime. With its hippie vibes, fresh air, and stunning scenery, it's no surprise that Pai is such a favourite destination for backpackers in Asia.
---
Disclaimer: There are some affiliate links on this post. Meaning I may earn a (very) small commission if you buy something after clicking a link. This is at no extra cost to you. You can read my full disclaimer here.
---
Where is Pai?
Located in Mae Hong Son province, Pai is a little town in northern Thailand. It's a three-hour drive from Chiang Mai, which is where most people will travel to Pai from. The surrounding countryside is stunning. Mountains, forests, canyons and waterfalls are some of the attractions that have made such as popular travel destination in Thailand.
Money money money!! Is Pai expensive?
Just like the rest of Thailand, the Thai Baht (฿) is the currency used in Pai. You might find some places that accept U.S Dollars (everyone seems to love the dollar), but Thai Baht is what you'll need to buy things in Pai.
If you're worried about breaking the bank in Pai, fear not! This charming town is pretty easy on the wallet. Here's what you can expect to pay for some of the basics:
Accommodation: You can find budget accommodation in Pai for as low as ฿200 ($6 USD) per night, while mid-range hotels and guesthouses can cost around ฿1,000-฿2,000 ($30-$60 USD) per night.
Food: Street food and local restaurants are the most affordable options, with meals costing around ฿40-฿100 ($1.20-$3 USD) per dish. Western-style cafes and restaurants are pricier, with meals averaging around ฿150-฿300 ($4.50-$9 USD) per dish.
Transportation: Renting a scooter is the most popular mode of transportation in Pai, and prices vary depending on the type of bike and how long you rent it. You'll pay around ฿150-฿300 ($4.50-$9 USD) per day. Taxis and tuk-tuks are also available but are more expensive.
Activities: The cost of activities in Pai varies depending on what you want to do. For example, a full-day trekking tour can cost around ฿1,500-฿2,000 ($45-$60 USD), while a yoga or meditation class can cost around ฿200-฿300 ($6-$9 USD) per session.
Shopping: The Pai night market is a great place to shop for souvenirs and clothing, with prices ranging from ฿50-฿500 ($1.50-$15 USD) depending on the item.
It's worth noting that prices may change depending on the season. Also, don't forget that many prices are negotiable, transportation and shopping at markets, for example, so don't be afraid to haggle a bit!
When's the best time to visit Pai?
Pai has a tropical climate, hot enough to be in shorts and a vest all year round. The weather can be divided into two main seasons: the dry season and the rainy season.
The dry season in Pai lasts from November to April, and during this time you can expect sunny days with warm temperatures ranging from 25-30°C (77-86°F). It's a popular time for tourists to visit Pai, as the weather is ideal for outdoor activities like tipsy tubing and waterfall hunting.
The rainy season in Pai runs from May to October, and during this time you can expect occasional downpours and cooler temperatures ranging from 20-25°C (68-77°F). The rain can make some of the roads and hiking trails more challenging, but it also brings lush greenery and stunning waterfalls to the area. Plus, the cooler temperatures can be a welcome relief from the heat of the dry season.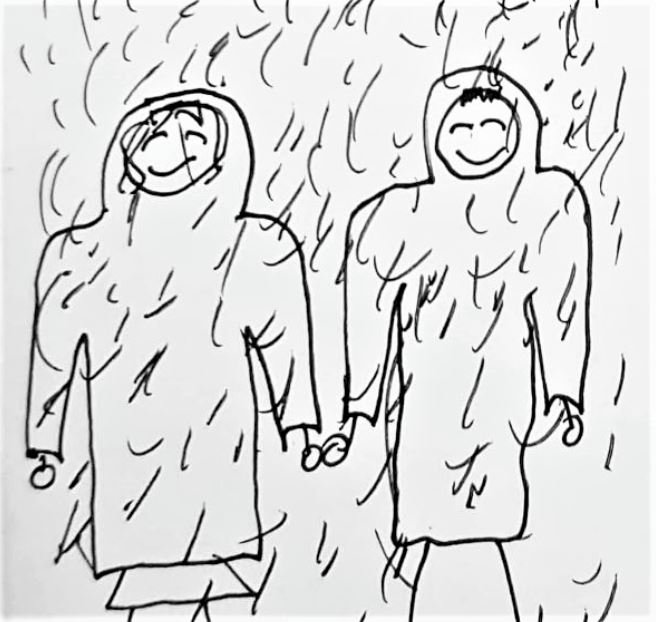 Overall, Pai's climate is pleasant all year round, but if you're looking for the best weather, aim to visit during the dry season. Just remember to bring some sunscreen and a hat to protect yourself from the strong sun!
What activities can you do in Pai, Thailand?
Pai might be a small town, but it's big on fun. Here are some of the most popular things to do in this laid-back slice of paradise:
Float down the River:
One of the most popular activities among backpackers is tipsy tubing. It goes like this –
Drink beer. Jump in a giant inner tube and start floating on the river. Drink more beer. Join a BBQ party on the river bank. Drink some more. Float some more. Go to the pub. Check out my detailed guide to tipsy tubing.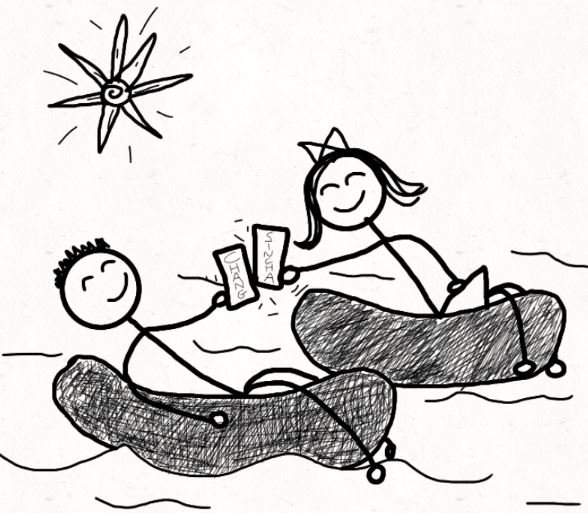 Explore the natural beauty
Whether you're a nature lover or just looking for an Instagram-worthy backdrop, Pai's got you covered. Take a scooter ride to check out the Pai Canyon, the Mor Paeng Waterfall, or the Tha Pai Hot Springs. And don't forget to take lots of selfies! The best way to explore is to rent a scooter and hit the road! Here's all you need to know about renting a bike in Pai.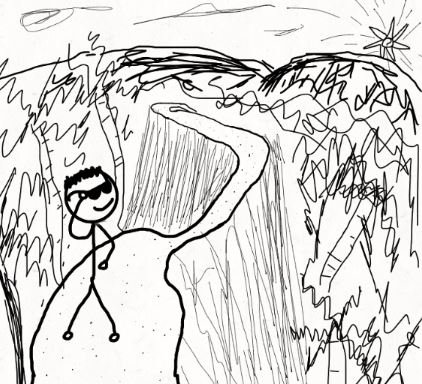 Visit the night market
If you love street food, shopping, and live entertainment, then the Pai Night Market is the place to be. You can sample local delicacies, find some funky souvenirs, and dance to the beat of live music.
Get your chill on
If you're feeling a little stressed out from all that sightseeing and shopping, why not unwind with a yoga or meditation class? Pai is famous for its spiritual retreats, so grab a mat and get ready to find your inner peace.
Temple hop
Pai has some stunning temples, and they're the perfect places to take a break from the hustle and bustle of the town centre. Make sure to dress modestly and be respectful when visiting these beautiful places of worship.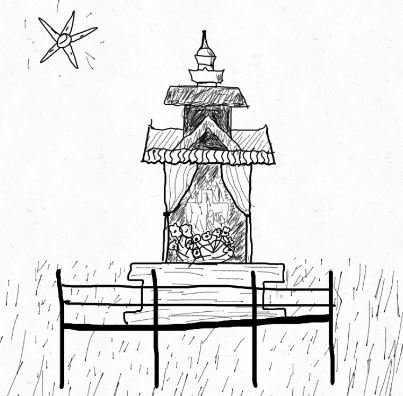 Party! Party!
Just because Pai is a small town doesn't mean it doesn't know how to party. Check out the local bars and clubs, catch some live music, or show off your karaoke skills at one of the open-mic nights. There are always hostel parties twirling through the town like drunken tornadoes. You can easily dodge them if you're after a quiet one, or join the fun like a conga line at a wedding if you're up for a bar crawl.
Pai's laid-back but booming nightlife
The main party areas in Pai are around Walking Street and the Pai Night Market. These areas are lined with bars, clubs, and street vendors. Many of the bars in Pai have live music and DJs, with many staying open until the early hours.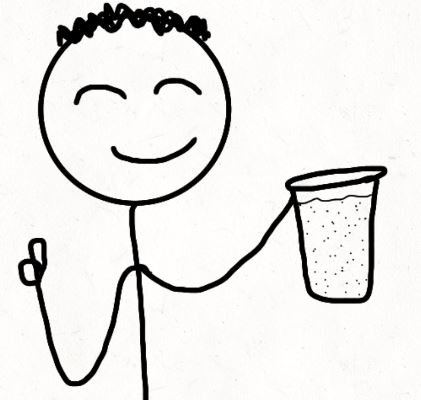 The party culture in Pai is a big draw for many travellers, and the town is known for its Full Moon Party-style events with the infamous mushroom shakes! These parties feature fire shows, neon body paint, and music that ranges from techno to reggae.
However, it's worth noting that while Pai does have a party culture, it's not as wild or raucous as some of the other backpacker hotspots in Thailand, such as Koh Phangan or Bangkok. Pai still retains a relaxed and mellow vibe, even when the bars and clubs are in full swing.
Overall, if you're looking for a fun night out in a laid-back setting, Pai is a great destination to consider. Whether you want to dance the night away, sample local beers and cocktails, or just soak up the atmosphere, you're sure to find something to suit your tastes.
What language do they speak in Pai?
Unsurprisingly they speak Thai in Pai. But fear not, because of the huge number of tourists to this small town, you don't need to speak a word of Thai. It's always polite to try to learn a couple of basics though, so here are a few to get under your belt…
Hello: Sawadee khrup / Sawadee ka.
Thank you: Khop khun khrup / Khop khun ka
Yes: Chai khrup / Chai ka
No: Mai khrup / Mai ka
The above are split as masculine/feminine. Basically, boys say 'khrup' and girls say 'ka' Easy!
Pai cuisine. It's more than just steak and kidney!
Pai is a food lover's paradise, with a cuisine that blends traditional Thai flavours with influences from the local hill tribes and neighbouring countries like Burma and Laos. Here are some dishes and ingredients that you can expect to find when eating in Pai:
Khao Soi: This popular northern Thai dish is a must-try in Pai. It's a spicy coconut curry soup that's typically made with chicken or beef and served over crispy egg noodles.
Most places do veggie/vegan options too. Chiang Mai is the best place for Khao Soi though. Especially at Aum Restaurant, check it out when you're next passing through.
Sai Ua: This flavorful sausage is made with pork, garlic, lemongrass, and chilli. It's often grilled and served with sticky rice and a spicy dipping sauce.
Nam Prik Ong: This traditional northern Thai dip is made with minced pork, tomatoes, and chilli. It's usually served with fresh vegetables and sticky rice.
Kao Niew Mamuang: This famous Thai dessert is the same as mango sticky rice. It's the perfect way to end a spicy meal.
Fresh fruits: This one sounds simple but Pai is known for its fresh and delicious tropical fruits like mangoes, papayas, and dragon fruits. You can find stalls selling them all over the town. And they are usually cheap cheap cheap!!
A brief history of Pai, Thailand
Pai has always been a melting pot of the region's diverse mix of ethnic groups, which includes the Shan, Lahu, and Karen hill tribes. These groups have lived in the area for centuries, and their cultures and traditions continue to influence life in Pai today.
Pai and the surrounding countryside remained isolated and pretty much cut off from the rest of Thailand until the late 20th Century. The first wave of backpackers didn't arrive until the 1970s. Then word spread quickly, well as quickly as was possible before the internet, about this hidden gem in northern Thailand.
Since then, in an attempt to keep the tourist money coming in, Pai has developed the town into a backpackers' paradise.
How to get around Pai, Thailand
Alright, buckle up! Here are the best ways to get around Pai.
First up, we have the most popular option of renting a scooter. This is the preferred mode of transportation for most travellers because it's cheap and gives you the freedom to ride around like a boss. Obviously, you shouldn't do it if you're not confident on two petrol-powered wheels, but Pai is the best place I've travelled to for learner drivers. Many of the rental companies are happy to help you practise before zooming off over the horizon.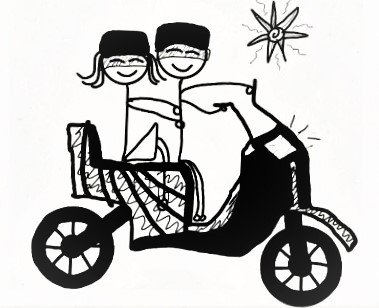 Next, we have the humble bicycle. If you're feeling a bit lazy, but still want to pretend you're eco-friendly, renting a bicycle is a great option. It's a bit slower than a scooter, but at least you'll be burning off some of those Pad Thai calories.
If you're travelling with a group, or just want to chat with some locals, hop on a Songthaew. It's basically like a mini-bus that you share with other travellers, so you might end up making some new friends, or at the very least, overhearing some interesting conversations.
Luxury on three-wheels.
For those who want to feel like royalty, we have the Tuk-tuk. The three-wheeled taxi is the perfect option if you're feeling a bit fancy or if you've indulged too much in nighttime activities. Just be prepared to negotiate the price with the driver, or you might end up spending all your Baht on your two-minute ride home.
Lastly, we have the good old-fashioned option of walking. This is a great option if you're feeling a bit adventurous, or just want to take in the sights and sounds of Pai. Just be sure to wear comfortable shoes, bring water and a hat to protect yourself from the sun, and watch out for any rogue cows on the road.
---
Heading to Pai and want some accommodation tips?
If you're on the lookout for some tips about where to stay in Pai, allow me to give you my four budget-based recommendations.
1 – Fancy Pants
If you're feeling lavish then check out Reverie Siam Resort. Rooms are usually over £150 per night, which I know is crazy high for Pai, but hear me out. If you're after something extra special and can afford it, you won't regret treating yourself.
2 – Above Average Joe
If you prefer to place yourself in the middle you should head to Pai Vimaan Resort. This place comes in at around £40 per night and still gives a level of luxury compared to most places in Pai. It's also located right in the middle of the town and is great to book trips from.
3 – Cheap But Private
If you're like most of the travellers in Pai, you're looking for cheap and cheerful. For that, I give you Villa De Pai. Rooms are often available for less than £10 per night and that's for a private room with its own bathroom, fancy that!!
4 – Party Party
Finally, if you're more of a social butterfly who travels from party hostel to party hostel, I know the place for you. That place is Bodega Pai Party Hostel. This place is for sociable travellers who like to party. Plus, as you'd expect with any good hostel, you can plan all the trips and travel you need from their reception.
---
So there you have it, my ultimate guide to Pai, Thailand. If you want some more detailed info about some of the activities check out my Pai page. For some random travel tips and stories hop on over to my Instagram page.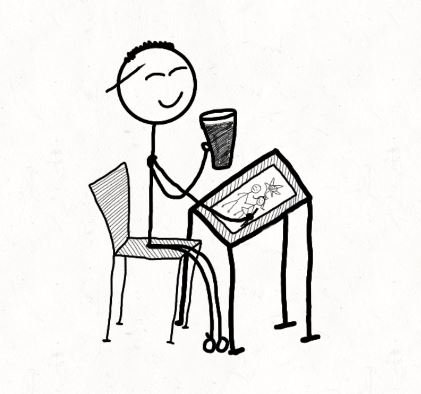 I'm not really a stickman, but it seems that I like portraying myself as one.
I'm an English guy who's been travelling since 2017. I was never good at taking photos, sketching just seems to work better for me, and in my opinion, why do you want to see other people's 4K videos and pictures of the world? Surely it's better to see it for yourself. You get in touch through the contact page or Instagram.
I look forward to hearing from you.
Happy travelling.
The Sketchy Traveller