Bamboo Bridge Pai – All You Need To Know In 2023
Bamboo Bridge Pai is one of the most popular attractions in and around Pai, Thailand. It's not the most thrilling destination you'll visit in Asia, but it's a lovely place to relax for an hour. Here's all the info you need to plan your trip…
---
Disclaimer: There are some affiliate links on this post. Meaning I may earn a (very) small commission if you buy something after clicking a link. This is at no extra cost to you. You can read my full disclaimer here.
---
Your Ultimate Guide to Bamboo Bridge Pai
What is the Bamboo Bridge in Pai?
Hands up if you guessed that it's a bridge, made of bamboo, that's in Pai.
Full marks to you if you did. If you're after a smidgen more info please allow me to expand on the basics. The bridge is 800-1000m long, depending on which signs you believe, and it was created to give the local monks a much-needed shortcut. Now it's become one of the most popular things to do in Pai. Well, apart from drinking, dancing and consuming suspicious mushroom-based smoothies!
The bamboo bridge is suspended a couple of metres above the ground. A ground that, if visited soon after the rainy season, is as green and luscious as you could ever imagine. If you visit during the dry season you're more likely to be walking over barren yellowy-brown earth. But don't worry too much, the surrounding scenery is still pretty breathtaking.
---
Want to know more about Pai? Check out my Ulitmate Guide. It tells you everything you need to know.
---
Is it the same bridge as Boon Ko Ku So in Pai?
Yes. Boon Ko Ku So is the local name for the Bamboo Bridge Pai. Translated into Thai, Ko Ku So means 'The Bridge of Merit'. I'm not sure who's getting the merit, probably the monks. They get showered with gifts from the locals when they're just lounging around doing, seemingly, very little, so why not give them merit for the bridge too?
How to get to Bamboo Bridge Pai
Finding the bamboo bridge isn't the easiest task, so you'll want to arm yourself with all the info. Here's the exact location on Google Maps.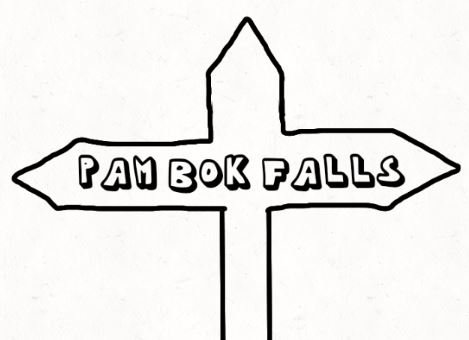 It's about 10 km from Pai Centre, but you'll be lucky to see any signs saying Bamboo Bridge Pai. You will see plenty of signs for Pam Bok Falls and luckily this is the direction you want to be heading.
Once you reach the falls you just need to head up the mountain for about another 1.5 km. If it's raining I'd advise against riding up there as it can be dangerously slippy. Why not take on an interesting hike instead?
I'm assuming that you'll have access to a motorbike because everyone seems to ride in Pai, but if not, you'll need to look out for a songthaew in town. The trouble is getting one back might not be so easy!
Just while we're talking about bikes, bookmark the guys at Bikes Bookings for your future two-wheeled needs. Sometimes it's nice to be able to book a bike online with a clear price and insurance.
Bikes Bookings give you that peace of mind at the same price as the local renters. Anyway, back to that bridge!
What can you do at the bamboo bridge?
Apart from bouncing along the bamboo bridge, there's also a cafe and a little temple there. But really, the main attraction is the wobbly bridge and the extremely photogenic surroundings.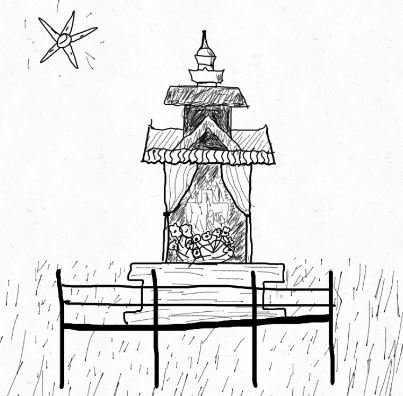 How much is the entrance fee for Bamboo Bridge Pai?
On our visit we didn't have to pay anything, there was just a donation box, but I've since been told that others have had to pay 20 or 30 baht to get a ticket before they could go in. This is the magic of travelling in Asia, there are no set rules for anything! Either way, if you do have to pay it's not going to break the bank.
Overall, is it worth visiting Bamboo Bridge Pai?
Personally, I'd say that yes, it is worth the trip. I know some people spend an hour or two there but thirty minutes was plenty for me to soak in the scenery and enjoy bouncing around on the bamboo. So, what I'd recommend would be to incorporate it into a full day of Pai-based adventure. You see, there are plenty of these kinds of things to do in Pai. Why not add a trip to the Pam Bok Falls, Pai Canyon and Santichon Village to your itinerary too? Get out there and make the most of the Thai countryside.
---
Heading to Pai and want some accommodation tips?
---
If you're on the lookout for some tips about where to stay in Pai, allow me to give you my four budget-based recommendations.
1 – Fancy Pants
If you're feeling lavish then check out Reverie Siam Resort. Rooms are usually over £150 per night, which I know is crazy high for Pai, but hear me out. If you're after something extra special and can afford it, you won't regret treating yourself.
2 – Above Average Joe
If you prefer to place yourself in the middle you should head to Pai Vimaan Resort. This place comes in at around £40 per night and still gives a level of luxury compared to most places in Pai. It's also located right in the middle of the town and is great to book trips from.
3 – Cheap But Private
If you're like most of the travellers in Pai, you're looking for cheap and cheerful. For that, I give you Villa De Pai. Rooms are often available for less than £10 per night and that's for a private room with its own bathroom, fancy that!!
4 – Party Party
Finally, if you're more of a social butterfly who travels from party hostel to party hostel, I know the place for you. That place is Bodega Pai Party Hostel. This place is for sociable travellers who like to party. Plus, as you'd expect with any good hostel, you can plan all the trips and travel you need from their reception.
---
Looking for more things to do in Pai?
If you're hungry for more Pai travel tips you should check out my Ultimate Guide to Pai, Thailand.
---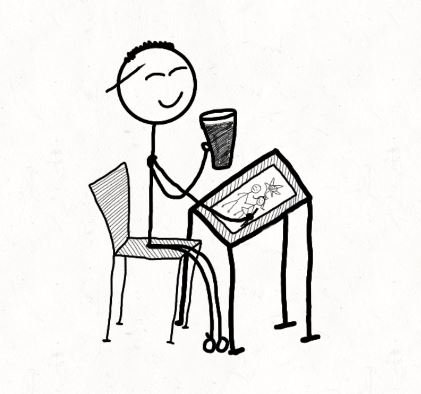 I'm not really a stickman, but it seems that I like portraying myself as one.
I'm an English guy who's been travelling since 2017. I was never good at taking photos, sketching just seems to work better for me, and in my opinion, why do you want to see other people's 4K videos and pictures of the world? Surely it's better to see it for yourself. You get in touch through the contact page or Instagram.
I look forward to hearing from you.
Happy travelling.
The Sketchy Traveller