Oriental Village Langkawi – A Quick & Funny Travel Guide
I'd best describe Oriental Village Langkawi as a tropical outlet mall with many cafes, restaurants, shops and attractions. The village is most famous, though, for being the launch pad of the Langkawi SkyCab cable car and SkyBridge. That's not to say there's nothing else worth visiting, because there is. Let's get into it, shall we?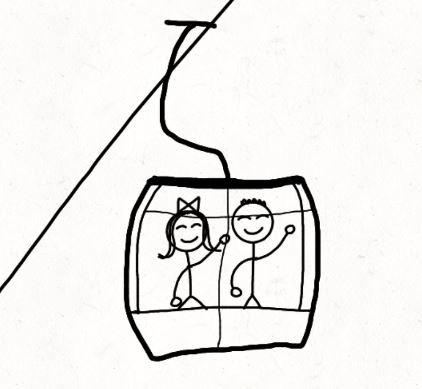 ---
Disclaimer: There are some affiliate links on this post. Meaning I may earn a (very) small commission if you buy something after clicking a link. This is at no extra cost to you. You can read my full disclaimer here.
---
Oriental Village Langkawi – Your Ultimate Guide
Here's everything you need to know to decide if it's worth taking a trip to the Oriental Village in Langkawi.
What to do in Oriental Village Langkawi
The most popular attraction at Oriental Village Langkawi is without doubt the SkyCab Cable Car and Skybridge. The cable car takes you up the second-highest mountain in Langkawi, known locally as Gunung Mat Cincang, in about ten minutes.
At the top of the mountain is the Skybridge. A mountaintop bridge that gives you views over the valley, and in the other direction, on a clear day, you can see all the way to Thailand.
In my opinion, if you've bothered to get yourself to the Oriental Village, you'd be mad not to go up the cable car.
What else can you do in the village?
I personally only visited the attractions that were included in the cable car ticket price (more on that later). But here's an overview of all the attractions in the village…
VR Universal – These guys offer a VR experience. Choose from experiences like racing or skydiving to get a virtual thrill.
Selfie Museum Malaysia – So this place seems to be all about getting selfies for Instagram. They've set up different frames and environments for you to get snap-happy. The entrance fee of 22 MYR put me off. That and the fact that I'm quite clearly not a fan of photos. I challenge you to find one on this site!
Museum Srikandi Langkawi – This is a Malaysian fashion museum. Not really my thing, but it looked new….if that means anything.
3D Art in Paradise Langkawi – This place has loads of 3D paintings, and when you stand in the right place, you can get some pretty funny photos. It's not the most mind-blowing of places but there's some good-natured fun to be had there. And it's included in the price of the cable car ticket. So why not pop in and see if it's up to much?
SkyRex – A 4D simulator ride through a 'budget' Jurassic Park. I'll say no more, I don't want to ruin it for you. Just bear in mind that the staff won't let you in until they've got at least ten people wanting to ride.
How much does it cost?
The good news is that It's free to enter Oriental Village Langkawi. The car park is free too. You will, though, need to buy a ticket to ride the cable car. You can buy tickets online from people like Viator, who offer a number of different packages that include trips to the Oriental Village. Or, you can just buy a ticket for the cable car from the ticket booth in the village.
When I visited in January 2023 a ticket cost 55 MYR per person. The ticket also included access to see the 3D Art and to ride the SkyRex.
What time can you visit?
Oriental Village Langkawi is open Monday to Sunday, from 9:00 am – 5:00 pm.
As a foreign tourist, the best time to visit is on a weekday. That's because, like most attractions, it's much busier at the weekend as more locals visit then.
We visited on a Tuesday and there was no queue to buy tickets for the cable car. But I've been told that on a Saturday or Sunday, you could be waiting up to 30 minutes to get a ticket.
Oriental Village Langkawi location
You'll find the village on the edge of a vast mountain range inside Machinchang Cambrian Geoforest Park. If driving from the popular Kuah Jetty area, it takes about 45 to 50 minutes to get there. If you're planning on heading to the village straight from the airport, maybe you just can't wait to get your teeth around a wiener schnitzel (more on that later), it's about a 15-minute drive from Langkawi International Airport.
By taxi, to give you an idea of the price, it will cost about 50-60 MYR from the Cenang Beach area to the Oriental Village.
Here's a link to the exact location on Google Maps.
If for whatever reason you want the full address, it's: Oriental Village, 07000 Langkawi, Kedah, Malaysia
What food is available at Oriental Village Langkawi?
Considering the small size of the village, there is a good number of cafes and restaurants to satisfy your cravings. Whether you want pizza, BBQ fish, nasi goreng or even wiener schnitzel, you'll find it at the Oriental Village in Langkawi. Some of the restaurants there include…
Restaurant Kashmir – Don't think that it's a place solely for Kashmiri delicacies. They sell a mix of everything from curry to fried chicken and pizza.
Restaurant Marhaba Langkawi – There is a separate juice bar out the front and a menu focused on Asian fusion cuisine……and pizza of course.
Subway – Yes, fear not, there are franchised sandwiches for the less adventurous, or dodgy belly sufferers out there.
German Food Corner – Meat, chips and sauce are the staples of this menu. And, the classic wiener schnitzel can also be found here. For something sweet, they also do a good range of waffles & cakes.
Kak K Foodcourt – A buffet-style restaurant where you build your own plate. It's mainly Asian cuisine. There's no pizza but chips a plenty.
One thing you'll notice is that every restaurant in the Oriental Village looks the same, there must have been a great bulk deal on furniture.
Want to stay in a hotel in the Oriental Village?
If you feel that one day isn't enough to enjoy all that the village has to offer, don't worry, because there's a hotel on site. The hotel is called Geopark Hotel Oriental Village, it's a decent enough-looking hotel, but to be honest, I don't think you'll need a second day at Langkawi's Oriental Village.
What are the reviews like?
It's fair to say that Oriental Village Langkawi has mixed views online. Some have called it a depressing, soulless place designed to get money from people riding the cable car. Others rate it five stars and a brilliant day out for all the family. I did enjoy the cable car and sky bridge. The views are spectacular.
In regards to everything else, the rest of the attractions were all just a bit of novelty fun. But who doesn't like a cheap thrill every now and then? Just don't expect too much and you can have a few enjoyable hours here. I think some of the people who've given it bad reviews thought it was going to be a mini Universal Studios or something!
---
Looking for more fun things to do in Langkawi? Check out my guides about the Crocodile Cave and how to get a jet ski…
Crocodile Cave Langkawi – What To Expect In 2023
Jet Ski Langkawi – What's Possible In 2023?
---
What attractions are near the Oriental Village?
Located just 3.5 km away are two of the most popular things to do in Langkawi.
Langkawi Eco Marine Park – It's a decent-looking waterpark that seems to be aimed at families with young kids but adults can find something to entertain themselves too.
Telaga Harbour Marina – One of the fanciest locations in Langkawi. Expensive yachts, restaurants and bars are everywhere for you to channel your inner St. Tropez for an hour or two.
What's the best way to enjoy Oriental Village Langkawi?
Most tourists will just make their own way to the Oriental Village and spend a leisurely few hours walking around the shops and heading up the cable car. If, though, you'd prefer to book it all online and have someone pick you up from the hotel, I've got you covered.
The best two in the business, Viator and Get Your Guide, both offer a range of tours that you can safely book online. Check them out here…
---
So there you have it. All the info you need to plan a trip to Oriental Village Langkawi. As I said, don't expect it to blow your socks off with its level of entertainment, but all-around it's definitely worth a visit when you're off exploring what the island has to offer.
---
Looking for more tips for things to do in Langkawi?
If you're hungry for more travel tips and stories head on over to my blog where I've got more tips and info, including these posts about Langkawi.
Crocodile Cave Langkawi – What To Expect In 2023
Jet Ski Langkawi – What's Possible In 2023?
---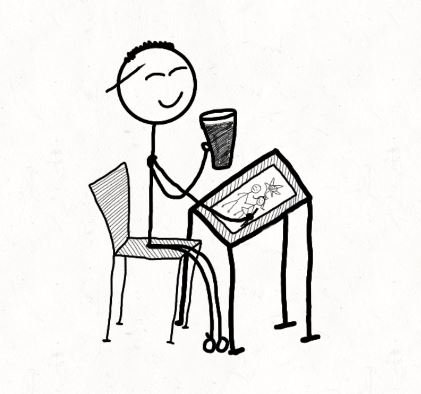 I'm not really a stickman, but it seems that I like portraying myself as one.
I'm an English guy who's been travelling since 2017. I was never good at taking photos, sketching just seems to work better for me, and in my opinion, why do you want to see other people's 4K videos and pictures of the world? Surely it's better to see it for yourself. You get in touch through the contact page or Instagram.
I look forward to hearing from you.
Happy travelling.
The Sketchy Traveller