Crocodile Cave Langkawi – What To Expect In 2023
A trip along the Kilim River to explore Crocodile Cave Langkawi and the surrounding mangroves is one of the most popular tours in Langkawi. But is it worth the effort and what's the truth about its name? Let's find out.
---
Disclaimer: There are some affiliate links on this post. Meaning I may earn a (very) small commission if you buy something after clicking a link. This is at no extra cost to you. You can read my full disclaimer here.
---
Your Ultimate Guide To Crocodile Cave Langkawi
Here's your quick and easy guide to help you plan your trip to Crocodile Cave In Langkawi.
Are there crocodiles in Crocodile Cave?
Yes, there are thousands of them. Mutant crocodiles shooting laser beams from their three eyes!! Ok, enough with the scare stories, no, there are not any crocodiles at Crocodile Cave Langkawi. The cave got its name because from one angle if the light's right and you squint a bit, the entrance looks a little bit like a crocodile.
From speaking to our guide there have been many disappointed tourists over the years. It shows the marketing power of a name I suppose. Luckily every monkey beach I've ever visited has had ample monkeys! I'd be disappointed if it was just because the beach was shaped a bit like a gibbon!
If you're lucky you will see some wildlife on your Crocodile Cave tour. Eagles, stingrays and monkeys can be spotted along the way. As can some really depressing fish farms, but they're not part of the tour. They're just a grim example of the realities of farming.
How to book a trip to Crocodile Cave Langkawi
You won't find anyone who is offering a tour solely to Crocodile Cave. If you want to visit this cave you'll need to book a three or four-hour boat tour that sails along the Kilim River through the mangroves.
You will find local tour operators offering a cave and mangrove tour, but if you, like me, prefer to book these things safely and securely online you are in luck. That's because the two big online players both have tours available to see the Crocodile Cave in Langkawi along with the other caves and mangroves.
First, we have Get Your Guide. They offer a four-hour tour with pick up and drop off at your hotel. You can see the entire itinerary on their website. Here's a link to their tour to save you from searching.
I can personally vouch for the tour with Get Your Guide as that's the one I went with. In the aim of fairness though, it's only right to give you another option.
Viator also offers a tour that includes a visit to the Crocodile Cave. At the time of writing it's a little bit more expensive and it's only for three hours. I couldn't see anything extra special but maybe you'll prefer their offer for whatever reason. Here's the link to their tour so you can check out the itinerary and prices.
How big is Crocodile Cave Langkawi?
This is another cause of disappointment because it really isn't a big cave at all. The special thing about it is that at low tide the boat can slowly squeeze its way through the cave. If you arrive at low tide you'll be getting close up to the limestone rock and who knows you might get some bat droppings on your shoulder too. Is that good luck too, or is it just the birds who have that power?
But what happens at Crocodile Cave during high tide? Well, your boat driver will get the boat as close to the entrance as possible so that you can take a photo of it, but you won't be going through. You'll be going around.
Even though it's only a short ride through Crocodile Cave it's definitely worth trying to go during low tide so that you can get the cheap thrill of squeezing through a bat-filled cave.
Where is the cave?
You will find the Crocodile Cave along the Kilim River which is up on the north side of Langkawi island. It's all in Kilim Geoforest Park. Here's a link to its exact location on Google Maps.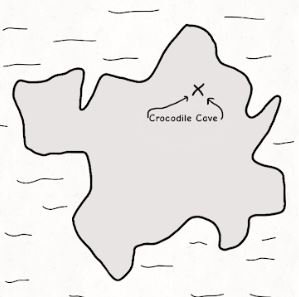 How much does it cost to visit Crocodile Cave Langkawi?
This depends on what tour option you take. At the time of writing the cheaper of the two tours I mentioned earlier is the one with Get Your Guide, and that's currently priced at RM187 per person. You can probably get it cheaper if you book it directly with a local tour operator, but you won't get the online perks like free cancellation that you get with the folk at Get Your Guide.
---
So there you have it, hopefully, all the info you need to decide if a trip to Crocodile Cave Langkawi is worth adding to your schedule or not.
Need help with where to stay?
---
Finally, I doubt you need any assistance with this, but if you're finding it hard to decide where to stay, allow me to give you my two recommendations. If a private room and bathroom is your style, you really should consider Dar Yasmin Motel. If you prefer to stay in a hostel you should absolutely check out Hostelworld.
I know the romance of just rocking up and finding a place sounds great. But for me, booking it and paying for it securely and also knowing you can cancel it for a full refund is the way to do it.
---
If you're hungry for more travel tips and stories head back over to my blog. You can also check me out on Instagram.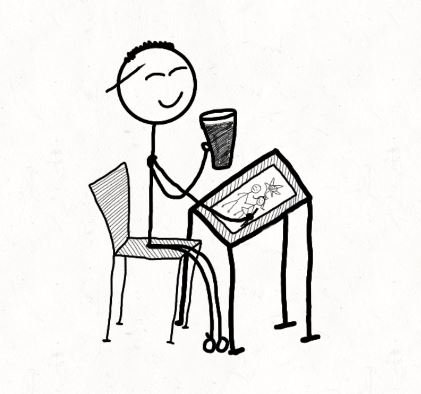 I'm not really a stickman, but it seems that I like portraying myself as one.
I'm an English guy who's been travelling since 2017. I was never good at taking photos, sketching just seems to work better for me, and in my opinion, why do you want to see other people's 4K videos and pictures of the world? Surely it's better to see it for yourself. You get in touch through the contact page or Instagram.
I look forward to hearing from you.
Happy travelling.
The Sketchy Traveller