Jet Ski Langkawi – The Best Price & Tours in 2023
Renting a jet ski in Langkawi is something you should definitely do if you have the time and inclination. It's not the cheapest activity you can do but it's definitely one that you will remember for a long time. Here's all the info you need to decide if it's for you or not.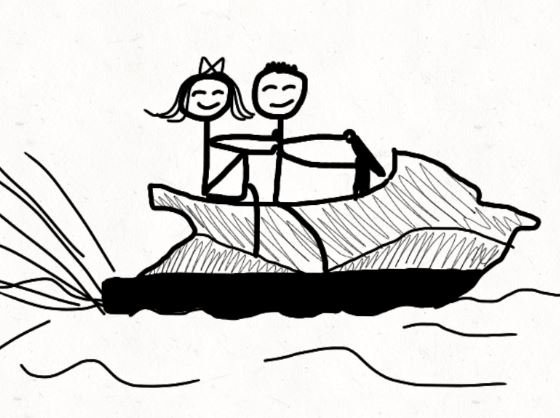 ---
Disclaimer: There are some affiliate links on this post. Meaning I may earn a (very) small commission if you buy something after clicking a link. This is at no extra cost to you. You can read my full disclaimer here.
---
Your 2023 Guide to Jet Skiing in Langkawi, Malaysia
Here's your quick and easy guide to getting aboard a jet ski in Langkawi. If you just want to know how much it costs, prices start at €20 to jet ski in Langkawi. Read on to see what you get for your money.
Jet Ski Langkawi Price – What does it cost?
Jet skiing in Langkawi can cost as little as $20 for a ten-minute session. At the other end of the scale, you can pay up to $160 but that's for a four-hour island hopping adventure.
What options do I have to jet ski in Langkawi?
Let's break down exactly what's on offer to you if you fancy hiring a jet ski in Langkawi. The simplest and cheapest way to get riding is just to rent a jet ski for ten, fifteen or thirty minutes. This will cost you between $20-50 depending on who you rent from and how long you want to play on the jet ski.
You can't ride off into the sunset or head to the islands with this option though, you've got to stay close to the beach so that the guys renting the jet ski can keep an eye on you. As you can imagine, most people just do this while down at the beach but you can pre-book online if you prefer. Check out this link for more info on this basic jet ski Langkawi experience.
Jet ski Langkawi – Island Hopping Tours
If the simple sensation of zipping across the water isn't enough for you, may I suggest booking yourself onto one of the island-hopping jet ski tours that are available? You have the choice of a two, three or four-hour tour. With most of them available at 9 am or 2 pm. I'll give you some links to the tour operators shortly, but first, let me tell you what they are offering. Although there are lots of different jet ski tour sellers, most of them are all offering the same options.
Two-hour jet ski Langkawi tour
On the two-hour option, you'll probably visit three small islands. They are likely to include Singa Besar Island, where you can try to spot some eagles, Kecil Island, which is a great place for some snorkelling and Beras Basah which is probably the most picturesque of the three.
Four-hour jet ski Langkawi tour
If you have the time and can afford the four-hour tour you'll get to jet ski around eight islands. The main attraction is without doubt the island whose name translates as The Pregnant Maiden and is known locally as Dayang Bunting. Here you can take a dip in the stunning freshwater lake that offers to boost your fertility.
The lake, known as Dayang Bunting Lake (Lake of The Pregnant Maiden), is a unique spot in Langkawi. An old cave system collapsed and now a large freshwater lake sits just yards away from the ocean. As part of the four-hour jet ski tour, you'll ride up to the entrance of the island, and hike for ten minutes, dodging the monkeys along the way, before diving into the crisp fresh water.
The best Langkawi jet ski tours
All the tours that I've personally used and researched offer snorkelling gear and dry bags. They will also pick you up from your accommodation if you want them to. Otherwise, you can just meet them at the beach.
Here are some links to some jet ski Langkawi trips and tours that are available. That one is for some great guys in Langkawi and this one to Viator which gives you the ability to pay securely online along with free cancellation and other benefits.
This link is to Viator for the best pre-pay options available.
---
Where can I easily rent a jet ski in Langkawi without pre-booking?
Most places that offer jet ski hire in Langkawi will be found on Tengah Beach all the way up to Cenang Beach. You won't struggle to find people offering basic jet ski rental or jet ski island tours.
So if you prefer not to book in advance, probably knowing there's always a chance of an unplanned heavy night happening, you can just stroll down to the beach and do it when you're good and ready. There are plenty of options for a jet ski experience, so you won't be disappointed.
Can children ride?
As a rule, you must be 18 or over to ride a jet ski in Langkawi. If you have a child with you, they can join you as long as they are at least three years old.
Which beach is best for jet skiing in Langkawi?
The best beaches for jet ski hire in Langkawi are Tengah Beach and Cenang Beach.
Am I too fat to jet ski in Langkawi?
Most jet skis in Langkawi can take a maximum of 180kg. So you do the maths.
---
Finally, I doubt you need any assistance with this, but if you're finding it hard to decide where to stay, allow me to give you my two recommendations. If a private room and bathroom are your style, you really should consider Dar Yasmin Motel.
If you prefer to stay in a hostel you should absolutely check out Hostelworld. I know the romance of just rocking up and finding a place sounds great. But for me, booking it and paying for it securely and also knowing you can cancel it for a full refund is the way to do it.
---
If you're hungry for more travel tips and stories head back over to my blog. You can also check me out on Instagram.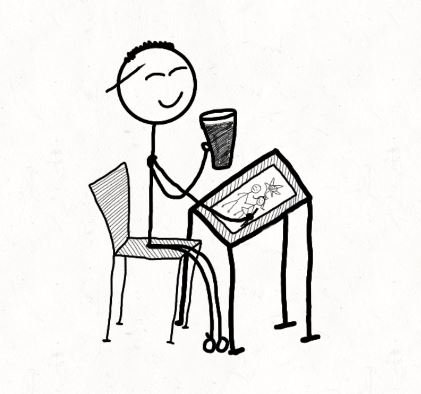 I'm not really a stickman, but it seems that I like portraying myself as one.
I'm an English guy who's been travelling since 2017. I was never good at taking photos, sketching just seems to work better for me, and in my opinion, why do you want to see other people's 4K videos and pictures of the world? Surely it's better to see it for yourself. You get in touch through the contact page or Instagram.
I look forward to hearing from you.
Happy travelling.
The Sketchy Traveller