Motorbike Hire In Benidorm: The best way to get a Moped 2023
Motorbike hire in Benidorm isn't very easy. Well, not compared to places like Thailand where you can't stroll more than 50 yards without walking past someone who's renting them out. Renting a moped in Benidorm is not so simple. This is Spain after all, rules are rules here, so it's all a bit more official. But fear not, I can tell you how to easily and confidently rent a motorbike in Benidorm.
---
Disclaimer: There are some affiliate links on this post. Meaning I may earn a (very) small commission if you buy something after clicking a link. This is at no extra cost to you. You can read my full disclaimer here.
---
Your quick and easy guide to moped hire in Benidorm
Here's your total guide to renting a bike in Benidorm in 2023. Most of us are just after a simple little moped to zip around the beach roads, but I've got you covered if you want to hire a motorbike in Benidorm too.
Best Motorbike hire shop in Benidorm – Bikes Booking
It's quite something to give the title of the best motorbike bike rental in Benidorm to one place, but there's a simple reason for it! Bikes Booking isn't just located in one part of the town, it's actually an agent that works with rental shops all over the local area.
They actually work with bike rental shops all over the world, so it's a great site to bookmark. You can preview and book it from your phone while kicking back in your new favourite beach bar.
The other beauty about using these guys is that you can do 99% of the transaction online. No haggling, no pressure selling, and nearly no need for speaking at all, you can just do it all online, pay by card and have the confidence that all bookings come with third-party insurance.
You can also easily up that to fully comprehensive if you want to be completely worry-free. If you're serious about renting a motorbike in Benidorm you should check them out. Here's the link that takes you directly to the Benidorm page. There's a full FAQ section and loads of reviews too. They're my favourite because I know it's all sorted and they are dealing with all of the local dealers without you having to do the legwork.
Motorbike or mobility scooter?
The other hassle when it comes to motorbike rental in Benidorm is all of the mobility scooters. If you spend your time trawling through different listings online you'll find that most of them are for these scooters, not for actual motorbikes.
That's how I stumbled across Bikes Booking for the first time. I was desperate to get on two wheels and get riding to Calpe and Altea. A mobility scooter couldn't get me past the big McDonald's on the outskirts of town!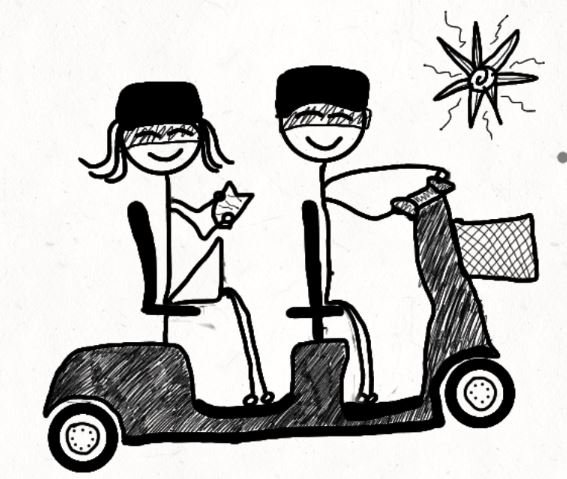 How much does motorbike hire in Benidorm cost?
Prices start from €25 per day to hire a moped in Benidorm. The cost of renting a more powerful motorbike in Benidorm is more likely in the €50-€100 bracket. It also depends on the season, the duration and the quality of the bike you're after. Put your dates into Bikes Bookings search engine and you'll get an instant quote.
Do you need a licence to rent a bike in Benidorm?
Yes, you need a licence to rent a motorbike in Benidorm. You need your license from home along with an International Driving Permit. Things have changed a lot recently with Brexit, but at the time of writing, if you've held a full driving licence for over three years you can ride anything up to and including 125cc. This is some recent info about the regulations that I recommend you have a quick look over to check if you are allowed to ride.
If you find that you aren't legally allowed to ride, it's the bus for you! But fear not, there's a great bus company called Omio that I can recommend to you.
Is renting a moped in Benidorm safe?
Again the answer is yes. Of course, if you drive like an idiot or worse, drunk, then it is without a doubt very dangerous indeed. Moped hire in Benidorm is the same as everywhere else. If you're inexperienced on two wheels, keep it simple and get a moped no more powerful than 125cc.
Looking for more things to do in Benidorm?
If you're wondering what else you should be doing in and around Benidorm, may I push you in the direction of Get Your Guide. These guys are the best place for all of the available tours and trips on offer. You can book safely and securely online, and if you change your mind you can even get a full refund if you give them enough notice. So if you're planning on getting out and about you really should look at Get Your Guide. This is a link directly to the tours that they offer in and around Benidorm.
---
Want some accommodation tips?
If you're looking for some tips about where to stay in Benidorm, allow me to give you my three budget-based recommendations.
1 – Five Star Fancy Pants
If you're feeling lavish then check out Hotel Boutique Villa Venecia. Rooms are usually over £180 per night, which I know is high for Benidorm, but hear me out. If you're after something extra special and can afford it, you won't regret treating yourself.
2 – Above Average Joe
If you prefer to place yourself in the high to middle range you should head to Hotel Gold Arcos. This place comes over £100 per night but it's brand new and has a rooftop pool. It offers a high level of luxury compared to most places in Benidorm.
3 – That'll do nicely
If you're like most of the travellers in Benidorm, you want something clean, with a pool and located near the beach. For that, I will give you Halley Hotel & Apartments. Rooms are often available from around £40 per night. I think they're the best of a big bunch around this price.
---
If you're hungry for more travel tips and stories head on over to my blog where I've got more tips and info, including these ones about Benidorm…
Best Bars In Benidorm – Top 7 Bars In 2023
Footgolf Benidorm 2023: How And Where Can you play?
Motorbike Hire In Benidorm: The best way to get you riding in 2023
Benidorm Party Boat: How To Get One In 2023
Go Karting In Benidorm 2023 – You Have Two Choices
Best Boat Trips in Benidorm – Boozy or not boozy, that is the question
---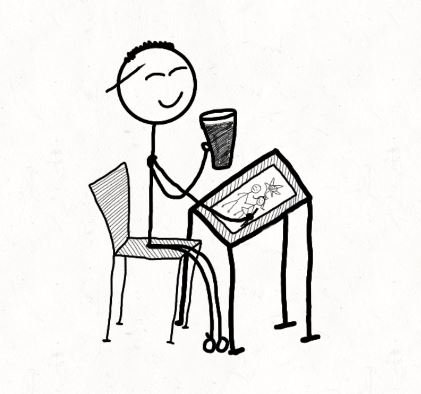 I'm not really a stickman, but it seems that I like portraying myself as one.
I'm an English guy who's been travelling since 2017. I was never good at taking photos, sketching just seems to work better for me, and in my opinion, why do you want to see other people's 4K videos and pictures of the world? Surely it's better to see it for yourself. You get in touch through the contact page or Instagram.
I look forward to hearing from you.
Happy travelling.
The Sketchy Traveller