Best bars in Benimaclet, Valencia
I'd give Benimaclet the title of 'the alternative area' of the city. Unsurprisingly it's also the student area of Valencia too, so you can get pintas for cheap, very cheap in fact. The locals have such an amazing range of unique and colourful haircuts that they leave a man like me dreaming of what could and should have been in my hairier youth. That's why I want to share with you my tips on the best bars in Benimaclet.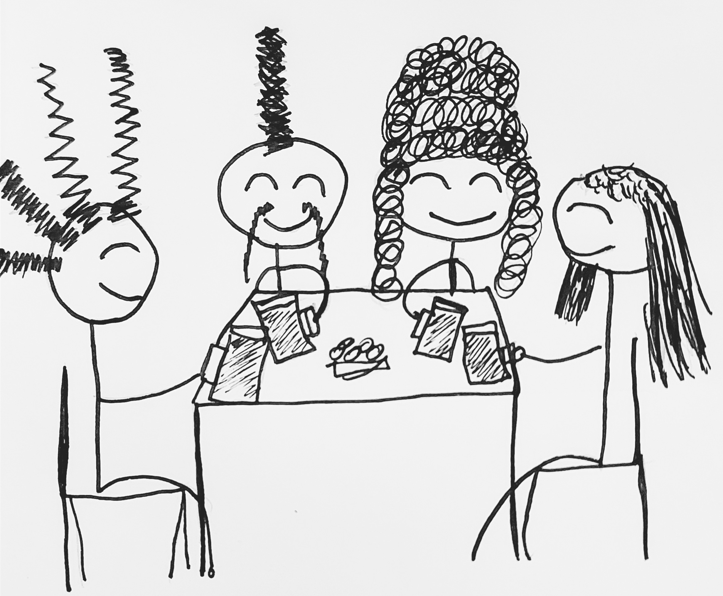 ---
Disclaimer: There are some affiliate links on this post. Meaning I may earn a (very) small commission if you buy something after clicking a link. This is at no extra cost to you. You can read my full disclaimer here.
---
Your Ultimate Guide to the Best Bars in Benimaclet
As with any major neighbourhood in Valencia, Benimaclet is not lacking when it comes to finding somewhere to unwind after a not-so-busy day. I mean, if you're having a busy, stressful day in Valencia you must be doing something wrong. Take a look in the mirror, channel your inner Valencian and slow everything down. Now you're ready for a drink. But what are you looking for? Not many people will agree when choosing their best bars in Benimaclet because there are so many to choose from.
This place used to be its own independent town until the city grew and swallowed it up. And maybe because of that, it definitely has some of the best bars in Valencia. In addition, it's only a short metro ride from the centre, so there's no excuse to miss it.
The Best Bars in Benimaclet
Without further ado, let's have a look at my list of some of the contenders to be considered the best bars in Benimaclet.
Excalibur – The best pub in town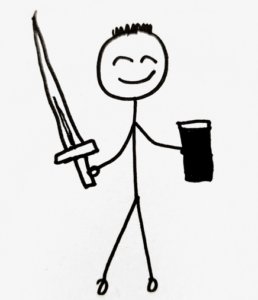 It might be the best pub, but is it one of the best bars in Benimaclet?
This place can definitely be classed as an Irish bar or British pub, but refreshingly without the standard paraphernalia you'd expect. A decent pint of Guinness is waiting for you along with a good selection of Belgian beers, football on the TV, dark wood and shoulder-to-shoulder seating.
Surprisingly it's the only place I found that showed live football in Benimaclet. Don't worry, if you want to keep the Spanish vibe going you can just order an Estrella doble and sit outside, that's allowed. It's definitely worthy of a place on the list of best pubs in Valencia
Address: C. del Doctor Vicent Zaragoza, 7, 46020 València, Valencia, Spain
Pub Coloniel – The best Latin bar around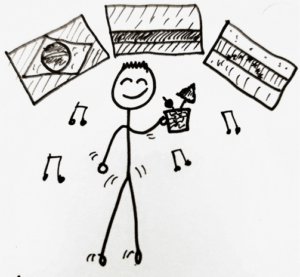 Excalibur's neighbour on the main street into Benimaclet. You'll do well to get past these two gatekeepers and into the centre, but try you must, there's much more to see, however, if you fail to push on this time, don't worry, there's always tomorrow, just try a different route!
Pub Coloniel gives you a taste of South America. Rum flows as freely as the Latin beats boom from the speakers. There are many South American bars in Valencia, this is one of the best I've been to.
Address: C. del Doctor Vicent Zaragoza, 3, 46020 València, Valencia, Spain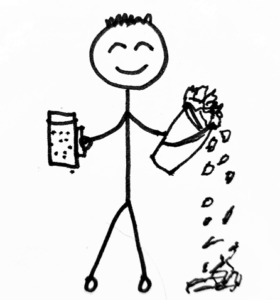 Or in English 'Doner Kebab Friend'. Surely the name is enticing enough to check it out. I'm sure we've all made best friends with a kebab at 3 am before. Here at Amigo Doner Kebap not only can you make new meat-based friends, but you can also get to know their liquid-based siblings too. This place is genius. Loads of room to sit outside, very cheap beer, kebabs and pizza.
Benimaclet is where most students head on a night out, and most find themselves sitting here all night. It's all you need for a long, cheap night out.
Address: C/ d'Emili Baró, 13, 46020 València, Valencia, Spain
London Bar – The best cocktail bar in Benimaclet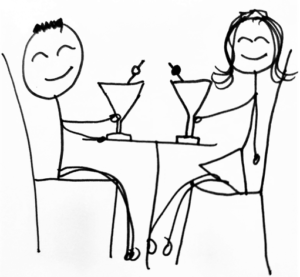 The yin to Amigo Doner Kepap's yang. An indoor, classy bar in Benimaclet Centre that specialises in the finer things in life. Premium cocktails, specialist beers and free bar snacks would cost a pretty penny anywhere outside of Spain. So for a more relaxed hour or two pop into London Bar and treat yourself. There aren't many bars like this in all of Valencia let alone in Benimaclet.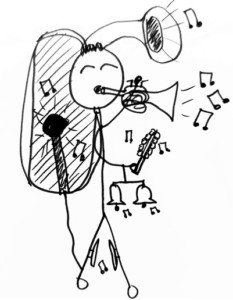 I still haven't figured this place out. One moment it's full of pensioners reading papers and playing dominoes and the next there's a full-blown classical concert taking place with more than 50 musicians plucking, blowing and beating away.
There are a few live music bars in Benimaclet, but this one is definitely unique. It's always worth popping your head in for a quick look, as who knows what's coming next, naked bingo Fridays anyone??
Find 'Centre Instructiu Musical de Benimaclet' Here.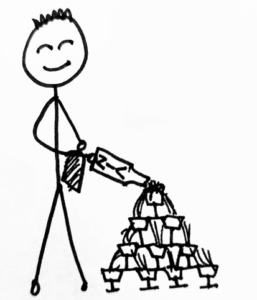 The main reason to head here is to get to Murta Street. This is possibly the liveliest street in Benimaclet. You could easily miss this hidden area but you really shouldn't. From about 6 pm the graffitied shutters start to roll up and out come the chairs. Suddenly this street is full, and you're on the lookout for any lonely table.
Grab anything you can but if you do get the chance try the wine and tapas at La Murta Vins i Tapas, the name shows what they're all about.
Find 'La Murta Vins i Tapes' Here.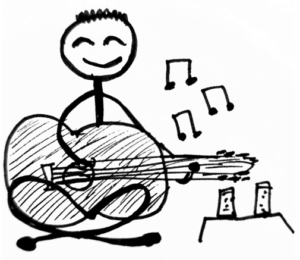 Live music, a bohemian crowd and an almost impossible chance of getting a seat. Kaf Cafe wouldn't be out of place behind the old walls of Chiang Mai, Thailand or in a wooden shack along Palolem Beach, India.
For this reason alone it's worth a visit, just don't be too disappointed when you can't get in, as it's a strong possibility. They sometimes host private functions so check out their social media before you set off, it could save you the heartache.
Do you agree that these are the best bars in Benimaclet?
Just like with my other recommendations of the best bars in Russafa and El Carmen there are tons of other places worthy of mention, but checking these ones out will give you a kick in the right direction on your journey of discovery. No doubt you'll find your own favourite bars and wonder how I missed them off my list.
The truth is it's a mix of luck and timing whether you can even get a seat at any of the more popular bars. This is especially true of the more traditional ones, but the beauty is, even if you can't get a seat where you wanted, chances are you can sit somewhere else close enough to still soak up the atmosphere anyway. The only difference is the colour of the chair and which doorway your drinks come out from.
Looking for some ideas for things to do in Valencia?
If you're wondering what else you should be doing in and around Valencia, may I push you in the direction of Get Your Guide. These guys are the best place for all of the available tours and trips on offer. You can book safely and securely online, and if you change your mind you can even get a full refund if you give them enough notice. So if you're planning on getting out and about you really should look at Get Your Guide. This is a link directly to the tours that they offer in and around Valencia.
If you're hungry for more travel tips and stories head on over to my blog where I've got more tips and info, including these ones about Valencia…
Best bars in Ruzafa, Valencia 2023
---
---
---
Best bars in El Carmen, Valencia 2023
---
El Carmen, Valencia: The Best Places to Visit in The Old Town
---
Electric Scooter Hire Valencia – Your 2023 guide
---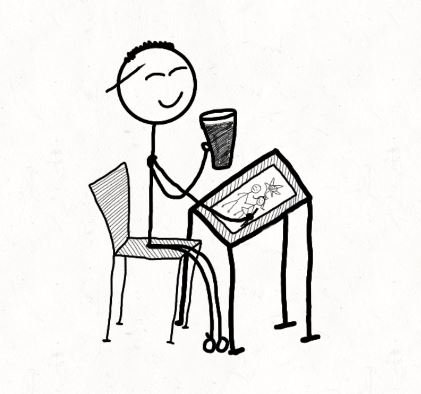 I'm not really a stickman, but it seems that I like portraying myself as one.
I'm an English guy who's been travelling since 2017. I was never good at taking photos, sketching just seems to work better for me, and in my opinion, why do you want to see other people's 4K videos and pictures of the world? Surely it's better to see it for yourself. You get in touch through the contact page or Instagram.
I look forward to hearing from you.
Happy travelling.
The Sketchy Traveller