Vegetarian Khao Soi In Chiang Mai
Finding vegetarian khao soi in Chiang Mai isn't too difficult. But getting your lips around it outside of those ancient walls is always a cause for celebration.
---
Disclaimer: There are some affiliate links on this post. Meaning I may earn a (very) small commission if you buy something after clicking a link. This is at no extra cost to you. You can read my full disclaimer here.
---
On the face of it, it might not seem like a big deal: We found Thai food in Thailand, big whoop! But it's not as easy as you might think. Khao soi is a traditional dish in northern Thailand, unsurprisingly, we found the world's best version in Chiang Mai, and we couldn't stop eating it.
The best vegetarian khao soi in Chiang Mai
The place to head for the best vegetarian khao soi in Chiang Mai, if not the whole of Thailand, is without doubt: Aum Vegetarian Restaurant. We feasted on it there religiously during our two-month stay. But once we headed south there was none to be found. We had to go cold turkey.
Until that is, our luck struck gold! The restaurant directly under our apartment in Phuket decided to put it on a weekend special! We had it three times in two days. We should've got more and put it in the freezer!
What is khao soi?
If you've never heard of khao soi, let me explain why it's so wonderful. It has the consistency of a normal red or green curry. Soft noodles are swimming in the golden-brown soup and crunchy fried noodles rest on top. It also comes with a side of lime and pickles for you to add to taste. Oh, and it sure packs a spicy punch, even before you add the extra chilli.
So, if you love Thai soups, Thai curries or any Thai food, and you see vegetarian khao soi on the menu, make sure you order two. Trust me, you'll want to take one home for supper.
If you're in Chiang Mai you absolutely need to visit its little neighbour: Pai.
Heading to Pai and want some accommodation tips?
---
If you're on the lookout for some tips about where to stay in Pai, allow me to give you my four budget-based recommendations.
1 – Fancy Pants
If you're feeling lavish then check out Reverie Siam Resort. Rooms are usually over £150 per night, which I know is crazy high for Pai, but hear me out. If you're after something extra special and can afford it, you won't regret treating yourself.
2 – Above Average Joe
If you prefer to place yourself in the middle you should head to Pai Vimaan Resort. This place comes in at around £40 per night and still gives a level of luxury compared to most places in Pai. It's also located right in the middle of the town and is great to book trips from.
3 – Cheap But Private
If you're like most of the travellers in Pai, you're looking for cheap and cheerful. For that, I give you Villa De Pai. Rooms are often available for less than £10 per night and that's for a private room with its own bathroom, fancy that!!
4 – Party Party
Finally, if you're more of a social butterfly who travels from party hostel to party hostel, I know the place for you. That place is Bodega Pai Party Hostel. This place is for sociable travellers who like to party. Plus, as you'd expect with any good hostel, you can plan all the trips and travel you need from their reception.
---
Looking for more things to do in Pai?
If you're hungry for more Pai travel tips you should check out my Ultimate Guide to Pai, Thailand.
---
If you're hungry for more travel tips and stories head back over to my blog. You can also check me out on Instagram.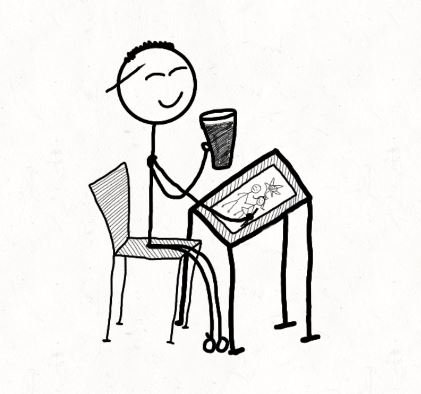 I'm not really a stickman, but it seems that I like portraying myself as one.
I'm an English guy who's been travelling since 2017. I was never good at taking photos, sketching just seems to work better for me, and in my opinion, why do you want to see other people's 4K videos and pictures of the world? Surely it's better to see it for yourself. You get in touch through the contact page or Instagram.
I look forward to hearing from you.
Happy travelling.
The Sketchy Traveller