Scooter Rental Chiang Rai – Everything You Need To Know In 2023
Looking for somewhere to hire a motorbike in Chiang Rai? You could just close your eyes, spin around a few times, walk forward ten steps and you'll probably find someone who rents bikes. But although scooter rental in Chiang Rai is so easy, you should always follow recommendations to save money and avoid any problems.
I've been there and done it, many times, so here's my ultimate guide to Chiang Rai scooter rental in 2023.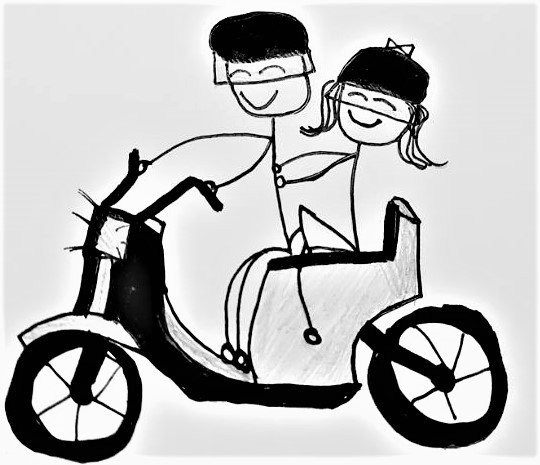 ---
Disclaimer: There are some affiliate links on this post. Meaning I may earn a (very) small commission if you buy something after clicking a link. This is at no extra cost to you. You can read my full disclaimer here.
---
Ultimate guide to scooter rental in Chiang Rai
Apparently, the average attention span these days is comparable to an adolescent goldfish, so let's start with the condensed version.
The two best places to rent a scooter in Chiang Rai are both in the centre of the city. Nice Rental is my favourite, and just over the other side of the clock tower, B-Rider is highly recommended too.
You can rent a scooter in Chiang Rai for as little as 200 baht per day. 250 baht is standard from a decent rental company. Rent for a week or more and you're likely to get a slightly better price. Expect to pay a deposit too, which is usually between 2000 – 3000 baht.
Get yourself an International Driving Permit. If you want to drive legally and avoid getting fined you really do need an IDP. Now you can get a digital one emailed to you so there's no excuse not to.
So that's the key info you need to know about scooter rental in Chiang Rai. If you're still with me, here's some more info about the best places to hire a motorbike and how to make the most of your scooter in Chiang Rai.
The 4 Best Scooter Rentals In Chiang Rai
I've rented a bike from the first two on this list and the other two come highly recommended by a trusted friend who's been living in Chiang Rai for the last 18 months. There are tons of places that I'm sure offer reliable scooter rental in Chiang Rai, but I can only recommend these ones…
Nice Bikes – My first choice for scooter rental in Chiang Rai
When I arrive in Chiang Rai one of the first things I do is head to Nice Bikes. I've used them three times now and the level of service is always top-notch.
The owners are super-friendly and very professional. I've never known a scooter rental company that checks over the finer details of every bike before they let you ride off. Oil checks, tyre tread checks, helmet checks, everything is double-checked to ensure safety and satisfaction for the customer.
They have loads of the standard 125 and 150cc bikes in stock with prices starting at 250 baht per day.
You'll also need 3000 baht and a copy of your passport as a security deposit. I know this is always a nervy thing to do but it makes sense for them to ask for it and I've personally had no problems getting my deposit back each time. And if you check out their Google reviews you'll see that no one else has either. You can trust these guys.
This bike rental shop is located in the centre of Chiang Rai.
Address: 1008/3 Jetyod Rd, Tambon Wiang, Mueang Chiang Rai District, Chiang Rai 57000
The best way to rent a scooter from them is to go and see them. But you can also message them on their Facebook page or call them on +66 82 192 9321
B-Rider Motorcycle Rental Chiang Rai
Next up is another personal recommendation from me. B-Rider is another scooter rental shop in Chiang Rai city centre.
I used these guys years ago on my first trip to Chiang Rai and was very impressed by their service. I only switched to Nice Bikes because, on my second trip, they were so busy when I got there and I was in a rush so had to find somewhere else.
It seems like they are still providing an excellent level of service and quality bikes, as they are the top-rated place on Google for scooter rental in Chiang Rai. And Google doesn't lie, right?
Prices are the same as at Nice Bikes, starting at 250 THB for a day. One difference is that they will take a smaller deposit of 2000 THB and a copy of your passport, or they will just take your actual passport as a deposit if you don't have enough cash.
You'll find this bike shop in the centre of Chiang Rai.
Address: 197/2 Trairat Rd, Tambon Wiang, Mueang Chiang Rai District, Chiang Rai 57000
You can call or message them on +66 89 636 6663
Chiang Rai Big Bike Rentals – The place for serious motorbikes
As the name suggests, this is the place to go if you want to rent a big motorbike in Chiang Rai. They do still offer the standard 125cc scooters but their main line of business is renting out real motorbikes. You can check out the bikes on offer on their website.
For the serious bikers out there, they recommend a Honda CB650f as the perfect motorbike to explore the surrounding countryside. This 650cc bike costs 1,700 THB per day and you'll need to pay a 10,000 THB deposit to cover any damages.
Chiang Rai Big Bike Rentals also offers off-road bikes and UTV tours for anyone wanting to take a very scenic route through the beautiful Thai countryside.
You can find their store at 1025 8 Jed Yod Soi 3, Tambon Wiang, Mueang Chiang Rai District, Chiang Rai 57000
ST Motorcycle Rental
Last but by no means least on my list of the best places for scooter rental in Chiang Rai is ST Motorcycle Rental.
They are the rental shop that my Chiang Rai living friend rents his bike from on a great long-term deal. He wouldn't go anywhere else and highly recommends them, so that's why I'm happy to add them as a fourth choice to my list.
Prices are the standard 250 THB per day for low-engine bikes, but discounts are available for weekly or longer rentals.
You can find them here – 1025 34-35 Jetyod Rd, Tambon Wiang, Mueang Chiang Rai District, Chiang Rai 57000
It's always good to have a plan B and C when it comes to scooter rental in Chiang Rai, and most places in SE Asia for that matter, because the best bike rental shops are always likely to be busy and could be out of bikes if you turn up in the afternoon.
If you use this list you have a recommended plan A, B, C and D for your scooter rental needs.
---
Cost to rent a scooter in Chiang Rai
The best and highly recommended places offering scooter rental in Chiang Rai offer their bikes from 250 THB per day. There are places that offer bikes from 200 THB per day, but there are less reliable options, where safety is not so assured. If you see a coconut seller who's also offering bike rental it's probably best to pay the extra 50 baht and go to one of the bike shops on my list above.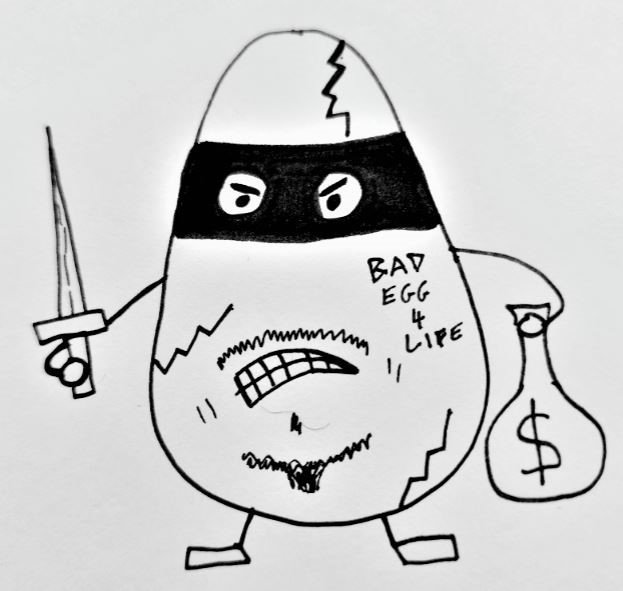 I'm not saying that the coconut seller is a con artist who's going to kidnap your puppy, but there are still some bad eggs out there, even in Northern Thailand. So, be sensible and respect your life by renting a reliable bike from a trustworthy source.
Deposit
All reputable scooter rental companies in Chiang Rai will ask you for a security/damage deposit. You often have a choice:
Cash and a copy of your passport
Your original passport
The cash amount varies between 2000 – 3000 THB per day. So it's up to you. What would you prefer to lose, loads of cash or your passport?
---
Tips, rules and advice for riding a scooter in Chiang Rai
You do not need a licence to rent a scooter in Chiang Rai. What I mean by that is that you do not need a driving licence to rent the scooter. You do, though, in theory, need one to legally ride one.
To ride fully legally you also need an International Driving Permit. Luckily, thanks to the modern world we live in, it's really easy to get one, even if you've already set off on your travels. The guys at International Drivers Association can organise one for you and email it over in minutes.
Avoid getting fined while riding a scooter in Chiang Rai
The reason you need one is to avoid getting fined by the many, many traffic stops that the local police like to carry out. It's no surprise that they stop so many tourists, as without an IDP they are able to fine you, and the local police sure do love to fine people.
If you don't take my advice to get an IDP, a little tip to minimise the fine is to always have a small amount of cash, about 300 baht, in one pocket and if pulled over show them this and tell them that it's all you have and it's likely they'll take it and let you ride off. If they see that you have thousands of baht in your purse they'll want most of it. So keep your money clip out of sight when riding.
All other advice is just common sense.
Don't ride if drunk. If you do you're asking for trouble.
Always wear your helmet…when riding. You can take it off when eating, sleeping and other non-wheel based activities.
Get insurance as part of your overall travel insurance. It's not common for scooter rental shops in Chiang Rai or anywhere in SE Asia to offer it. And you really should have it.
They ride on the left side of the road in Thailand. Stick as far to the left as you safely can so that cars can pass you easily.
The best activities in Chiang Rai right now
If you're looking for other things to do now that you've sorted your scooter rental in Chiang Rai, I recommend you take a quick look at Get Your Guide's list of the best things to do in Chiang Rai today.
They offer the biggest choice of trips, tours and tickets in Chiang Rai and any other global destination you're off to. So give them a little look.
Need a scooter elsewhere in Thailand?
I've got scooter rental guides for loads of places around Thailand, so if you're travelling around, you can check out your next stop with one of the links below
Koh Lanta Scooter Rental – Your Quick Guide To Get Riding in 2023
---
Pattaya Scooter Rental – Ultimate 2023 Guide To Bike Hire
---
Scooter Rental In Kamala – Your Guide To Get Riding In 2023
---
Scooter Rental in Phuket Town – Your Guide To Get Riding in 2023
---
Patong Scooter Rental – How To Get Riding in Phuket's Party Town
Heading elsewhere in Thailand?
If you haven't been there already I'm sure Chiang Mai and the wonderful Pai are on your travel list too. Click on them to see my posts about things to do or be aware of in those destinations.
Enjoy!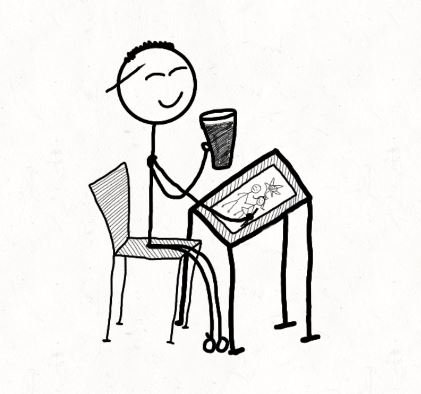 I'm not really a stickman, but it seems that I like portraying myself as one.
I'm an English guy who's been travelling since 2017. I was never good at taking photos, sketching just seems to work better for me, and in my opinion, why do you want to see other people's 4K videos and pictures of the world? Surely it's better to see it for yourself. You get in touch through the contact page or Instagram.
I look forward to hearing from you.
Happy travelling.
The Sketchy Traveller