E-Scooter Rental Lanzarote – 2023 Guide
Want some info about e-scooter rental in Lanzarote? If you want to hire an electric scooter in Puerto del Carmen, Playa Blanca, Arrecife or Costa Teguise, I've got all the info you need.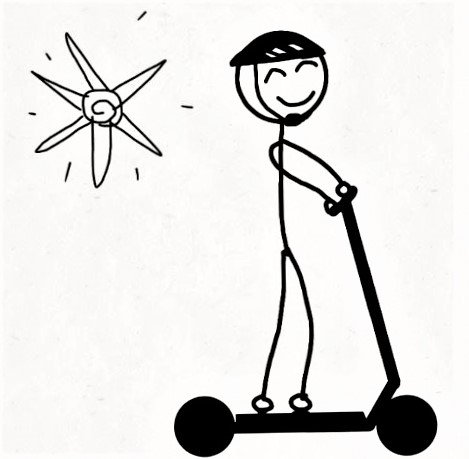 ---
Disclaimer: There are some affiliate links on this post. Meaning I may earn a (very) small commission if you buy something after clicking a link. This is at no extra cost to you. You can read my full disclaimer here.
---
How to rent an electric scooter in Lanzarote
It's really easy to hire an e-scooter in any of the busy areas on the island. Here's the basic info for you:
The best way to get riding is to use an e-scooter sharing app. LINK is the best one in Lanzarote. Just download it and follow the simple instructions.
It costs €0.25 per minute to use the app, plus a €1 unlocking charge.
There are some e-scooter rental shops around but most people use the LINK app. Shops charge around €15 per hour.
That's the basic info, but to know more about how the app works, the rules to follow and where to find the best electric scooters in Lanzarote read on for another minute or two.
Lanzarote e-scooter rental prices in 2023
There are only a few choices when it comes to e-scooter rental in Lanzarote. Here's what you can expect to pay in a local hire store:
1-hour rental – €15
2-hour rental – €20
There is an electric scooter hire app in Lanzarote that allows you to ride for one-off journeys. It costs €1 to unlock the scooter and then 25 cents per minute after that. I'll give you all the details about this app in a moment.
If you fancy having a scooter for your whole holiday, unfortunately daily or weekly electric scooter rental in Lanzarote doesn't seem possible at the moment. This is strange because when I was in Tenerife, there were loads of companies offering long-term electric scooter hire. So maybe they'll follow their bigger brother soon and start offering it by the summer.
LINK – The best (and only) app for electric scooter rental in Lanzarote
For now, Lanzarote electric scooter hire is all about short-term rental, and the only app you need is LINK, or to give it its full name – Superpedestrian LINK Scooters. You can download the app by clicking that link, nothing dodgy, it takes you to the Google Play site. If you're an iPhone user, here's the link to the app in the Apple Store.
This app is perfect if you prefer the idea of having access to an electric scooter as and when you want one. It costs €1 to start the hire, and then €0.25 every minute after that.
The LINK app makes e-scooter rental in Lanzarote really easy. Here's how it works…
2 – Put some money in the e-wallet. €10 is plenty to get started.
3 – Use the app to find your closest scooter.
4 – Have a look over the rules on the app while you're on your way to your e-scooter.
Where can I rent an e-scooter in Lanzarote?
If the idea of modern technology, like e-scooter hire apps, blows your mind, don't worry, there are a couple of good old-fashioned bricks and mortar stores where you can rent electric scooters by the hour.
e-EcoCanarias – The best place for e-scooter hire in Costa Teguise
If you want to rent an electric scooter to zip around the beaches in Lanzarote, e-EcoCanarias comes highly recommended. It will cost you €15 for one hour or €20 for two hours.
You'll need to pick up your scooter from their collection point in Costa Teguise. Here's the exact location of e-EcoCanarias on Google Maps.
Papa Rent – Your best chance of electric scooter hire in Puerto del Carmen
Papa Rent is the master when it comes to scooter hire in Lanzarote. Unfortunately, the scooters they specialise in are of the moped variety. They have tons of e-bikes too, and from talking to them during my recent trip they plan to start renting electric scooters in the near future.
So if you're in or around Puerto del Carmen and don't want to use the LINK app to hire a scooter while on holiday in Lanzarote, check Papa Rent out as they may be offering e-scooters for hire now. Here's a link to their exact location.
As you can see, choices are limited when it comes to electric scooter hire in Lanzarote, but that's because most people are using the LINK app.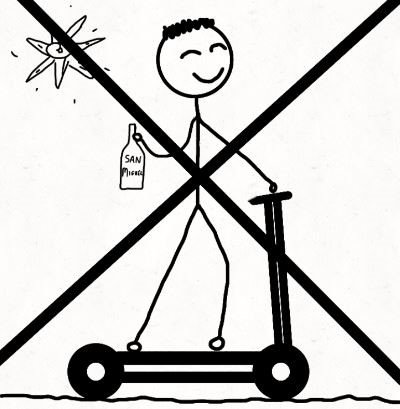 What is the top speed of an electric scooter in Lanzarote?
The electric scooters available for hire in Lanzarote can reach speeds up to 25 kph.
Do you need a driving licence to ride an e-scooter in Lanzarote?
No, you don't need to have a full driving licence to rent an electric scooter in Lanzarote.
Prefer a four-wheel adventure in Lanzarote?
I do love zipping around beach promenades on an electric scooter, but it doesn't compare to driving an off-road buggy up a volcano. I mean, not much can compare to that.
If you're planning on adding a few daily excursions to your Lanzarote holiday you should definitely check out the guided volcano buggy tour. It's the most popular activity on the island.
---
So, if you were wondering if Lanzarote has electric scooters and how you can get one during your holiday I hope this post has given you all the info you need. I only used the LINK app while I was there as I wanted the convenience of riding as and when I wanted to.
Plus, unlike Tenerife, there aren't many other options when it comes to e-scooter hire in Lanzarote, and there are tons of scooters available in all of the busy spots on the island. So, my advice is to download the LINK app.
---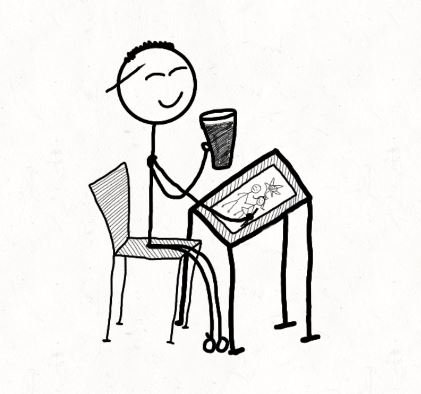 I'm not really a stickman, but it seems that I like portraying myself as one.
I'm an English guy who's been travelling since 2017. I was never good at taking photos, sketching just seems to work better for me, and in my opinion, why do you want to see other people's 4K videos and pictures of the world? Surely it's better to see it for yourself. You get in touch through the contact page or Instagram.
I look forward to hearing from you.
Happy travelling.
The Sketchy Traveller