Chiang Rai Night Bazaar – What to Expect in 2023
No destination in Thailand, especially one on the backpacker trail, is complete without a bustling night market, and Chiang Rai is no different. The Chiang Rai Night Bazaar is full of all the sights, smells and tastes that make Thailand such a popular place to visit. So, here's my quick guide to what to expect from the busiest night market in Chiang Rai.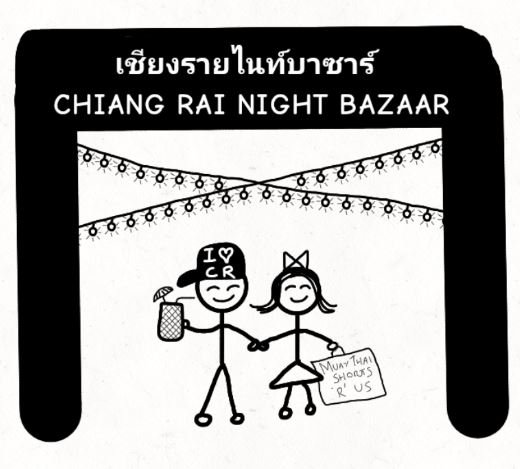 ---
Disclaimer: There are some affiliate links on this post. Meaning I may earn a (very) small commission if you buy something after clicking a link. This is at no extra cost to you. You can read my full disclaimer here.
---
Your Quick Travel Guide to Chiang Rai Night Bazaar
If you suffer from a short attention span here's my super-short travel guide to the night market in Chiang Rai:
The market's open every day from 5 p.m. to 11 p.m. The best time to visit is around 8 p.m. Here's the location. It's full of food, drinks, standard souvenirs and local art. Overall – yes, you should go. I mean, who doesn't love a Thai night bazaar?
For those of you who want to know a bit more, or have nothing better to do, please read on.
What to expect at Chiang Rai Night Bazaar
Expect delicious, authentic Thai food, and lots of it. So, make sure you go with a big appetite or you'll be doing yourself a disservice. Eating is probably the most popular activity at the night market. Food stalls are everywhere selling every delicious Thai treat you can imagine. And many disturbing ones too, fancy a scorpion on a stick for dessert? Thought not.
But fried critters aside there are so many delightful snacks and bowls available to you. Including the one and only Khao Soi. If you spot this legendary northern Thai dish you have to try it. It's a very spicy creamy noodle soup that's like nothing else I've ever found. It has held the title of being my number one dish since sampling it down the road in Chiang Mai many years ago! If you're in Chiang Mai you should check out my post about the best place for veggie Khao Soi there!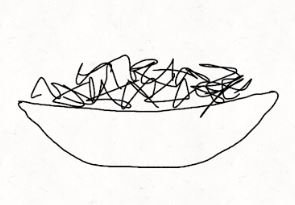 If you wondering how easily you can eat a bowl of curry while walking and swigging from your can of Chang, fear not, as there is a huge food court area at Chiang Rai Night Bazaar, so you'll have plenty of tables to choose from, so take a pew and enjoy your food like the civilised backpacker you are.
Don't forget the souvenir shops
As well as food stalls there are tons of shops at the Chiang Rai Night Bazaar too, and as you may be accustomed to already, they all sell the same things! Shawls, jewellery, elephant pants, Muay Thai shorts, carved lizards and buddhas are available everywhere.
If you do find yourself compelled to buy something don't forget to haggle a little, but remember that it's not worth saying no over five or ten baht. And that money means a lot more to a local than to you.
The Chiang Rai Night Bazaar is also a place used by local artists to show and try to sell their art. It's fun to check out their paintings but I never had the ability to carry a huge canvas or rolled-up picture with me on my travels. Many of the artists know this and offer a worldwide postage service to solve the problem. So if you do find something that you just have to buy, you'll be able to send it to someone somewhere to look after it until you find yourself back home.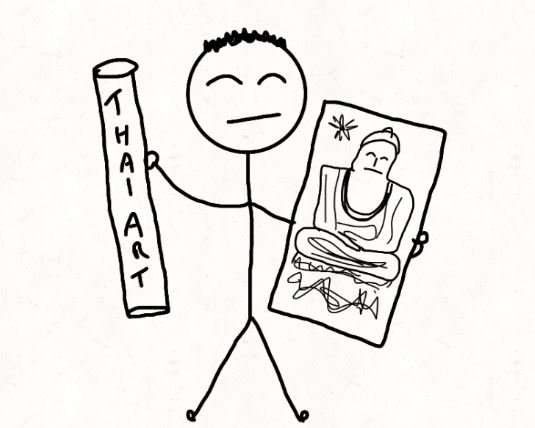 ---
Planning on travelling to Pai? Check out my Ulitmate Guide. It tells you everything you need to know.
---
Is there any entertainment?
It's showtime every evening at the night bazaar. The entertainment is often more traditional than the standard cover bands that you'll get in the live music bars around the town. At Chiang Rai Night Bazaar you can expect to hear the sounds of traditional Thai music and see locals dressed in traditional clothes showing off their cultural dance moves.
So, when you take into account all of the food stalls, shops, music and dancing, a trip to the Chiang Rai Night Bazaar is always an entertaining way to spend a few hours. And it's not like once you've seen it once that's it, you can't enjoy it again. We went every night of the three nights we stayed in Chiang Rai. The food alone is enough of a reason to go back again and again.  I'm drooling now just thinking about it!
Opening times
Chiang Rai Night Bazaar is open every day from 17:00 to 23:00. These times aren't set in stone, it is Thailand we're talking about here, but there's always something going on between these times. 
Night markets in Thailand aren't just for tourists, they became popular because it's usually too hot in Thailand during the day to go to an outdoor market. The temperatures drop once the sun sets making it a much more pleasurable experience for both locals and tourists alike.
Location
The Chiang Rai Night Bazaar is located in the middle of the town, right next to the main bus terminal. Here's a link to the exact location on Google Maps.
Overall view of the night market in Chiang Rai
So, is the Chiang Rai Night Bazaar worth visiting? Absolutely!! It's a bustling but friendly night bazaar that gives you everything you'd hope to get from a night market in Thailand. The only downside is that it can get very crowded during the weekends and local holidays. So, if you don't like the occasional human traffic jam it might be best to avoid it. Otherwise, get yourself down to Chiang Rai's Night Bazaar, pronto!
Heading to Pai and want some accommodation tips?
---
If you're on the lookout for some tips about where to stay in Pai, allow me to give you my four budget-based recommendations.
1 – Fancy Pants
If you're feeling lavish then check out Reverie Siam Resort. Rooms are usually over £150 per night, which I know is crazy high for Pai, but hear me out. If you're after something extra special and can afford it, you won't regret treating yourself.
2 – Above Average Joe
If you prefer to place yourself in the middle you should head to Pai Vimaan Resort. This place comes in at around £40 per night and still gives a level of luxury compared to most places in Pai. It's also located right in the middle of the town and is great to book trips from.
3 – Cheap But Private
If you're like most of the travellers in Pai, you're looking for cheap and cheerful. For that, I give you Villa De Pai. Rooms are often available for less than £10 per night and that's for a private room with its own bathroom, fancy that!!
4 – Party Party
Finally, if you're more of a social butterfly who travels from party hostel to party hostel, I know the place for you. That place is Bodega Pai Party Hostel. This place is for sociable travellers who like to party. Plus, as you'd expect with any good hostel, you can plan all the trips and travel you need from their reception.
---
Looking for more things to do in Pai?
If you're hungry for more Pai travel tips you should check out my Ultimate Guide to Pai, Thailand.
---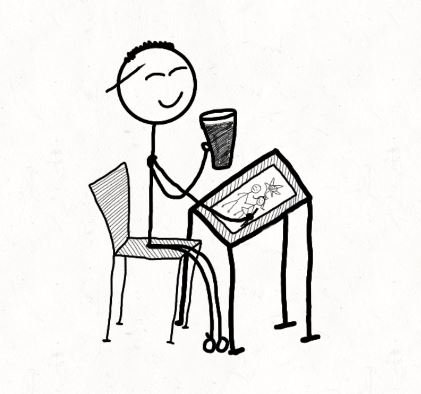 I'm not really a stickman, but it seems that I like portraying myself as one.
I'm an English guy who's been travelling since 2017. I was never good at taking photos, sketching just seems to work better for me, and in my opinion, why do you want to see other people's 4K videos and pictures of the world? Surely it's better to see it for yourself. You get in touch through the contact page or Instagram.
I look forward to hearing from you.
Happy travelling.
The Sketchy Traveller