Pai Walking Street – Your 2023 Guide to the madness
If you're in Pai it's impossible to miss out on its famous Walking Street. It's the central hub of the whole town. By day it's a functioning high street, but it's at night when it comes to life. Here's my guide to Pai Walking Street.
---
Disclaimer: There are some affiliate links on this post. Meaning I may earn a (very) small commission if you buy something after clicking a link. This is at no extra cost to you. You can read my full disclaimer here.
---
Your Quick Guide to Pai Walking Street in 2023
If time is of the essence, here's the world's shortest travel guide for Pai Walking St:
Yes, it's worth visiting. Here's where it is. The best time to go is around 7 to 9 p.m. There's loads of food and drink.
If you'd like to know more or have nothing better to do, I invite you to read on.
What's at Pai Night Market?
Expect food. There is lots and lots of delicious food at Pai Night Market. If you don't go with an appetite you're doing it wrong. There are so many different delights to sample along Pai Walking Street.
Start with some spring rolls, then walk down to the curry stand and finish with some mango sticky rice across the street. Who needs a chair and table?
If you spot the legendary northern Thai dish called Khao Soi, eat it immediately. It's a very spicy creamy noodle soup that's like nothing else I've ever found. It's still my all-time favourite dish since sampling it in Chiang Mai many years ago!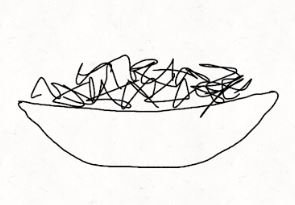 If you're wondering where Pai Night Market is located, you'll be pleased to know that it's on Pai Walking Street. It is a very small town after all so things have to double up every now and then.
As you walk along Pai Walking Street during the day, you'll be flanked by the standard repetition of Thai tourist shops selling the same classic t-shirts, bags and random plastic delights. If you're not tempted by a pair of Muay Thai shorts the first time, you will be by the seventh or eighth.
A great place to people-watch
There's a lot more to Pai Walking Street than shopping and food. It's also a great place to sit back and soak it all in. Take a seat on one of the many benches dotted around, sip a cold beer and do some people-watching.
As the sun sets, the street really comes alive. The sound of live music starts to boom out of the bars and restaurants, topping up the already lively atmosphere. And if you're in need of a little liquid refreshment, you won't struggle to quench your thirst. From ice-cold beers to pineapples with straws sticking out of them, there's no shortage of drinks to choose from.
---
Want to know more about Pai? Check out my Ulitmate Guide. It tells you everything you need to know.
---
When is Pai Walking Street open?
Pai Walking Street is open every day from late afternoon until about midnight. Most stalls will close at around 10 pm, but the buzzing atmosphere usually takes a couple of hours to fizzle out.
During the peak season, which is November to February, you'll find crowds of people partying along the street until the early hours.
How long is Pai Walking Street?
The length of the Pai Night Market is also dependent on the season. During peak season it stretches for about 1 km. So, even with a slow stroll it doesn't take more than half an hour to see everything.
But with all the interesting and tasty distractions around, most people spend a whole evening walking up and down Pai Walking Street. If you're in Pai during the rainy season you won't be surprised to hear that there's not so much going on.
Where exactly is Pai Walking Street?
As you'd expect, Pai Walking Street is slap bang in the middle of town. Here's a link to the exact location of Pai Walking Street on Google Maps.
Overall view of Pai Walking Street
There are some folk that think it has become too touristy but isn't that the case everywhere now? Show me somewhere that's worthy of visiting in Southeast Asia and I'll show you somehow complaining that it's too popular. That's just the way it is nowadays.
I can't compare it to a decade or more ago, but during my visits over recent years, I've loved every minute of my time meandering down Pai Walking Street. Just be sure to bring your appetite, your wallet, and your sense of adventure, and you're sure to have a great time!
Heading to Pai and want some accommodation tips?
---
If you're on the lookout for some tips about where to stay in Pai, allow me to give you my four budget-based recommendations.
1 – Fancy Pants
If you're feeling lavish then check out Reverie Siam Resort. Rooms are usually over £150 per night, which I know is crazy high for Pai, but hear me out. If you're after something extra special and can afford it, you won't regret treating yourself.
2 – Above Average Joe
If you prefer to place yourself in the middle you should head to Pai Vimaan Resort. This place comes in at around £40 per night and still gives a level of luxury compared to most places in Pai. It's also located right in the middle of the town and is great to book trips from.
3 – Cheap But Private
If you're like most of the travellers in Pai, you're looking for cheap and cheerful. For that, I give you Villa De Pai. Rooms are often available for less than £10 per night and that's for a private room with its own bathroom, fancy that!!
4 – Party Party
Finally, if you're more of a social butterfly who travels from party hostel to party hostel, I know the place for you. That place is Bodega Pai Party Hostel. This place is for sociable travellers who like to party. Plus, as you'd expect with any good hostel, you can plan all the trips and travel you need from their reception.
---
Looking for more things to do in Pai?
If you're hungry for more Pai travel tips you should check out my Ultimate Guide to Pai, Thailand.
---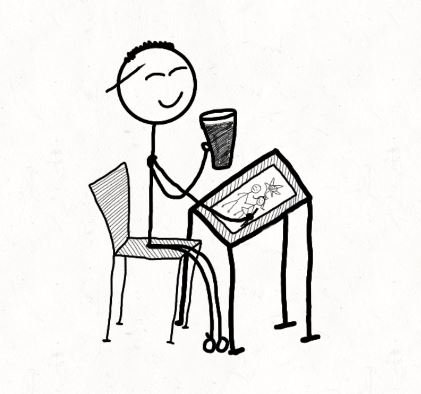 I'm not really a stickman, but it seems that I like portraying myself as one.
I'm an English guy who's been travelling since 2017. I was never good at taking photos, sketching just seems to work better for me, and in my opinion, why do you want to see other people's 4K videos and pictures of the world? Surely it's better to see it for yourself. You get in touch through the contact page or Instagram.
I look forward to hearing from you.
Happy travelling.
The Sketchy Traveller