Pai Bamboo Mini Golf – How to get swinging in 2023
I'm a lover of quirky tourist attractions, and Pai Bamboo Mini Golf is definitely worthy of mention. Tucked away in a quiet corner of Pai, this mini golf course is a hidden gem that shouldn't be missed. Here's all you need to know to get swinging.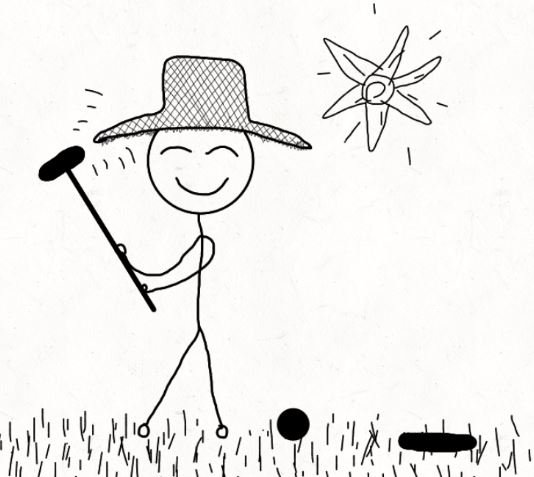 ---
Disclaimer: There are some affiliate links on this post. Meaning I may earn a (very) small commission if you buy something after clicking a link. This is at no extra cost to you. You can read my full disclaimer here.
---
Your quick and easy guide to Pai Bamboo Mini Golf
If your short attention span makes it difficult to read a whole post, allow me to help. Here's the shortest-ever travel guide to Mini Golf in Pai:
It's not in the middle of town, but easy to get to on a bike or if you fancy a long stroll. Here's where it is. It cost me 150 THB to play. To book just message Jim on their Facebook page.
If you want to know loads more about Pai Bamboo mini golf, please read on.
Where is Pai Bamboo Mini Golf?
Getting to Pai Bamboo Mini Golf is pretty easy. Located just a short drive from the centre of town, this little course is nestled in a grove of bamboo trees. If you need advice about renting a scooter in Pai check out my guide for all the info you need.
If you fancy a walk through the lush Thai countryside it'll take about an hour from town.
Here's the exact location: Mae Na Tong, Pai District, Mae Hong Son 58130.
How much does it cost to play?
It cost us 150 baht per person to play Pai Bamboo Minigolf, and this gives you unlimited rounds of mini-golf. The price was written in chalk on a blackboard, so I'm guessing it's changeable.
You can get around all the holes in about 30-45 minutes. There are 13 different holes, including one called 'Happy Ending', whereby if you get a hole in one you can deduct 2 points from your score.
What to expect when you arrive
As soon as we arrived we were greeted by the owner, Jim, a great guy who makes you feel very welcome at his golf haven in the glorious Thai countryside. He'll give you your bamboo golf club, tennis ball and scorecard.
Jim will also give you his tips and tricks on how best to play and then he'll leave you to it. Unless you take him up on the offer of a cold beer or soft drink to help you cool down in the heat.
And then, it's time to play! The course itself is small but challenging, with plenty of twists and turns that will test your putting skills. But what really sets Pai Bamboo Mini Golf apart from all the other courses out there is its unique setting.
Playing among the bamboo trees feels like being in a different world, and the peaceful surroundings make it easy to forget where you are. You're so far removed from the
As with everything it's best to avoid the midday heat, but Jim's there for you if you need him with huge sun hats and water. After all, he doesn't want customers dying on the course, that'd be bad for his reviews!
---
Want to know more about Pai? Check out my Ulitmate Guide. It tells you everything you need to know.
---
What are the rules?
Unsurprisingly in this setting, there are no strict rules here – just a group of travellers looking to have some fun. You can take as long as you want to play each hole, stop for a drink or even take a break to play with the resident cat.
We stayed around for a couple of hours, playing golf, eating some snacks and sinking a few cold beers. It was a great way to spend a lazy afternoon, and we even ended up making some new friends along the way.
How to book Pai Bamboo Mini Golf
This is as simple as sending Jim a message on Facebook or sending him a Whatsapp message to +66 86 204 1953.
You can play bamboo mini golf every day from 10:30 am to 7 pm.
What else can you do at Pai Bamboo Mini Golf?
Along with the golf and cafe where you can get a burger, some chips or a salad, there are also a couple of footballs knocking around, a badminton net and a frisbee. Perfect to relax and play with friends and fellow backpackers.
So if you're looking for a fun and unique activity to do in Pai, I highly recommend checking out Pai Bamboo Mini Golf. It's a little off the beaten path, but that's part of what makes it so special. Trust me, you won't be disappointed!
Heading to Pai and want some accommodation tips?
---
If you're on the lookout for some tips about where to stay in Pai, allow me to give you my four budget-based recommendations.
1 – Fancy Pants
If you're feeling lavish then check out Reverie Siam Resort. Rooms are usually over £150 per night, which I know is crazy high for Pai, but hear me out. If you're after something extra special and can afford it, you won't regret treating yourself.
2 – Above Average Joe
If you prefer to place yourself in the middle you should head to Pai Vimaan Resort. This place comes in at around £40 per night and still gives a level of luxury compared to most places in Pai. It's also located right in the middle of the town and is great to book trips from.
3 – Cheap But Private
If you're like most of the travellers in Pai, you're looking for cheap and cheerful. For that, I give you Villa De Pai. Rooms are often available for less than £10 per night and that's for a private room with its own bathroom, fancy that!!
4 – Party Party
Finally, if you're more of a social butterfly who travels from party hostel to party hostel, I know the place for you. That place is Bodega Pai Party Hostel. This place is for sociable travellers who like to party. Plus, as you'd expect with any good hostel, you can plan all the trips and travel you need from their reception.
---
Looking for more things to do in Pai?
If you're hungry for more Pai travel tips you should check out my Ultimate Guide to Pai, Thailand.
---
---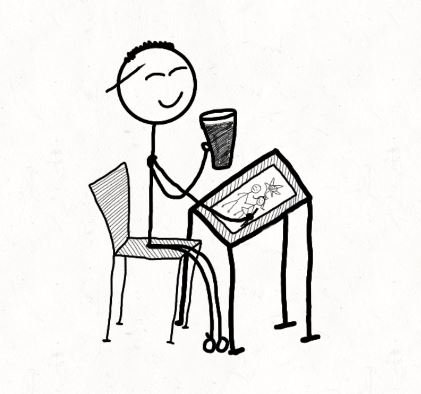 I'm not really a stickman, but it seems that I like portraying myself as one.
I'm an English guy who's been travelling since 2017. I was never good at taking photos, sketching just seems to work better for me, and in my opinion, why do you want to see other people's 4K videos and pictures of the world? Surely it's better to see it for yourself. You get in touch through the contact page or Instagram.
I look forward to hearing from you.
Happy travelling.
The Sketchy Traveller