E-Scooter Rental in Wroclaw – Your guide to get riding In 2023
Electric scooters are one of the best ways for tourists to zip around the streets when on holiday. E-scooter rental in Wroclaw is simple because you only have two choices. Let's take a look at them: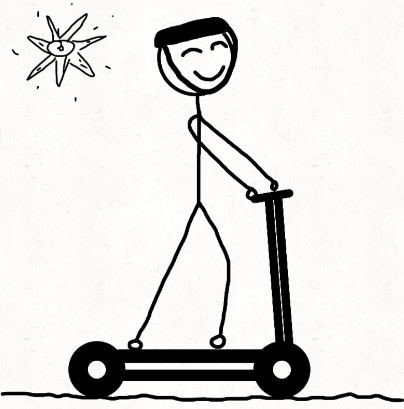 ---
Disclaimer: There are some affiliate links on this post. Meaning I may earn a (very) small commission if you buy something after clicking a link. This is at no extra cost to you. You can read my full disclaimer here.
---
Your guide to hiring an e-scooter in Wroclaw
If you want to rent an electric scooter on your holiday in Wroclaw you'll have to do it with a scooter-sharing app. Surprisingly, there are no electric scooter rental stores in the city, not at the time of writing anyway. So you'll need to use one of the e-scooter sharing apps. But which is best for you?
E-Scooter Rental in Wroclaw – The 2 Apps You Need
Here's what you need to know about the two apps that offer e-scooter rental in Wroclaw.
Bolt – The e-scooter app with no unlocking fee
Most electric scooter hire apps charge you an unlocking fee, Bolt is one of the few that doesn't. It does try to make it money back in another way though, by charging you 0.50 PLN for every minute you ride one of their scooters.
You just have to download their app and follow the instructions. Once you find an electric scooter on the map, you'll be riding in no time at all.
Lime is the other e-scooter hire app in Wroclaw, and it does charge you a one-off unlocking fee when you start each ride. That fee is 3.5 PLN but it does also include the first three minutes. After that, it will cost you 0.69 PLN for every additional minute you ride.
Again, just get the app and follow the simple instructions to get riding.
Bolt is the cheapest e-scooter app in Wroclaw
So, as you can see, Bolt is the cheapest option when it comes to hiring an electric scooter in Wroclaw. They are the new boys on the block so are trying to get customers, from Lime, who were the first e-scooter-sharing app that was available in the city.
My advice is to download them both, as you may end up in a far corner of the city and there might not be loads of available scooters for you to choose from. Download both apps to make it as easy as possible for you to rent an e-scooter in Wroclaw.
Rules to follow when renting an electric scooter in Wroclaw
You don't need a driving licence to hire an e-scooter in Wroclaw
Helmets are not required when riding a scooter in Poland. But if you can, you should wear one. It just makes sense.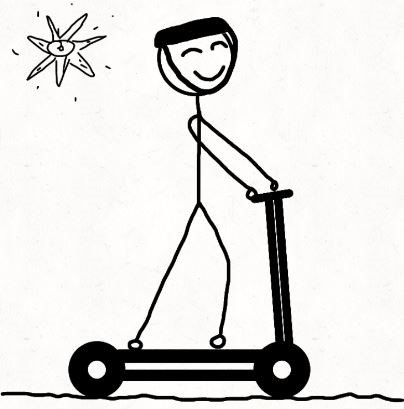 You only have to be 10 years old to ride an electric scooter in Poland, but you need to be 18 to open an account with Bolt and Lime.
Stay off the pavements and stick to the roads (with speed limits of 30 kph or lower). You will see plenty of people rising all over the place, but technically it's illegal. Use your common sense.
Don't drink and ride. Local police will breathalyse you if they think you are riding under the influence. And you really don't want to get in trouble with the Polish police.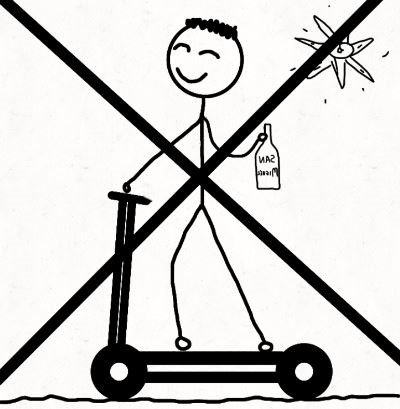 You're only allowed one person on an electric scooter. Again you'll see people riding with a partner, but again, use your common sense.
Park it in a sensible place. If you just chuck it on the pavement you'll just be disrespecting the locals making it less likely that e-scooter hire will be possible in the future.
The must-see attractions in Wroclaw
If you're looking for places to travel to on your newly rented electric scooter, check out Get Your Guide's list of the most popular tours and attractions in Wroclaw. Who knows, you might find something you'd love to do. Check out their list here.
---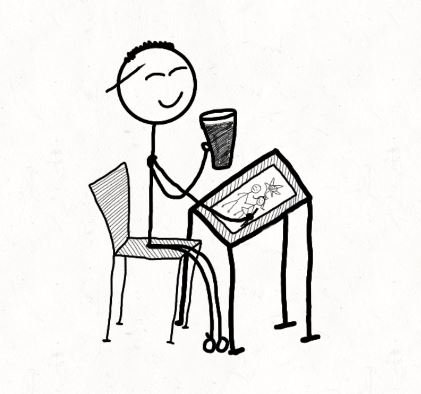 I'm not really a stickman, but it seems that I like portraying myself as one.
I'm an English guy who's been travelling since 2017. I was never good at taking photos, sketching just seems to work better for me, and in my opinion, why do you want to see other people's 4K videos and pictures of the world? Surely it's better to see it for yourself. You get in touch through the contact page or Instagram.
I look forward to hearing from you.
Happy travelling.
The Sketchy Traveller