Suoi Tranh Waterfall Phu Quoc – Best in Vietnam?
As a hunter of waterfalls in southeast Asia, I have to say that I'm usually disappointed to find what can only be described as a trickle on a rock. Maybe I'm always going at the wrong time, or maybe I keep taking wrong turns on my hike. Either way, I'm usually disappointed with what I find. I'm pleased to say that Suoi Tranh Waterfall in Phu Quoc bucked that trend. Allow me to explain why.
---
Disclaimer: There are some affiliate links on this post. Meaning I may earn a (very) small commission if you buy something after clicking a link. This is at no extra cost to you. You can read my full disclaimer here.
---
Your 2023 Guide To Suoi Tranh Waterfall, Phu Quoc
Here's your quick and easy guide to visiting Suoi Tranh Waterfall in 2023.
What to expect at Suoi Tranh Waterfall
The main thing you're probably wondering is – 'How high is Suoi Tranh Waterfall?' It's actually quite modest, standing only four metres high. So it's not exactly Angel Falls. But what it lacks in height it makes up for in beauty.
You see there's just something about the whole package of this waterfall in Phu Quoc. It's surrounded by lush greenery and has what for me is the most important part of any worthwhile waterfall, a pool at its base for you to splash about in.
That's the magic of a waterfall for me, and at Suoi Tranh there is a pool that's deep enough to swim in while shallow enough to stand in too. It all adds up to give you a total waterfall experience along with the ability to take some amazing photos!
How to get to Suoi Tranh Waterfall
It's a 20-minute ride inland from Duong Dong Town. As it's conveniently located off the main road you shouldn't have any problems finding it all. In fact, once you get to the place to turn off the main road you'll see plenty of signs too.
The full address for the national park is Suoi Tranh tourist area, Suoi May hamlet, Duong To commune, Phu Quoc. Or, if you prefer to live in this wonderful modern world of ours, here is a link to Suoi Tranh Waterfall on Google Maps.
What's the price to visit Suoi Tranh Waterfall
You need to pay to enter Suoi Tranh Eco Park. The price for foreigners is 30,000 VND for adults and 20,000 VND for children. This gives you access to the whole of the Eco Park, not just the waterfall.
What else can you do in Suoi Tranh Eco Park?
Along with the best waterfall in Phu Quoc, there are some other points of interest in the Eco Park. Firstly, you can walk around the many trails taking in an abundance of local plants and wildlife. There are also a number of weird and wonderful statues and sculptures along the way that are all worthy of a photo or two.
Ok, if I'm honest, that's about all you've got, the Suoi Tranh Waterfall is, without a doubt, the main attraction for visitors to the park.
When is the best time of year to visit Suoi Tranh Waterfall?
Obviously, it's best to avoid the dry season, which runs from November to April. Now, I guess it's likely that you'll be planning your trip to Phu Quoc around this time because it is a beach destination after all.
But, if there's no rain there's no waterfall.
To see Suoi Tranh Waterfall at its flowing best, you'll need to be going around June to August. Of course, it can still rain outside of the wet season but you'll be risking seeing a trickle!
Are there any other waterfalls in Phu Quoc?
I can't vouch for seeing any personally but there are a couple of others and it seems the best alternative is the one up in Phu Quoc National Park.
---
So there you have it, all the info you need to decide if a trip to Suoi Tranh Waterfall deserves a place on your travel plan or not.
---
Looking for more than just waterfalls in Phu Quoc?
If you're wondering what else you should be doing in and around Phu Quoc, may I push you in the direction of Viator. These guys are the best place for all of the available tours and trips on offer. You can book safely and securely online, and if you change your mind you can even get a full refund if you give them enough notice. So if you're planning on getting out and about you really should look at Viator. This is a link directly to the tours that they offer in and around Phu Quoc.
Where are you staying?
Finally, I doubt you need any assistance with this, but if like me you prefer to live the hostel life you need to be looking at the specialist site for hostels in Ubud and around the world, and that is Hostelworld. Here's the list of the top hostels in Phu Quoc right now.
If you're hungry for more travel tips and stories head back over to my blog. You can also check me out on Instagram.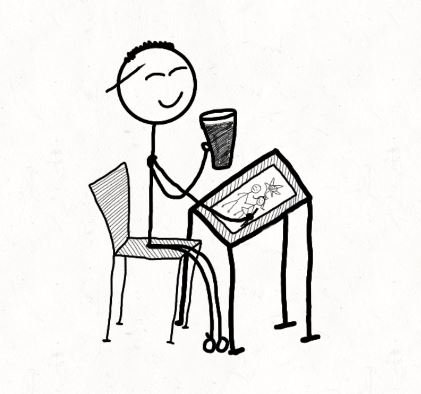 I'm not really a stickman, but it seems that I like portraying myself as one.
I'm an English guy who's been travelling since 2017. I was never good at taking photos, sketching just seems to work better for me, and in my opinion, why do you want to see other people's 4K videos and pictures of the world? Surely it's better to see it for yourself. You get in touch through the contact page or Instagram.
I look forward to hearing from you.
Happy travelling.
The Sketchy Traveller