Fat Shamed at Huay Tung Tao Lake
What better way to spend a few afternoon hours than by jumping aboard a flamingo pedalo and exploring a huge reservoir known as Huay Tung Tao Lake, on the outskirts of Chiang Mai.
---
Disclaimer: There are some affiliate links on this post. Meaning I may earn a (very) small commission if you buy something after clicking a link. This is at no extra cost to you. You can read my full disclaimer here.
---
Huay Tung Tao Lake Chiang Mai – Your 2023 Guide
If you fancy spending a few hours aboard a pedalo Huay Tung Tao Lake there are two things you must do. First, you need to pay a few baht and then you must be weighed. Yep, there's a weight limit and they have an old set of bathroom scales to check your weight.
There I was, confidently stepping onto the scales, knowing I was in pretty good shape, only for the guy to say, with a smile on his face, "OK, you do not pass".
And that was that. Apparently, 82kg is too heavy for a flamingo pedalo. Sad times, for me. Giggles for everyone else who was watching.
It wasn't the end of the world. I was still able to ride my Honda Zoomer 125cc around the huge lake, so I was still winning. There are plenty of random statues, shops and restaurants dotted around the waterside, so there's plenty to keep you entertained for a few hours even without getting onto the lake itself.
How much does it cost to visit the lake in Chiang Mai?
It's free to visit the lake. This means you can take a picnic and not spend a penny while there. If you want to buy your lunch there, there are plenty of huts selling food and drink. You'll also need to pay if you want to get out on the water. but there's no charge just to enter the park.
How to get to Huay Tung Tao Lake
If you are the owner of a more slender frame than I and would like to jump aboard a flamingo pedalo on the outskirts of Chiang Mai here's how. Fire up your bike and head to Huay Tung Tao Lake.
One word of warning though, you'll need to ride on faster roads to get there. This might sound fun, but most of us foreign bike riders don't usually get over 40km/h.
You can still ride slowly if you stay close to the inside of the slow lane but be prepared for other cars to whiz past you. It does take about 40 minutes to get there. But it's a pretty unique spot around Chiang Mai so it's worth the effort to add this activity to your list of things to do in Chiang Mai.
Just remember to wear a helmet, ride safely, and don't eat too much for dinner the night before if you want to ride a flamingo pedalo.
If you're hungry for more travel tips and stories head back over to my blog. Or check me out on Instagram.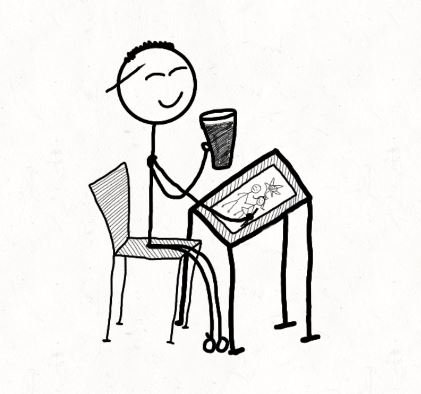 I'm not really a stickman, but it seems that I like portraying myself as one.
I'm an English guy who's been travelling since 2017. I was never good at taking photos, sketching just seems to work better for me, and in my opinion, why do you want to see other people's 4K videos and pictures of the world? Surely it's better to see it for yourself. You get in touch through the contact page or Instagram.
I look forward to hearing from you.
Happy travelling.
The Sketchy Traveller