Those in the know are aware of a specialist local cuisine in Cambodia known as happy pizza. To most Westerners that sounds like something you'd see on a kid's menu. In Cambodia, it's certainly not for kids. In fact, it's not something you'll easily find on a menu. You have to sniff it out. Here's your 2023 guide to happy pizza in Siem Reap.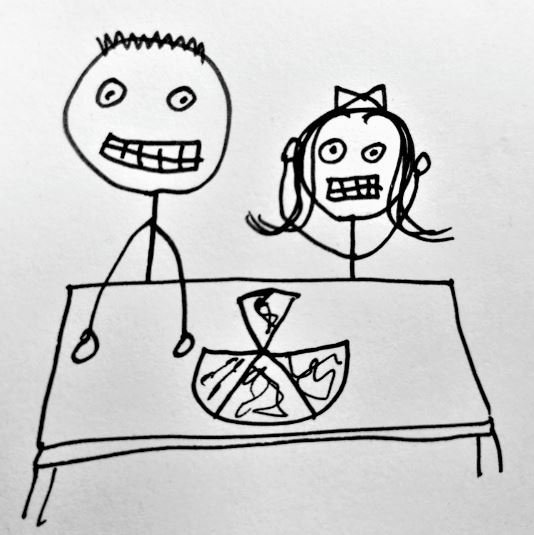 ---
Disclaimer: There are some affiliate links on this post. Meaning I may earn a (very) small commission if you buy something after clicking a link. This is at no extra cost to you. You can read my full disclaimer here.
---
What is Happy Pizza in Cambodia?
If you're still thinking – what is a happy pizza? – let me explain. Happy Pizza in Cambodia is a normal pizza with an edge. That edge comes in the form of a special herb. You might call it cannabis, marijuana, weed, hash, grass or good old ganja. Whatever you call it, this is what makes it happy!
The chefs decarb the herb so it's ready to be sprinkled on a standard pizza to give it an extra punch! Decarbing means they bake the weed for a short time to activate the THC thus making it ready to sprinkle over the pizza as if it were some innocent oregano.
If you were to just add the raw herb to the pizza it would be wasted, the pizza that is, not you, you'll be disappointingly sober. Decarbing is the magic behind a great happy pizza in Cambodia.
Where to get happy pizza in Siem Reap
After sampling two happy pizzas in Phnom Penh, with little-to-no effects, I thought it was maybe just a novelty thing. I changed my mind on that after the third attempt. It seems that happy pizza in Siem Reap is the way to do it.
We stumbled past the not-so-discreetly named Happy Siem Reap Pizza restaurant on Angkor Night Market Street. Here's a link to the exact location on Google Maps. This place knew what they were doing!
We probably looked like idiots, repeating the word happy every few seconds while probably throwing some winks in just for good measure! Either way, it worked. What we received was a cheesy pizza with a very generous dusting of herbs both above and below the cheese. It still tasted great, which makes it more dangerous, as you can scoff it down in seconds, forgetting the potential effects that are on the horizon. A horizon that zoomed into view, like the classic scene from Jaws, after about an hour.
I'm no role model
Just to clarify, I'm not bragging about or promoting Cambodian happy pizzas. I think you should be very careful if you try to feed your curiosity like I did. I actually wouldn't recommend it if you're planning a night out, especially on or around Siem Riep's Pub Street. The noise, the lights, the heat and the wall of tuk-tuk drivers leave you wondering how you'll get out of there alive!
We couldn't cope with the surround sound music coming from the bars along Pub Street. We had to leave! Somehow managed to penetrate the wall and made our way back to the hostel. Then, we carefully tip-toed around the pool, talking to strangers was an unthinkable task, and dived through the door. We then spent the next few hours looking at the ceiling fan.
It's ticked off the travel bucket list. But there won't be a 4th time!
So is marijuana legal in Cambodia?
Before you go and sniff out the best happy pizza in Cambodia, a word of warning, marijuana is illegal in Cambodia. If you're found with it in your possession you could be in for some time in a local jail.
So don't think that just because you can buy it on a pizza you're safe to smoke it out on the streets, because you're not.
These happy pizza restaurants obviously have a deal with the local authorities. As do some bars you'll come across that sell pre-rolled joints on the condition that you smoke them there and then. YOLO Bar is where I discovered such things were available.
Just don't push your luck. There are times you can get high, but just follow the unwritten laws and keep it off the streets.
Still want to find happy pizza in Siem Reap, Phnom Penh, Kampot or Sihanoukville?
If you're in Cambodia and want to find out where you can get hold of this local delicacy, the simple way is obviously just to Google it in the city you're in. Or, if you're at a hostel and get chatting with other backpackers just ask. You can't beat a recommendation!
Then when you get to the recommended place, you just need to drum up the courage to ask for your pizza to be happy when ordering it. Or if you're feeling really brave then utter the words 'extra happy please'. Good luck.
Want more travel tips?
If you're hungry for more travel tips and stories head back over to my blog or check me out on Instagram.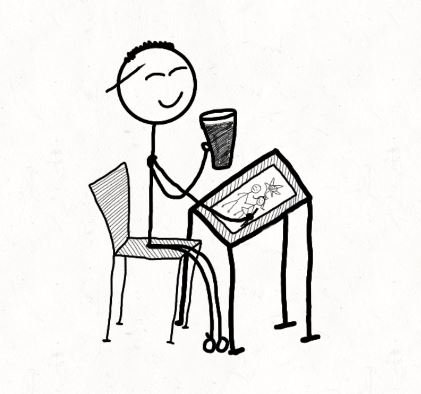 I'm not really a stickman, but it seems that I like portraying myself as one.
I'm an English guy who's been travelling since 2017. I was never good at taking photos, sketching just seems to work better for me, and in my opinion, why do you want to see other people's 4K videos and pictures of the world? Surely it's better to see it for yourself. You get in touch through the contact page or Instagram.
I look forward to hearing from you.
Happy travelling.
The Sketchy Traveller