If you believe the rumours it seems inevitable that you'll get some kind of food poisoning in Goa, or any part of India. Even if you try to avoid it, it lurks in even the most classy of establishments.
---
Disclaimer: There are some affiliate links on this post. Meaning I may earn a (very) small commission if you buy something after clicking a link. This is at no extra cost to you. You can read my full disclaimer here.
---
"Only eat where it's busy". That's common advice that you'll hear in Asia, especially in India. For our first week in northern Goa, we hadn't really had to think about it, everywhere was busy. We drank and ate in loads of different places without it causing even a murmur. Vagator, Anjuna and Baga were all treating us well. It didn't seem that food poisoning in Goa was going to be a problem for us.
Both of our internal systems were working without any embarrassing squeaks or leaks. But that all changed once we decided to move from the safety of the beach hut bars to sample a classier joint. Somewhere those classier-looking folk frequented. This particular restaurant was so popular we even waited for a table because it was so busy. If the only eat where it's busy advice was true, surely we were in the safest hands?!?
Does eating in an expensive restaurant prevent food poisoning in Goa?
The food was delicious, the cutlery was clean, and even the waiters were freshly dressed. Something you don't get in the beach bars. You're usually lucky if they're half-dressed. But chances are you're only in your speedos and sweating into their chairs too, so there's nothing to complain about.
We left the classy restaurant without admitting to any internal problems, but something wasn't right. We always find a bar to have a few drinks after dinner. Always. This time though we'd both strangely chosen to go back to our paper-thin hut instead.
Then it started.
Once your belly has the same bounce as a newly sprung trampette you know you're in trouble. When both of you are in the same dire situation, in desperate need of the same facilities, you're up shit creek, paddle or no paddle, it doesn't matter, it's happening and you can't do anything to stop it.
The embarrassing sounds of food poisoning
My attempts to try to play Talksport on my phone to cover my childishly embarrassing squeaks and rippling sounds weren't the best choice. Especially with poor Wi-Fi meaning it would cut out regularly if anything highlighting the squeaks during the radio silence.
We were both in it together and were taking our level of getting to know each other to a whole new shitty stratosphere. It became a night-long relay of torture. One's in the bathroom while the other is curled up on the bed. Then swap. It was a disgusting cycle that seemed endless.
Use the mind to battle food poisoning
The next day we had to check out and take a taxi for an hour to Patnem in southern Goa. How we kept that taxi clean I have no idea. The mind sure is a powerful thing at times.
So realistically there's no way of avoiding food poisoning in Goa, you just have to accept that there's a good chance it will get you, no matter where you decide to eat. Just cross your fingers and hope it's only a mild bout.
Want more travel tips?
If you're hungry for more travel tips and stories head back over to my blog. You can also check me out on Instagram.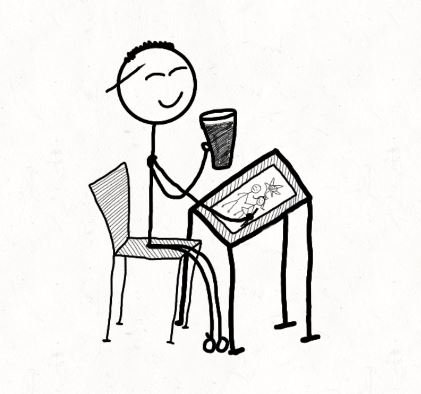 I'm not really a stickman, but it seems that I like portraying myself as one.
I'm an English guy who's been travelling since 2017. I was never good at taking photos, sketching just seems to work better for me, and in my opinion, why do you want to see other people's 4K videos and pictures of the world? Surely it's better to see it for yourself. You get in touch through the contact page or Instagram.
I look forward to hearing from you.
Happy travelling.
The Sketchy Traveller