Digbeth Fun Fair 2023: All You Need To Know
It's that time of year again folks. The Digbeth Fun Fair is back in town! Here's all the info you need to plan your trip to the Digbeth Funfair 2023.
---
Disclaimer: There are some affiliate links on this post. Meaning I may earn a (very) small commission if you buy something after clicking a link. This is at no extra cost to you. You can read my full disclaimer here.
---
Where is the Digbeth Fair 2023?
The new location for the Digbeth Fair has been confirmed. And as expected it has had to move from opposite The Old Crown up to the markets.
The full address for the 2023 Digbeth fair is:
Smithfield
Pershore street
B5 4RW
The entrance is on Pershore Street. Here's a link to the location of the Digbeth summer fair on Google Maps.
When does the 2023 Digbeth Fun Fair open?
The 2023 Digbeth Fun Fair was due to open at 12 noon on July 14th.
But unfortunately, thanks to the beautiful British summer weather, the grand opening has been put back to 12 noon on Sunday 16th.
What are the rides at Digbeth Fun Fair?
As you'd hope and expect there are loads of rides and attractions at the Digbeth Fun Fair again this year, and they all still come with the added fear factor that you get from a travelling fair. You'll find all the classics like bumper cars, waltzers, rickety mini-roller coasters and also the things where you get strapped in and spun around like your washing on laundry day.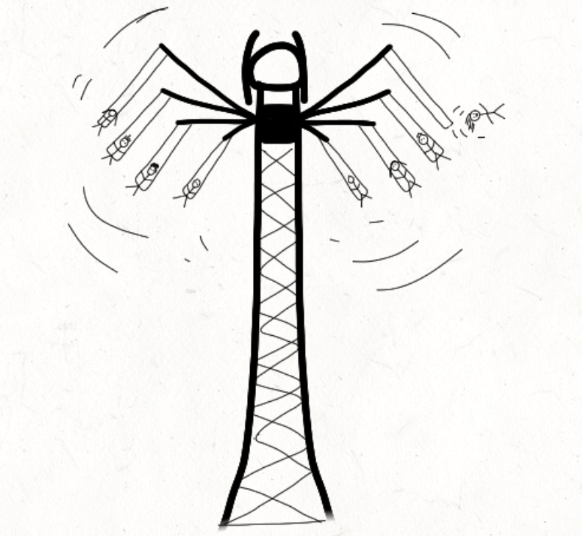 The main attraction at the Digbeth Fun Fair 2022 is back for more action. The Spinning Swing Tower, that's not the official name given by the fair's marketing department, that would be the Sky Flyer! This is the one that raises you 60m into the air and swings you around at what feels like a 90-degree and, for what seems like an eternity. If heights aren't your thing then this will be a challenge, but the view you get over the city is worth it!
The main attraction at the 2023 Digbeth Fair isn't a ride. Nope, this year Birmingham is getting a beach. A big rectangle of sand dumped in the middle of the fair is this year's main attraction. There's also a huge inflatable pool for kids and adventurous parents.
They had a beach at Digbeth Funfair a couple of years ago, but that one was more cat litter box sized compared to this sandy delight.
You might be wondering if the Digbeth Fun Fair is suitable for young children, the answer is yes! Along with the spins and speed for the thrillseekers, there are plenty of slower and seemingly safer rides for the young ones there too. This Digbeth fair really is perfect for families, carefree teenagers and adults desperate to prove that age hasn't increased their fear levels.
What are the opening hours?
If you want to know what time the Digbeth Fun Fair is open, I can tell you that you can go between 2 pm – 9 pm seven days a week, so there's plenty of time to take on all the rides.
Unfortunately because of the weather, they've struggled in the first week to stick to these hours. They even had to close at 3 o'clock on the 18th July because of the wind and rain. To try your best to avoid disappointment, check out their Facebook page for hourly updates as they are very active on there.
How long will the fair be in Digbeth?
The 2023 fair will be open for business from 14th July until 29th August. So basically for the whole school summer holiday. Leaving a few days at the end for the kids to do any homework they kept secret from you until the last moment.
What do the tickets cost for the Digbeth Fun Fair?
You'll be pleased to know that it's completely free to visit the Digbeth Fun Fair.
Yep, that's right you can stroll around the fair without paying a penny. You can't, of course, go on any rides for free, but it's great news for the 'bag-holders' among us that you don't need to pay just to get in.
So, what about the prices for the rides? Well, it varies. Some of the smaller rides cost only £1, whereas the main rides will cost you up to £4. This actually isn't too bad for something like the Sky Flyer as that, and a few others, are theme park quality attractions.
Is there food and drink available?
Yes, yes, yes, there are loads of what you'd expect to get at a fun fair. There's even a bar selling draught pints of beer. Which might come in handy if you need to drum up some Dutch courage to get you on the rides.
Cool, that should be all you need to know. Now all you need to decide is when to go.
---
Looking for more ideas?
If you're looking for more inspiration on what to do in Birmingham you should check out Get Your Guide's full list of trips, tours and tickets. They offer tickets to everything that's going on in and around Birmingham. You can check the trips out, pay securely online and even cancel for a refund if you change your mind.
---
If you're hungry for more travel tips and stories head back over to my blog. You can also check me out on Instagram.
---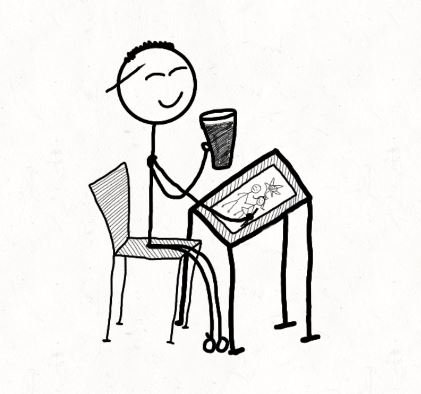 I'm not really a stickman, but it seems that I like portraying myself as one.
I'm an English guy who's been travelling since 2017. I was never good at taking photos, sketching just seems to work better for me, and in my opinion, why do you want to see other people's 4K videos and pictures of the world? Surely it's better to see it for yourself. You get in touch through the contact page or Instagram.
I look forward to hearing from you.
Happy travelling.
The Sketchy Traveller