Best Beer Gardens in Birmingham
Brum isn't known for its tropical climate but that doesn't stop us from wanting that Mediterranean vibe when we head out for a pint or a cocktail. The sun does come out sometimes, so it's good to know where to go to make the most of it, which is why I've put together this list of the best beer gardens in Birmingham. Let's get going…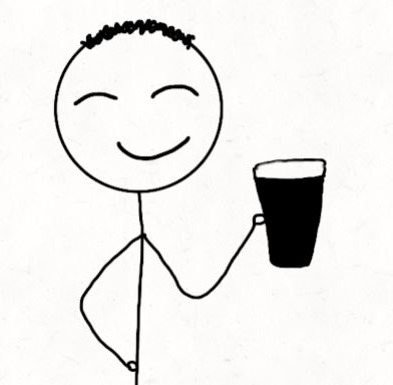 ---
Disclaimer: There are some affiliate links on this post. Meaning I may earn a (very) small commission if you buy something after clicking a link. This is at no extra cost to you. You can read my full disclaimer here.
---
The ultimate guide to the best beer gardens in Birmingham
Here are the best spots to soak up some sun with a beer in Brum…
Old Crown – Best beer garden in Digbeth
Let's start with the oldest pub on the list. The Old Crown is a 14th-century pub with a 21st-century beer garden. You'll find it in Digbeth on the main road into town. The old-fashioned interior gives you traditional pub vibes but step out the back and you'll have more of an outdoor German beer hall feeling.
You won't struggle to find a table here as there are so many of them and they have a decent bar in the beer garden during busy times too.
Pros: Huge beer garden. Cool area of the city. Loads of benches. Sun most of the day.
Cons: Bit pricy. Can be quiet on weekdays
Address: 188 High St, Deritend, Birmingham B12 0LD
Henneseys – Best beer garden in Birmingham to watch live sport
Still in Digbeth, but much closer to the Bullring, we have Hennesey's. A modern Irish pub that boasts the best beer garden in Birmingham for anyone wanting to watch live sport.
Outside they have what must be the biggest screen in the city. And if the sun's shining it can be quite a suntrap in the beer garden, but half of the tables are in the shade so you'll have the choice to top up your tan or keep cool while watching the big match.
Another plus is that if there isn't live sport on they have speakers out in the beer garden and play music all day long. Something that sounds simple but for any fellow Wetherspoons regulars out there is a great addition to your drinking experience.
Pros: Big beer garden. Live sport. Great pub food. Decent prices. Suntrap, but shady areas too. Music
Cons: Location, not very close to much else. But not exactly far either. I need to find something to complain about.
Location: 30-31 Allison St, Birmingham B5 5TJ
Flapper – Canalside setting with the all-day sun and live music
The Flapper is one of Brum's best-kept secrets when it comes to the best beer gardens in the city. For years this pub was all about its alternative vibe and live music. It does still hold on to those traditions, but it also has probably the best beer garden in Birmingham for an all-day sunny drinking sesh.
The simple beer garden is set along the canal, just a bit upstream from the NIA and Sealife Centre. So if you're looking for a chilled-out afternoon along the Birmingham Riviera the Flapper is worth checking out. And if live music and pinball machines are your thing too, you'll probably find yourself staying for the night too.
Pros: Canalside. Sun all day. Decent prices. Chilled vibe.
Cons: Location – not central to most other busy areas, but still not exactly far.
Location: Cambrian Wharf, Kingston Row
Figure of Eight – Wetherspoons and a beer garden
Is there a much better combination than a Spoons with a beer garden? Well, that's what you'll find at Figure of Eight. The pub itself is a typical Wetherspoons, but head out the back and you'll find the best beer garden in Birmingham's busy Broad Street area.
On a sunny day you can top up your tan until the late afternoon because unfortunately that's when the sun will disappear over the pub and if you want to follow it you'll have to move out to the street. More on that later.
Until the sun sets on the beer garden you can sit back and get cheap food and drinks delivered to your table by using the great Wetherspoons app.
Pros: Cheap. Table service. Morning and afternoon sun. On Broad St.
Cons: No music. No evening sun.
Location: 236-239 Broad St, Birmingham B1 2HG
Button factory – Rooftop terrace in the Jewellery Quarter
If you're looking for beer gardens in Birmingham's Jewellery Quarter get yourself over to the Button Factory. Here you'll find what is possibly the best roof terrace in town. The terrace is out front meaning you can people watch all day long while soaking up the sun.
There's also a mouth-watering food menu, including highly recommended Sunday roasts, along with the option of partaking in a bottomless brunch on Saturdays and Sundays.
Pros: Rooftop beer garden. Great food. All-day sun.
Cons: Little bit pricy. A long way from the city centre.
Location: 25 Frederick St, Birmingham B1 3HH
Canal House – South-facing along the canal
Last but by no means least on my list of the best beer gardens in Birmingham, is The Canal House. Here we have a huge modern gastropub with a huge two-tiered, south-facing beer garden. It's one of the most popular beer gardens in the whole city, so if the sun's shining don't expect to get a table easily.
The menu is vast and pretty fancy, and there's a pool table inside if the sun gets too much for you.
Pros: Good central location. Huge garden. All-day sunshine.
Cons: Pricy. Can get too busy on sunny days. 
Address: 12 Bridge St, Birmingham B1 2JR
---
So there you have them, the best beer garden in Birmingham. Now all we need is a bit of sunshine!
---
Looking for more than just beer gardens in Birmingham?
If you want to see what else there is to do in Birmingham check out Get Your Guide's list of top attractions in the city.
---
If you're hungry for more travel tips and stories head back over to my blog. You can also check me out on Instagram.
---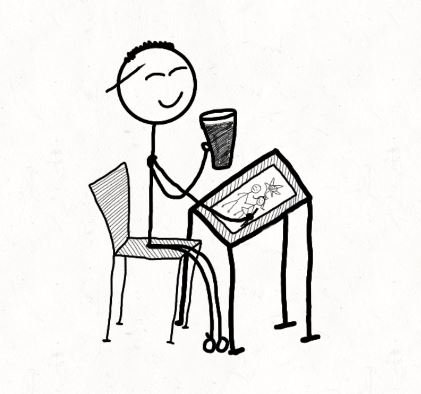 I'm not really a stickman, but it seems that I like portraying myself as one.
I'm an English guy who's been travelling since 2017. I was never good at taking photos, sketching just seems to work better for me, and in my opinion, why do you want to see other people's 4K videos and pictures of the world? Surely it's better to see it for yourself. You get in touch through the contact page or Instagram.
I look forward to hearing from you.
Happy travelling.
The Sketchy Traveller