Beachclub Malaga – Which One Is Best For You?
The first thing to consider is what exactly does Beachclub Malaga mean? Some of these so-called beach clubs in Malaga are nothing more than a beach bar, whereas others demand thousands of euros just to reserve a poolside bed and then you're expected to spend the same again on insanely overpriced booze.
---
Disclaimer: There are some affiliate links on this post. Meaning I may earn a (very) small commission if you buy something after clicking a link. This is at no extra cost to you. You can read my full disclaimer here.
---
The Best Beach Clubs in Malaga – 2023 Update
I'll be covering everything on this spectrum that falls in and around the city of Malaga. Not Marbella and not Torremolinos. The post is called Beachclub Malaga because it is for the people looking for the best beach clubs in Malaga the city, not the province. So, if that's you, let's get going.
Of all the options available I have to say that Oasis Playa is the one you are probably hoping to find from your beach club Malaga search. I say that because it offers more than a beach bar or restaurant can. It creates a more secluded vibe that makes you feel like you're somewhere special.
They do it by doing the simple things well. Relax in a hammock out near the breaking waves or lounge around on the comfiest of comfy sofas and chairs. All while soaking up the sun and enjoying the attentive service from the friendly staff.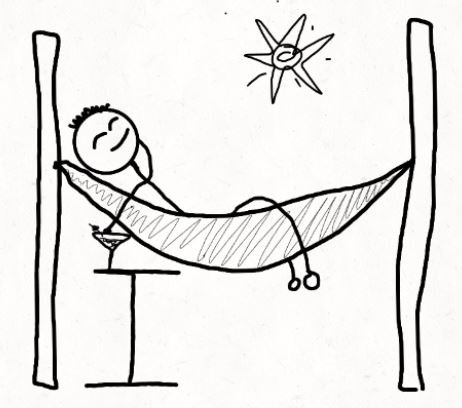 They have a well-stocked bar capable of shaking up any cocktail you desire. And if you're feeling peckish they have everything you'd expect from a beach club in Malaga.
Chiringuito Oasis Playa is open seven days a week from 11 a.m. to midnight.
Here's a link to their exact location on Google Maps.
Mami is a very popular beach bar located around the lively marina. It's on the beach and offers standard chairs and tables for serious eating, high stools for the casual drinker and sun loungers for those of you who are all about full-body tanning.
Mami has a great vibe and is always busy. Along with all the booze, they specialise in BBQ fish. They've kitted out an old rowing boat on the beach which is constantly grilling the poor little fellas that were caught that day.
It's open 11-18:00 October to May and 11:00-23:30 June to September.
Here's how to find this beach club in Malaga on Google Maps.
La Malagueta is located just a few metres up the beach from Mami. The similarities don't stop with the location. They're very similar places offering basically the same menu. But that's cool, because if you head towards them both you know you've got a great chance of getting a good seat at one of them.
What this tells us is that these two beach bars are what most people in the city expect when talking about beach clubs in Malaga. As already mentioned, Oasis Playa is a step above the rest, but that shows that you should expect most places in Malaga to be more of a standard beach bar, not a fancy beach club.
Here's the exact location of La Malagueta on Google Maps
This one has more of a classy restaurant vibe, but it's still on the beach and has wonderful views over the Mediterranean.
Rather than the standard plastic tables and Coca-Cola-branded napkin holders, at Tropicana, you can expect high-end furniture both inside and out on the sand. The latter offers optional white curtains for a more intimate dining experience.
If your idea of the perfect beach club in Malaga is all about the food and the view, this is the one for you. Here's the location on Google Maps.
---
So, as you can see, if you're on the lookout for the high-end beach clubs that you've seen on ITV's reality shows you won't find one in Malaga, not in the city that is. You need to head down the coast to Marbella and spend all your money down there.
Chiringuito Oasis Playa is, in my opinion, the closest thing you will find to that kind of beach club in Malaga. The rest are much more what you would call beach bars or beach restaurants. Not that there's anything wrong with that of course.
---
---
The best things to do in Malaga apart from the beach bars
If you're after some ideas of things to do in Malaga you should take a look at Get Your Guide. If you read my posts you'll see that I'm not really into pushing other services but I do recommend Get Your Guide. That's because they have the best selection of trips and tours, all with the ability to pay securely online and get a refund if you need to cancel. I've used them plenty of times and it's always gone perfectly.
Finally, I doubt you need any assistance with this, but if you're finding it hard to decide which hotel to stay in, my personal recommendation is the Soho Boutique Equitativa in the centre. There are loads of options out there but my stay there made exploring the city so easy. You can check out their Booking.com listing here. You won't be disappointed!
If you're hungry for more travel tips and stories head back over to my blog. You can also check me out on Instagram.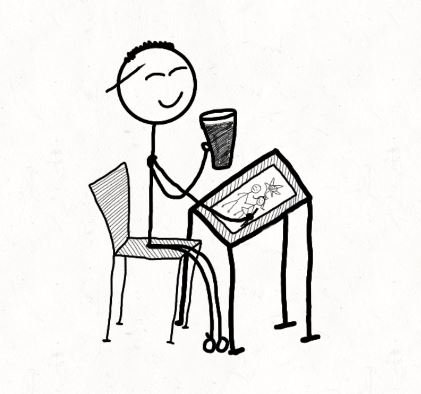 I'm not really a stickman, but it seems that I like portraying myself as one.
I'm an English guy who's been travelling since 2017. I was never good at taking photos, sketching just seems to work better for me, and in my opinion, why do you want to see other people's 4K videos and pictures of the world? Surely it's better to see it for yourself. You get in touch through the contact page or Instagram.
I look forward to hearing from you.
Happy travelling.
The Sketchy Traveller